Key steps taken by PM Imran Khan and his team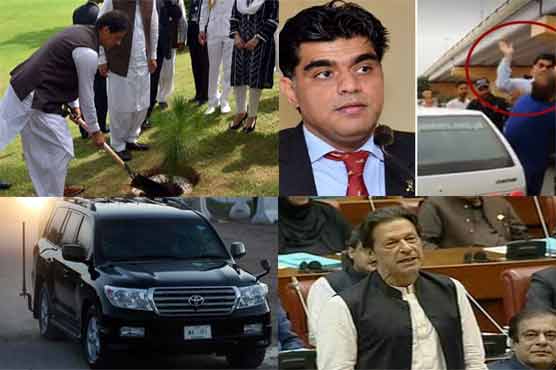 continuous struggle is required but the fact is change is in the air and is turning into actions.
(Web Desk) – Pakistan Tehreek-i-Insaf (PTI) holds a very firm position, politically, all over Pakistan, especially in Punjab, KP, and in Centre. Federal capital is under its control just like it used to be under PML-N and PPP once. With this much power and scope, the newly-formed government has taken charge of the bed of thorns where a number of challenges are lying ahead.
Importantly, Prime Minister Imran Khan has started working quite ambitiously; this is the reason that he and his government have considered a lot of measures. Following are some of the steps which have been taken considering the fact that they are could have been easily ignored, but PTI took them.
Austerity measures
Imran Khan and his party took austerity measures to the next level. VVIP protocols and lavish living style of Prime minister and other political representatives, are sucking the national exchequer, Imran Khan decided to ban everything that was over-the-top. Though one can see a bit deviation from this policy, by some members of PTI, like taking protocol by Sindh Governor and other PTI's member in Balochistan, but overall change was evident in protocol.
Lengthy protocols contracted from many cars to some. This actually happened because of the reason that Imran himself took it seriously and his party workers followed suit. His protocol has significantly been abridged and he himself is living in a PM military secretary' house.
"I want to tell my people, I will live a simple life, I will save your money," Khan said in his maiden speech.
ALSO READ: Complete text of Prime Minister Imran Khan's first address to nation
• Auction of luxury vehicles
Auction of as many as 102 luxury cars is also the part of the austerity drive. They will be auctioned on September 17 at the Prime Minister's Office. Latest figures show the fleet for auction include 27 bullet-proof vehicles which worth hundreds and millions of rupees.
— Andleeb Abbas (@AndleebAbbas) September 3, 2018
ALSO READ: Govt advertises fresh bidding of bullet-proof cars
• Reduction in the employees of PM House
A considerable reduction in the PM house workforce was the noteworthy part of Imran Khan's maiden speech. The total strength is 524 which has remained quite burdensome on the exchequer. A poor country like cannot bear such lavish lifestyle of its leaders. Imran Khan vowed to curtail it to a large extent.
ALSO READ: PM House transformation: Will Imran Khan fulfill his promise?
Termination of discretionary funds
PM of Pakistan had "discretionary powers" according to which it could spend a specific, but quite a large sum, wherever it pleases to. This was the reason the ex-PM disbursed billions of rupees to exercise this right. According to Information Minister Fawad Chaudhry, Rs51 billion government funds were distributed by ex-PM Nawaz Sharif. In this regard, ex- President Mamnoon Hussain, who was rarely seen in any ceremony, lavishly spent Rs90 million. Termination of this fund is undoubtedly a remarkable step towards a change which masses have been waiting for.
ALSO READ: PM Imran chairs cabinet meeting to discuss 7-point agenda
Pressurizing Netherlands over Blasphemous contest
Another step which brought PTI's government on the limelight, not only at national level but also on international level, was to pressurize the Netherlands government to halt the blasphemous caricature contest. Imran Khan came to Senate in support of resolution and delivered a speech that was heard loud and clear everywhere in the world.
His fellow Foreign Minister Shah Mahmood Qureshi and his team also did not rest on their laurels but kept on pressurizing Netherlands government which at first termed the blasphemous contest a right of freedom of speech but later on forced Geert Wilders, notorious Islamophobe, to discontinue the competition which could have harm the country in multiple ways.
Tree plantation drive
Climate change is one of the rising challenges for every country in the world. Unfortunately preceding political and dictatorial regimes in Pakistan did not imagine it solemn. Imran Khan and his party already were conscious of the challenge and during 2013 to 2018, they experimented it successfully in KP, by gaining constructive fallouts from "Billion Tree Tsunami". Now that they are in power at centre, Islamabad, PTI has expanded it to the entire country. On September 2, 1.5 million saplings were planted in just one day. The goal is to plant ten billion saplings in coming years. This unquestionably is a marvellous project in which masses are taking part determinedly.
— Imran Khan (@ImranKhanPTI) September 4, 2018

— Govt of Pakistan (@pid_gov) September 1, 2018

— Maleeha Hashmey (@MaleehaHashmey) September 2, 2018

— Martin Kobler (@KoblerinPAK) September 2, 2018

— Shahram Khan Tarakai (@ShahramKTarakai) September 4, 2018

— Radio Pakistan (@RadioPakistan) September 2, 2018
Imposing fine on its own member for thrashing a citizen
PTI's MPA from Karachi Imran Shah along with his guards thrashed a man, a public servant in aviation. PTI's supporters on social media rebuked the MPA who portrayed dictatorial mind-set. At first, it was considered that the matter will be dissolved just like the past, but PTI formed the committee and after thorough inquiry, it found him guilty and slapped him Rs0.5 million fine which later on was mounted to Rs3 million by Supreme Court. Before this incident, Nabeel Gabool beat a citizen on airport but no one noticed: PPP could not even declare it barbarous. There are numerous occasions where political parties take no action against its members no matter what they do.
ALSO READ: PTI imposes Rs0.5m fine, treatment of 20 patients; not enough yet encouraging
Overall these are the key steps that have been taken by Imran Khan and his government as they assumed charge. This is not enough indeed; continuous struggle is required. There are more steps which are yet to be taken and realized. But it is evident that the change is in the air is being actualized to some extent.