PM Imran chairs cabinet meeting to discuss 7-point agenda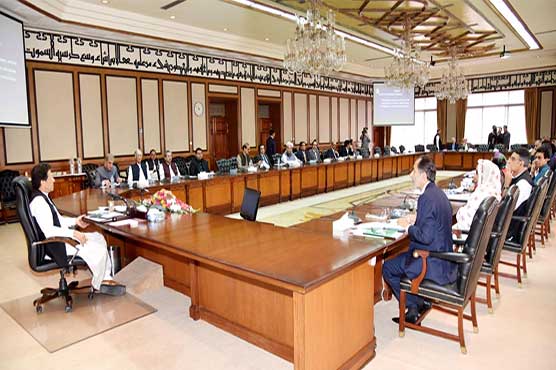 The cabinet is discussing future strategy of the new government in different spheres of life.
ISLAMABAD (Dunya News) - A meeting of the federal cabinet is underway in Islamabad with Prime Minister Imran Khan in the chair. The meeting is discussing seven-point agenda regarding future strategy of the new government in different spheres of life.
The federal cabinet will discuss abolition of discretionary funds, intructions on visits abroad, special audit of all mass transport systems in the country, and massive tree plantation in the country.
Shifting back to six working days in a week for government offices and launch of major cleanliness drive in the country will also be discussed.
---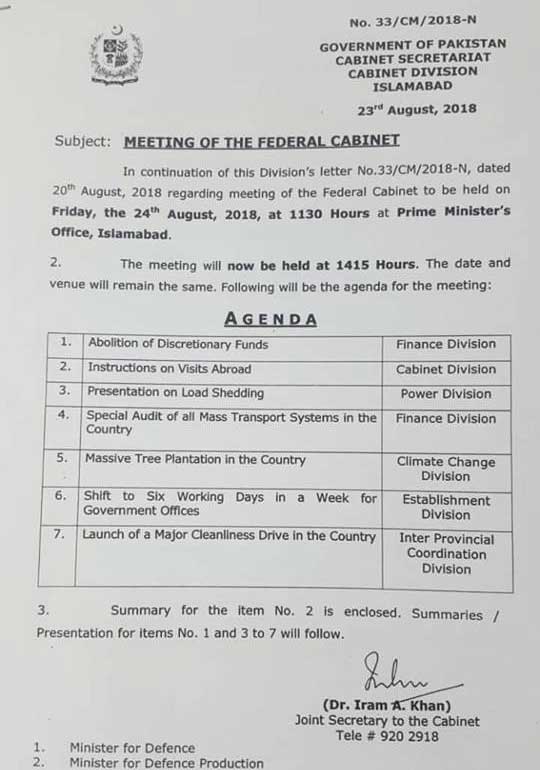 Copy of meeting agenda
---
Before the cabinet meeting, the Prime Minister visited Foreign Office where he was briefed about the performance of Foreign Office and Pakistani diplomats abroad.
---
PM KHAN's VISION
---
Last week, Prime Minister Imran Khan made his first speech, giving a wide-ranging, televised address in which he announced reforms targeting corruption and focusing on human development in the rapidly growing country.
Khan addressed the nation for more than an hour, repeating many of his campaign pledges to build an Islamic welfare state but also touching on issues rarely mentioned by Pakistani prime ministers such as fighting child sex abuse and climate change.
Without naming names, he vowed to improve Pakistan's relationship with neighbouring countries, and to improve security in restive Balochistan province and the tribal areas along the border with Afghanistan.
"We want peace, because Pakistan cannot prosper until the peace is restored," he said.
Khan said he has retained the interior ministry portfolio for himself as he personally oversees steps against money laundering and graft.
The former cricketer also announced an austerity drive to trim back the trappings of government, such as selling most of the vehicles allotted to the prime minister, cutting down on staff and turning the official residence into a university.
"I will fight the corrupt. Either this country will survive or the corrupt people," he said.
Khan called for a progressive tax system, vowing to spend the money on the neediest -- such as malnourished children, and justice for victims of abuse -- and on fighting climate change.
READ: Complete text of Prime Minister Imran Khan's first address to nation
Few in Pakistan pay their taxes currently, and he did not explain how he would enforce more taxation, especially on the rich.
Khan's leadership represents the end of decades rotating between two establishment parties, punctuated by periods of army rule.
But he and his cabinet face a myriad of challenges including a faltering economy, militant extremism, water shortages, and a rapidly growing population negating growth in the developing country, among others.
The most pressing is a looming balance-of-payments crisis, with analysts predicting Pakistan will have to go to the International Monetary Fund for a bailout.
Khan did not confirm if his government would ask for the loan, but stated: "We have to stand up on our own feet... By going with a begging bowl, no nation becomes great."
His finance minister Asad Umar has said they will decide by September if they will go to the IMF.
...with inputs from AFP