Last Updated On 19 August,2018 06:06 pm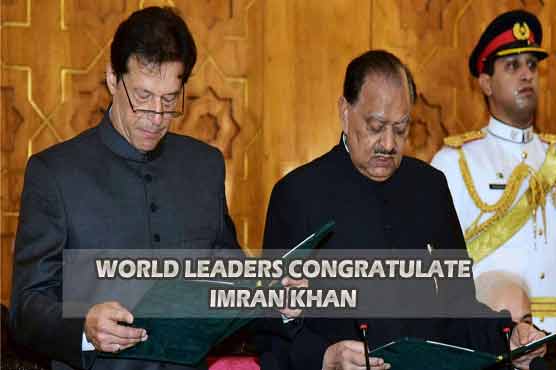 From everywhere in the world people are greeting Imran Khan.
(Web Desk) – As Imran Khan takes oath of premiership, world leaders send congratulatory statements and letters. From every corner of the world, leaders in one way or the other are greeting Imran Khan, highlighting his struggle and vision to work with other countries. Imran Khan after a long struggle, of 22 years, achieved his goal. Following are the congratulatory messages that Khan has been receiving since the time he took oath – from Saturday to be specific.
British Prime Minister Theresa greeted Imran Khan and hoped to have strong ties with Pakistan.
— Theresa May (@theresa_may) August 18, 2018

Sri Lankan President Maithripala Sirisena in a tweeted greeted Imran Khan and hoped for peace, prosperity and sustainability.
— Maithripala Sirisena (@MaithripalaS) August 18, 2018
President His Highness Shaikh Khalifa Bin Zayed Al Nahyan greeted Imran Khan for taking oath of a country that has significance for UAE.
— Dubai Media Office (@DXBMediaOffice) August 18, 2018
Similar messages were sent by His Highness Shaikh Mohammad Bin Rashid Al Maktoum, Vice-President and Prime Minister of the UAE and Ruler of Dubai, His Highness Shaikh Mohammad Bin Zayed Al Nahyan and by Crown Prince of Abu Dhabi and Deputy Supreme Commander of the UAE Armed Forces
Prime Minister of Singapore Lee Hsien Loong in a letter sent the letter with the following message.
"Singapore and Pakistan enjoy friendly bilateral relations underpinned by people-to-people and historical ties. Pakistan was one of the first countries to recognise Singapore soon after our independence in 1965. We commemorated the 50th anniversary of the establishment of diplomatic relations in 2016, and I look forward to further strengthening our bilateral cooperation under your leadership."
US Department of State released a statement congratulating Imran Khan. Focus over strategic partnership was given in the statement which was issued over the social media site.
— Heather Nauert (@statedeptspox) August 18, 2018
President Tayyeb Erdogan, in a letter, conveyed his feelings in the following way.
"Distinguished Prime Minister, Valuable Brother,
I extend you my heartfelt congratulations upon your election as the Prime Minister of brotherly Pakistan, and wish you success. May Allah the Almighty be your friend and help you in your tenure. I wholeheartedly believe that our relations, which take their strength from our peerless bonds of fraternity and amity, will develop even further in every field towards the welfare and prosperity of our two peoples. The solidarity that you have displayed and the support that you have extended to us in the recent critical period that our country has been passing through, reinforces our belief that your sapient leadership will help further advance bilateral relations between Turkey and Pakistan to new heights.
On this occasion, i reiterate my best wishes for your personal health and happiness, as well as for the welfare and well-being of the brotherly people of Pakistan."
Hurriyat leader Mirwaiz Umar Farooq also greeted Imran Khan and hoped Pakistan would become the country envisioned by Quaid-e-Azam.
— Mirwaiz Umar Farooq (@MirwaizKashmir) August 18, 2018
Nepali Prime Minister K.P. Sharma Oli expressed his feelings in the following way.
"In the message, the prime minister has also expressed hope that bilateral relations between Nepal and Pakistan will be further strengthened during the tenure of Prime Minister Khan."
United Nations Secretary-General Antonio Guterres also sent a congratulatory letter and hoped that PM Imran Khan will keep on promoting peacekeeping mission around the world.