PTI set to form govt but who will be the next President of Pakistan?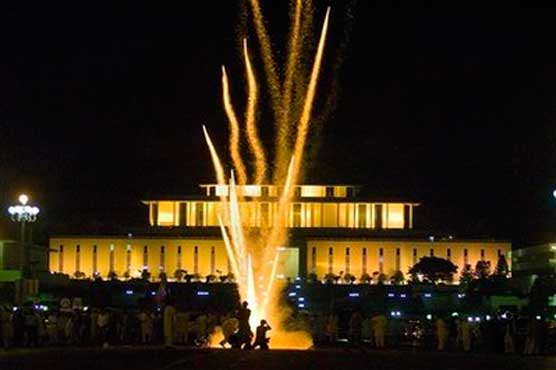 PTI gained more seats in National Assembly, but for appointing President, its position is weak.
By Dunya Election Cell
(Web Desk) – Till August 25, the new government will have to appoint president of Pakistan. No matter, how few powers he has, but no one can deny significance of president. This post cannot be left vacant for even a moment in accordance to 1973 Constitution of Pakistan. Article 41 states that maximum 60 or at least 30 days before termination of the tenure of president, the next one should be chosen. And if there are no assemblies then within the 30 days after their elections, president will be nominated. In General Election 2018, PTI became successful and gained more seats in national assembly than any other, but this is not enough. For nominating president, the role of Senate and other assemblies is also vital, and seats of PTI are quite low in them.
Following chart explores no party single-handedly is eligible to nominate its own president.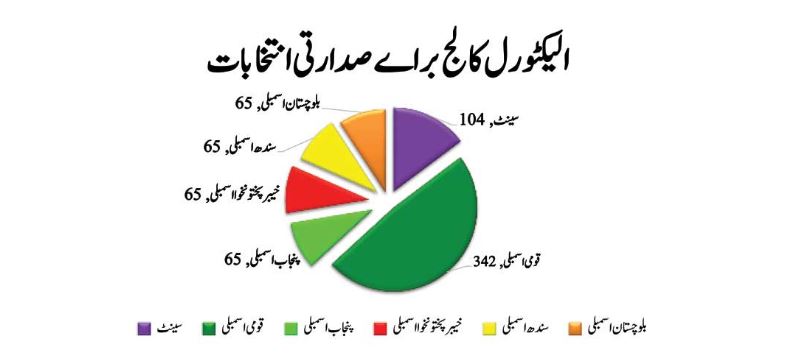 For the preparation of this chart, not only general candidates of each party have been considered but women and minority seats have also been added. It should also be noted that status of independents has been kept the same, till ECP issues notice of their joining to specific party. Only then respective party will be taken into account. Also till this time, one seat of Senate, eight of national assembly, and collectively six of all provincial assemblies are vacated.
ALSO READ: Election 2018: Constituencies where election has been postponed
Method of presidential election
Third Chapter of 1973 Constitution of Pakistan belongs to the formation of the federal government. According to section 4 sub-section 1, president is the symbol of unity. Sub-section 2 states that a person who is not a Muslim and is lesser than the age of 45 will not be considered for this post. Sub-section 3, in accordance to 2nd schedule, states that the Electoral College will be consisted of both, national bodies –senate and national assembly – and provincial assemblies.
Sub-section 4 states that presidential election cannot be held before 60 days and after 30 days of the termination of the tenure of president. And if president is not elected and national assembly dissolves, then within 30 days of the general elections, presidential elections are supposed to be conducted.
According to sub-section 5, within 30 days of the completion of president's tenure, president should be nominated or in the case of dissolution of assemblies, within 30 days of holding general elections, president is nominated.
Sub-section 6 states that no question can be raised over any institution or court.
2nd Schedule
Chief Election Commissioner will be responsible for conducting presidential election and will be returning officer. He will notify every relevant thing.
1) Date, time, and place where the candidates will submit their documents and where their (documents) scrutiny will be conducted
2) Last date for returning documents
3) Date, time, and place for counting
Every candidate and his authenticated agent will have an opportunity to raise concerns over the scrutiny and candidates. If all members take their paper back and one did not, he will be considered winner. If not a single eligible candidate is in the race, the proceeding of election will start from the beginning. Speaker, on the instructions of Election Commissioner, will call the session of both houses at the place where time and date of polling has been settled.
Election Commissioner will determine polling officer and polling will be conducted confidentially.
Election Commissioner will provide the list of eligible candidates of both houses. On the other side, name of candidates on ballot paper will be in alphabetical order. And if any of ballot paper is distorted, it can be replaced with the new one by cancelling the first one.
Ballot paper will be unacceptable if:
1) There is any stain or any identity mark of the voter.
2) There is no signature, initial one, of the presiding officer.
3) There is no symbol in front of any candidate.
4) In front of more than one candidate, mark has been placed.
As the polling ends, polling officers in the presence of candidates or their authenticated agent will open the boxes, vacate them, and count the votes.
Method of counting
Election Commissioner will count the votes of each candidate. In the provincial assembly, votes gained by the presidential candidates will be multiplied by the seats of the assembly having lesser number, and will be divided by the total number of seats of the assembly to which the voter belongs to. After that the number of votes will be added into the votes gained in the parliament.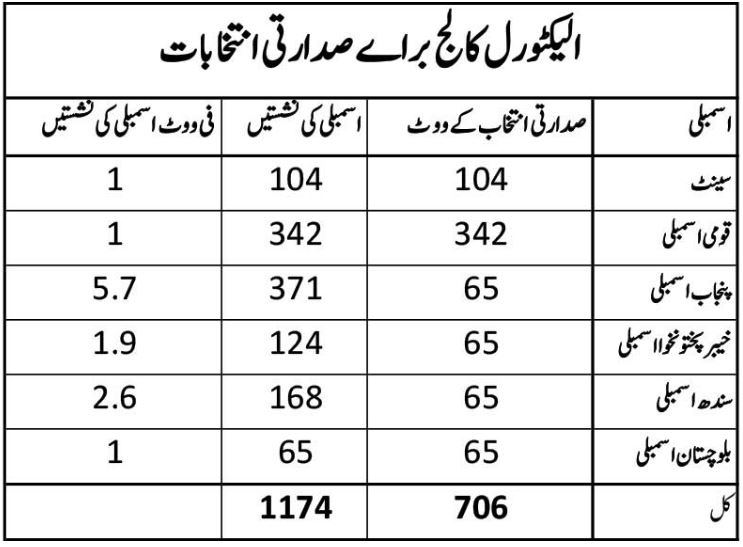 If there are two candidates, one with more votes will win. According to Section 42, president will take oath from Chief Justice of Pakistan.

No matter whoever becomes president of Pakistan, he has to pass through the above mentioned legal standards. It will be interesting observing the presidential election under PTI government. Although it does not seem to be having the required number of members of assemblies and senate, it does not mean there is no possibility of its preferred presidential candidates to be elected as president, politics of alliance can perform miracles indeed. Time will explore what the future scenario will be and which party becomes victorious in having its member the president of Pakistan.
Edited and translated by Junaid Ali Malik