PTI leaders, activists to kickstart Jail Bharo Tehreek from Lahore on Wednesday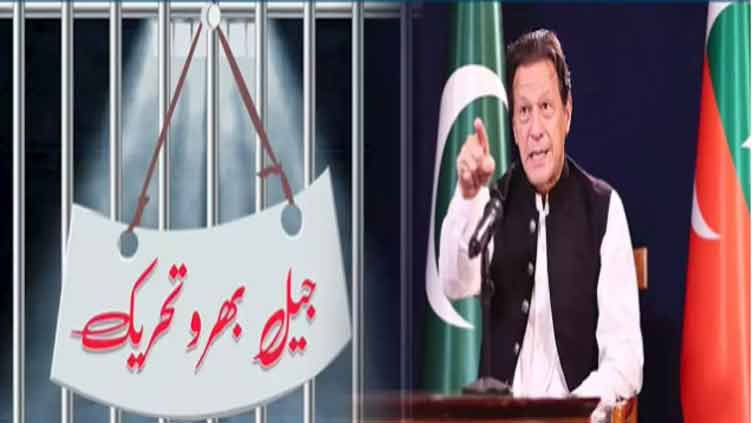 Pakistan
Omar Cheema, Waleed Iqbal, Murad Raas will surrender
LAHORE (Dunya News) – Pakistan Tehreek-e-Insaf (PTI) will kickstart Jail Bharo Tehreek with former Punjab governor Omar Sarfraz Cheema, Senator Waleed Iqbal, and ex-provincial education minister Murad Raas along with scores of other PTI workers surrendering at the Charing Cross at 2pm.
Earlier PTI chief Imran Khan had announced the movement to take off on Feb 22 from Lahore.
A day ago, the political temperature in Punjab rose as Mr Khan finally decided to appear before the Lahore High Court (LHC) for protective bail plea in a case pertaining to the protest against the Election Commission of Pakistan (ECP) office. The court had summoned Mr Khan and had remarked that the bail could only be granted if Mr Khan appeared in a personal capacity.
A two-member bench of the LHC had resumed hearing after a brief adjournment and granted him bail till 3 March later. The court also barred police from arresting Imran Khan.
Don't Miss: A snapshot of Punjab, KP elections saga

It merits mention that Mr Khan had glossed over the court's orders multiple times citing the leg injury he had suffered at Wazirabad last year. Upon this, the court gave him a "last chance" to appear till 5pm on Monday, otherwise the [possible] arrest threat against him could have been materialized.
Expediting preparations to arrest Mr Khan, the Federal Investigation Agency (FIA) Lahore division had constituted a four-member team after he appeared before the court as, guided by the police's past possible attempt to arrest him, it would have become increasingly difficult to approach him due to a hoard of PTI supporters surrounding him while he was on his way to the court.
Taking the rostrum, Imran said that his leg had recovered to an extent but the doctors had still told him to rest for two weeks. He said that his medical checkup was scheduled for February 28. "I waited outside the courtroom for an hour, and I fully respect the courts", he added.
Interior Minister Rana Sanaullah had said the government would counter Khan's JBT in a way no one could imagine. On the other hand, Punjab interim government had also directed the police in Mianwali and Dera Ghazi Khan to stay alert to "ensure peace" ahead of the JBT. However, the other point of view hinted at the possibility that the lack of space in the jails of Lahore had moved the Punjab government to keep the police alert in Mianwali and DG Khan.
Caretaker Punjab Government also imposed Section 144 in Lahore for seven days with immediate effect, citing a "terror threat" and the beginning of PSL-8 matches in the city.