Arif Alvi, next President of Pakistan: PTI does have majority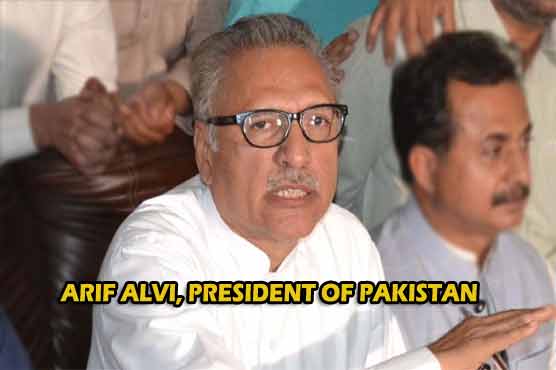 Presidential Election will be no different; PTI along with allies has edge over grand opposition.
(Web Desk) – Now that Prime Minister of Pakistan has opted after due process, the next vital step at federal level is to elect President. PPP, PML-N, and PTI are trying hard to gain victory. PPP, PML-N, and their allies are on one side, while PTI and its allies are on the other. According to senior news analyst Salman Ghani, Presidential Election will be no different than that of prime minister one. PTI and its allies are prevalent over opponents. The foremost thing will be observing if opposition remains unified or disgruntled as it was in PM elections.
ALSO READ: Joint Opposition is not that joint against PTI
If Electoral College is considered there is one vote of every member of Senate and Balochistan Assembly while the other three provincial assemblies will get their proportion in accordance to number of votes in the smallest assembly which is Balochistan. In this case, there will be 65 votes of each assembly.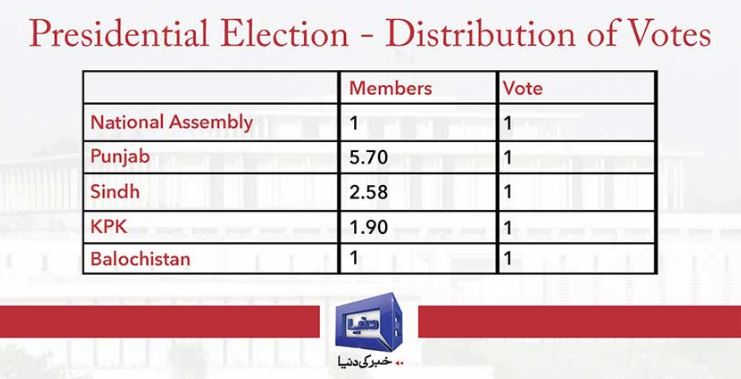 The number that will be attained by dividing the total number of members of these assemblies with 65 will make one vote. Keeping this into consideration, it is evident that 5.70, 2.58, and1.90 number of members have one vote from Punjab, Sindh, and KP respectively. With this, the total number of votes for presidential election is 706 which is the combination of Senate 104, National Assembly 342, and all four provincial assemblies.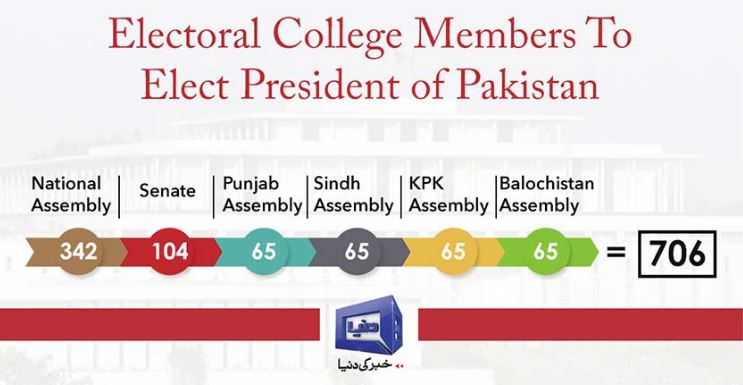 In National Assembly, PTI is ahead of others with 176, including its allies, while Opposition Alliance holds 150 seats. Four others are independents. 12 seats are vacant at this moment. In Senate, PTI only has 25 seats; 11 are independents, while opposition parties hold 68 seats. With that PTI and its allies have 201 votes at the national legislature, National Assembly and Senate. On the other side, its opponents have only 208 votes.
Votes of PTI and its opponents in all four provinces
In Punjab, PTI alliance has 33, while opposition alliance has 30 votes and one member is independent. In Sindh, PTI alliance has 26 seats, while opposition parties hold 38 votes. In KP assembly, PTI has 45 votes and opposition has 18 votes and independent have two votes. In Balochistan, government alliance has 41 votes while opponents have 16; independents would be 4. In this regard, PTI and its allies will have 346 votes while opposition parties 320 and independents are going to be 23. Even if independents join hands with the opposition alliance, it cannot succeed. Indeed, it is highly probable that they will join PTI which is ruling party as they (independents) find it luring to do so.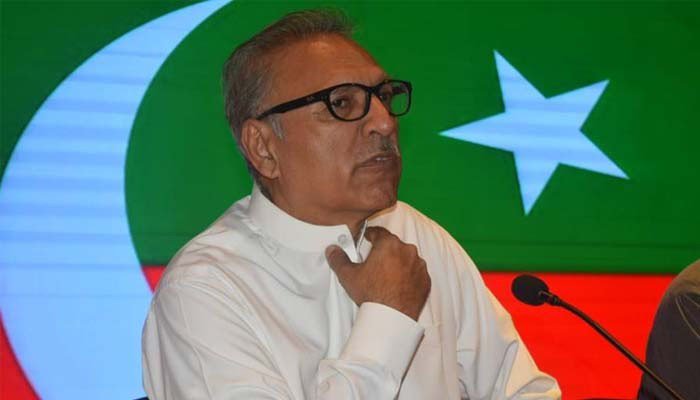 Imran Khan himself nominated Arif Alvi candidate for president-ship. There are ample chances he will win. Photo: File

---
Betrayal of PPP and re-joining of friendly opposition
PPP has already deceived PML-N; more help might not possible. This is also a fact that PML-N does not want to stay alone. PPP is attempting its best to gain favour with PML-N so that it could pressurize establishment which according to party is pursuing accountability drive against it. Nabbing of Anwar Majeed has got PPP's leaders on edge.
ALSO READ: Accountability drive: Asif Ali Zardari turn now?
From the side of PML-N, accepting Aitzaz Ahsan will be a bitter pill to swallow. He is among the leaders who have been critical of Nawaz Sharif and the entire Sharif family. Sources are of the view, Syed Khurshid Shah and Raza Rabbani can be considered for this post.
Across the board accountability
The current accountability drive does not seem to be end without results; its scope widening from PML-N to PPP, next one seems to be Asif Ali Zardari. Nawaz Sharif and Asif Zardari have been on the highest positions. Across the board accountability continued mere a dream. Keeping this in view, both parties are coming closer to each other, gauging the prevailing situation. It is evident that now PML-N instead of taking solo flight is ready to cooperate with PPP, gratifying the dream friendly/joint opposition. This happened especially after the nomination of Mian Shehbaz Sharif as Leader of Opposition in National Assembly. He stood with PPP despite getting no support in Premier election.
Only time will tell how joint/grand they are, but the reality is PTI has impressive number of votes for presidential election and it is evident, it would be able to have its candidate, Arif Alvi, win.
Analysis by Salman Ghani
Translated and edited by Junaid Ali Malik