Pakistan Elections 2018: Formulation for coalition government in center, Punjab and KP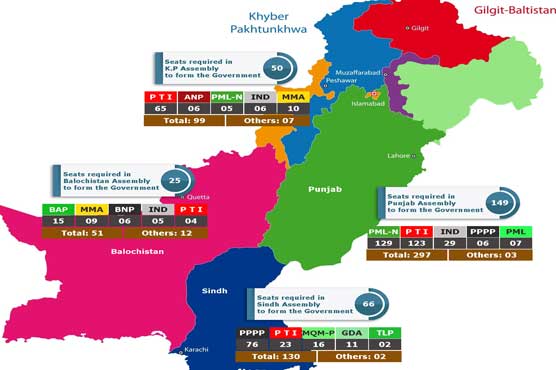 PTI can form coalition government in Center, Punjab and Balochistan
(WebDesk) - Pakistan general elections 2018 flames the beacon for Imran Khan to fulfill his dream of 'Naya Pakistan'. Though Pakistan Tehreek-e-Insaf could not gain the decisive majority but is all set to form the coalition government in center and Khyber pakhtunKha and possibly in Punjab and Balochistan.
To form a colition in center Imran Khan's party needs allies and independents. Pakistan Tehreek-e-Insaf has already begun talks with independents and small parties to form a coalition government after emerging as the biggest party in National Assembly having maximum number of seats in Pakistan's general election 2018.
Also Read: Pakistan elections 2018: Imran Khan wins vote but no majority
Coalition government is a mind boggling game of numbers. Governments in center and in provinces can be predicted in following plus minus and numbers:
Government in Center
At present, PTI with 116 seats stands in the position to form a coalition government in center. PTI chairman contested in general elections 2018 from five seats. He is required to opt one seat and vacate all of the remaining seats. Likewise, other leaders who have won from more than one seat are also required to vacate those seats except one. This shrinks the number of seats won by PTI to 109. With 109, Imran Khan led PTI requires to have 28 more seats to make an alliance for the government in center. PTI most probable alliance can be form with the 13 independents. The other parties or alliances which can be contacted include PTI's allies PMLQ with 03 seats as Chaudhary Pervaiz Ilahi has to vacate one of his seat too, GDA with 02 seats, AML with 01 seat. Other parties that can gather to form coalition include BAP with 04 seats, Jamhuri Watan party with 01 seat and Balochistan National Party with 03 seats.
If PTI can successfully agrees above mentioned stakeholders, PTI can easily form a coalition government without having an alliance with any other party have major chunk of seats.
Also Read: Top 10 political parties: Who gained how many votes?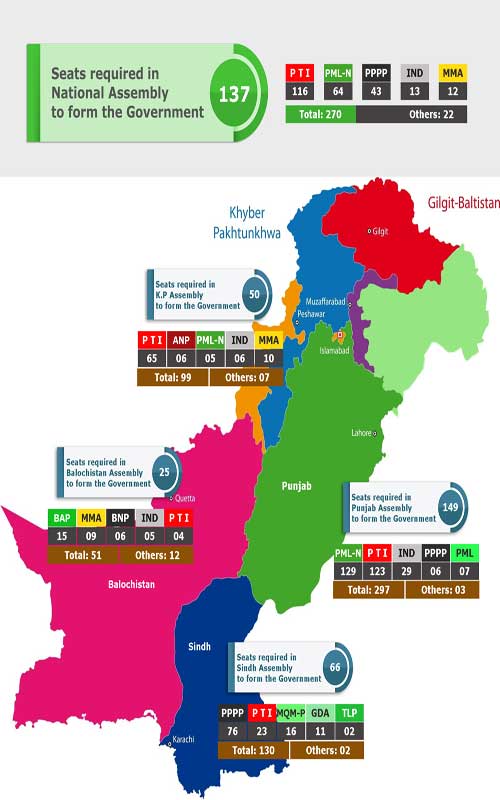 The breakup of numbers required to form government. Source: Dunya graphics
---
Government in Khyber PakhtunKha
Pakistan Tehreek-e-Insaf can successfully form a government in KP as PTI won a major chunk of seats of KP Assembly. PTI with 65 seats can form government all alone.
Government in Punjab
At present, Pakistan Muslim League (N), this was a ruling party in Punjab for a decade stands on the first position with 129 seats, not enough to form a government on its own in Punjab. On the other hand, with a close margin, Pakistan Tehreek-e-Insaf succeeds in reaching at the score of 123, still not enough to form a government with a majority. In a current neck and neck competition, both of the parties are required to have a support of enough number of independents while aiming to have government in Punjab.
Besides PMLN and PTI, the other key players in the battle ground include independents with 30 seats, PML Q with 7 seats, PPP with 6 seats while BAP, Functional League and PAR has one seat each.
PMLN with PPP and independents can form government in Punjab also PTI is in position to form government with ally PMLQ and independents.
Also Read: PMLN vs PTI: Amid mind boggling number games, who will form government in Punjab?
Government in Sindh
Pakistan people Party with 76 seats is also a decisively dominant party in Sindh and does not need any ally to form a government.
Government in Balochistan
History says whoever is going to rule the ceter will be ruling Balochistan as no dominant party have ever been emerged in Balochistan to form a government all alone. Every time, party with maximum number of seats with allies makes coalition government. BAP with maximum number of seats needs to go into an alliance with parties having good number of seats to form government.
Other than 05 independents, the parties that can be allied to form government could be BNP with 06 seats and PTI with 04 seats. Other than MMA with 09 seats is a party that has good number of seats in Balochistan. PKMAP with 01 seat, Hazara Democratic Party with 2 and ANP with 03 seats also plays an important role in formulating a coalition.
Also Read: Pakistan Election 2018: ECP releases final results, PTI tops with 116 seats