NA speaker finally accepts resignations of 34 PTI MNAs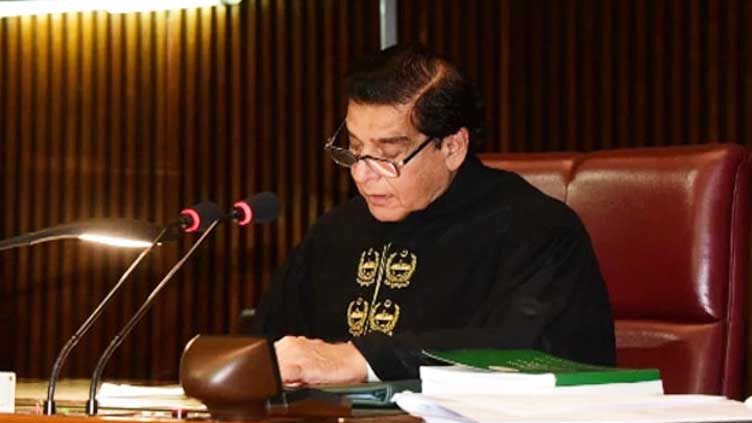 Pakistan
NA speaker finally accepts resignations of 34 PTI MNAs
ISLAMABAD (Dunya News) - National Assembly Speaker Raja Pervaiz Ashraf on Tuesday accepted resignations tendered by Pakistan Tehreek-e-Insaf s (PTI) 34 National Assembly members (MNAs).
The Election Commission of Pakistan (ECP) subsequently denotified the MNAs after the acceptance of the resignations.
The PTI MNAs include Pervaiz Khattak, Hammad Azhar, Fawad Chaudhry, Shah Mahmood Qureshi, Asad Qaisar, Murad Saeed, Shafqat Mehmood, Sheharyar Afridi, Zartaj Gul, Alamgir Khan, Noorul Haq Qadri, Sadaqat Ali Abbasi, Ali Nawaz Awan and Ali Amin Khan. Awami Muslim League (AML) chief Sheikh Rashid s resignation has also been accepted.
General elections have become talk of the town since the dissolution of the Punjab Assembly as after the dissolution, the PTI announced testing PM Shehbaz Sharif s nerves in the NA through a vote of confidence. In another move, the PTI vowed to sit in the NA again on the conditions that Leader of the Opposition, Parliamentray leader, and Public Accounts Committee chairman in the NA should be from the PTI. On the other hand, Interior Minister Rana Sanaullah said the PTI would be welcomed in the NA but there would be no discussion over interim government set-up before the government's term expires in August.
Mr Imran had repeatedly claimed that general elections could be held in March or April this year. He had been calling for early elections in the country since his ouster through a no-confidence vote in April last year.
Don t Miss: Nawaz, PM Shehbaz discuss possibility of elections in March-April
Earlier, the PTI and the ruling coalition in the NA had been at daggers drawn to each other over the Speaker s delay in acceptance of resignations by the PTI MNAs.
Know More: NA speaker, PTI lawmakers stick to their guns on resignation issue
It is pertinent to mention here that the PTI had announced mass resignations from the lower house of parliament on April 11, a day after the ouster of then prime minister Imran Khan through a vote of no-confidence. The party wanted Mr Ashraf to accept the resignations collectively, however, the speaker insisted that he would accept these one by one after the personal appearance of each member in line with constitutional requirement.
On July 28, the speaker accepted the resignations of only 11 PTI lawmakers. The PTI challenged the move in the Islamabad High Court (IHC) in August but court dismissed the petition saying the political dispute should be resolved in the Parliament.