'Will not sit with thieves': PTI MNAs agree to resign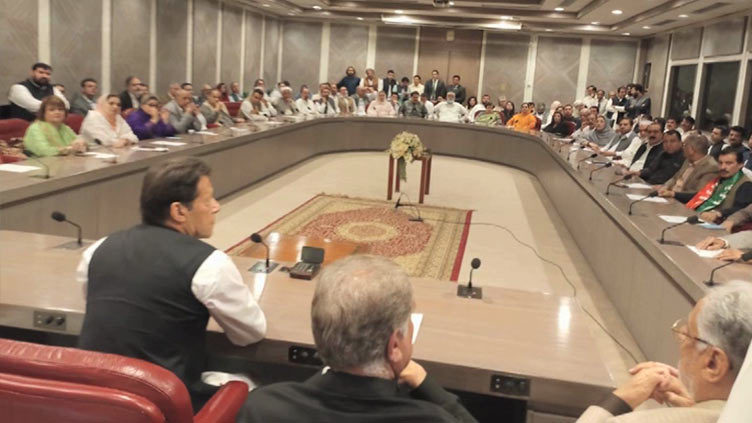 Pakistan
PTI members of the National Assembly have decided to resign from their membership
ISLAMABAD (Dunya News) – Taking a major step after Imran Khan's ouster from the premiership, all the MNAs belonging to the Pakistan Tehreek-e-Insaf (PTI) have unanimously agreed to submit their resignations on Monday.
According to details, this decision was taken during the PTI's Parliamentary Party meeting chaired by Imran Khan in Islamabad.
Soon after this decision, Murad Saeed, Aliya Hamza, Ali Zaidi, Amir Dogar and Farrukh Habib announced that they have resigned from National Assembly (NA) membership.
Addressing the parliamentary party meeting, PTI chief Imran Khan said he will not sit with 'thieves' in the assembly and further stated that he is ready to resign alone if needed.
The move comes moments before voting for the election of new Leader of the House.
On Sunday, the National Assembly Secretariat had accepted the nomination papers of President Pakistan Muslim League-Nawaz (PML-N) Shehbaz Sharif and Vice Chairman PTI Shah Mahmood Qureshi for the slot.
Speaking to media, PTI leader Fawad Chaudhry said all the party members will submit their resignations before initiation of the voting process.