NA speaker, PTI lawmakers stick to their guns on resignation issue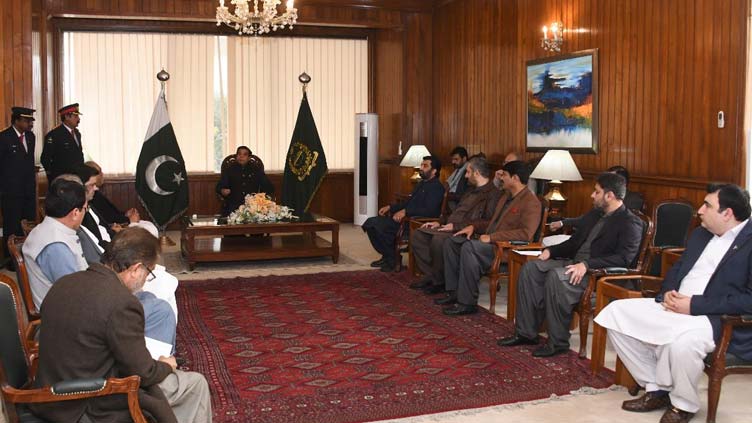 Pakistan
The delegation included former speaker Asad Qaiser and other senior PTI leaders.
ISLAMABAD (Dunya News) - National Assembly Speaker Raja Pervaiz Ashraf says he will not accept PTI members' resignations without personal hearing and individual verification.
A delegation of the Pakistan Tehreek-e-Insaf (PTI), comprising former speaker Asad Qaiser, senior PTI leaders Qasim Suri, Amir Dogar, Dr Shabbir Hussain, Ataullah, Fahim Khan and Tahir Iqbal, met Speaker Raja Pervaiz Ashraf on the issue of resignations of the party lawmakers. The speaker told the PTI members that for verification of the resignation, the party's lawmakers would be called individually. He added that decision on the resignations would be made according to the Constitution and rules of the assembly.
The speaker said when he accepted a few resignations, one of the PTI lawmakers from Karachi appealed to a high court to stop the resignation. Mr Ashraf reiterated that doors were not closed in politics and there should be contact between politicians.
The PTI announced mass resignations from the lower house of parliament on April 11, a day after the ouster of then prime minister Imran Khan through a vote of no-confidence. The party wants Mr Ashraf accept the resignations collectively; however, the speaker insists he will accept these one by one after the personal appearance of each member in line with constitutional requirement.
Earlier on July 28, the speaker accepted the resignations of only 11 PTI lawmakers. The PTI challenged the move in the Islamabad High Court (IHC) in August but court dismissed the petition.
Speaking to the media after the meeting, the speaker said the PTI wanted the resignations of its lawmakers to be accepted collectively. However, he pointed out that under Article 64 of the Constitution, the resignations should first and foremost be handwritten. Once it s received, the speaker would meet with the member to ascertain whether or not the resignation was submitted under duress, he said.
He said that at the end of the meeting, the PTI delegation said it would consult the party regarding the points raised.
The NA speaker asserted that he only looked at the Constitution and the rules when accepting resignations, reiterating that lawmakers were required to prove that it was a "voluntary act". He called then deputy speaker Suri's acceptance of the resignations "unconstitutional", saying the matter was of utmost importance.
On the other hand, Asad Qaiser ruled out the one-by-one acceptance of resignations. Speaking to the media after the meeting, the former NA speaker said, "One MNA will come, [then] the rest will go somewhere outside [of the city and] they will call the second [MNA] after 15-20 days. This will take time [so], this would not happen."
Referring to the acceptance of the resignations of 11 PTI MNAs, Mr Qaiser termed it a "political decision" by the NA speaker as "he thought that they were weak constituencies".