Gilgit-Baltistan Election 2020 results start pouring in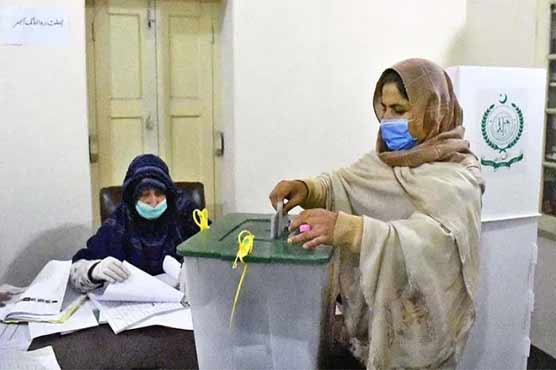 Vote count in Gilgit-Baltistan election 2020 underway.
GILGIT (Dunya News) – Results for the general elections of Gilgit-Baltistan Legislative Assembly (GBLA) have started pouring in as counting is underway across the region after a daylong polling in the landmark general elections held under tight security.
Polling officially ended across Gilgit-Baltistan at 5pm local time on Sunday after millions took part in the Gilgit-Baltistan Legislative Assembly (GBLA) general elections.
The vote count has begun, a process that may last until the next day. Results of the election that allowed people to elect candidates for the GB Assembly is expected to be announced Monday.
---
For updates related to Gilgit-Baltistan polls visit: https://dunyanews.tv/gbla2020/
---
The polling which started at 8am continued until 5pm without any break. There were 24 seats for the contest but polling on one seat was postponed, leaving 23 seats up for grabs. As many as 330 candidates, including four women, were in the contest.
Elections had been delayed in GBLA-3 following the death of PTI Gilgit-Baltistan President retired Justice Jaffer Shah from coronavirus. At least 1,26,997 fresh voters have also used right of vote in general elections of Gilgit-Baltistan.
---
Unofficial Results
---
Unofficial results of twenty three constituencies GB-1, GB-2, GB-4, GB-5, GB-6, GB-7, GB-8, GB-9, GB-10, GB-11, GB-12, GB-13, GB-14, GB-15, GB-16, GB-17, GB-18, GB-19, GB-20, GB-21, GB-22, GB-23 and GB-24 have been declared. PTI secured nine seats while PPP got four seats, PML-N grabbed two seats, MWM secured one seat and independent candidates have secured seven seats.
— GBA-1, GILGIT-1
PPP canidate Amjad Hussain: 11178 votes
Independent candidate Moulana Sultan Raees: 8356 votes

— GBA-2, GILGIT-II
PPP candidate Jamil Ahmed: 8817 votes
PML-N candidate Hafiz Hafeezur Rehman: 6607 votes
— GBA-4 NAGAR-I
PPP candidate Amjad Hussain: 4716 votes
ITP candidate Muhammad Ayub Waziri: 4291 votes

— GBA-5 NAGAR-II
Independent candidate Javed Ali Manva: 2570 votes
MWM candidate Haji Rizwan Ali: 1850 votes

— GBA-6, HUNZA
PTI candidate Abaid Ullah Baig: 5622 votes
Independent candidate Noor Muhammad: 4584 votes
— GBA-7, SKARDU-I
PTI candidate Raja Muhammad Zakaria Khan Maqpoon: 5290 votes
PPP candidate Syed Mehdi Shah: 4114 votes
— GBA-8, SKARDU-II
MWM Muhammad Kazim: 7534 votes
PPP candidate Muhammad Ali Shah: 7146 votes
— GBA-9, SKARDU-III
Independent candidate Wazir Muhammad Saleem: 6865 votes
PTI candidate Fida Muhammad Nashad: 5236 votes

— GBA-10, SKARDU-IV
Independent candidate Raja Nasir Ali: 5124 votes
PTI candidate Wazir Hassan: 3684 votes

— GBA-11 KHARMANG
PTI candidate Syed Amjad Zaidi: 5872 votes
Independent candidate Syed Mohsin Rizvi: 1396 votes

— GBA-12 SHIGAR
PTI candidate Raja Muhammad Azam Khan: 9322 votes
PPP candidate Imran Nadeem: 7663 votes

— GBA-13, ASTORE-1
PTI candidate M Khalid Khurshid Khan: 4836 votes
PML-N candidate Rana Farman Ali: 3528 votes
— GBA-14, ASTORE-II
PTI candidate Shamsul Haq Loon: 5354 votes
PPP candidate Dr Muzaffar Ali: 3479 votes

— GBA-15, DIAMER-I
Independent candidate Haji Shah Baig: 2713 votes
Independent candidate Muhammad Dilpazir: 2309 votes
— GBA-16, DIAMER-II
PML-N candidate Eng. Muhammad Anwar: 4813 votes
Independent candidate Attaullah: 4314 votes

— GBA-17, DIAMER-III
PTI candidate Haider Khan: 5389 votes
JUI-F candidate Rehmat Khaliq: 5162 votes

— GBA-18, DIAMER-IV
PTI candidate Haji Gulbar Khan: 6793 votes
Independent candidate Malik Kifayatur Rehman: 5986 votes
— GBA-19, GHIZER-I
Independent candidate Nawaz Khan Naji: 6208 votes
PPP candidate Syed Jalal Shah: 4967 votes

— GBA-20, GHIZER-II
PTI candidate Nazir Ahmed: 5582 votes
PML-Q candidate Khan Akbar Khan: 3815 votes

— GBA-21, GHIZER-III
PML-N candidate Ghulam Muhammad: 4334 votes
PPP candidate Muhammad Ayub Shah: 3430 votes

— GBA-22, GHANCHE-I
Independent candidate Mushtaq Hussain: 6051 votes
PTI candidate Ibrahim Sanai: 4945 votes
— GBA-23, GHANCHE-II
Independent candidate Amanullah: 3666 votes
PTI candidate Amina Bibi: 3296 votes

— GBA-24, GHANCHE-III
PPP candidate Mohammad Ismail: 6206 votes
PTI candidate Syed Shamsuddin: 5361 votes
---
Background:
---
The territory of Gilgit-Baltistan was granted limited autonomy in 2009 after the then-President Asif Ali Zardari signed the Empowerment and Self Governance Order in a bid to empower its over 1 million population. In November 2020, Prime Minister Imran Khan announced that Gilgit-Baltistan would be given the status of a provisional province, and the process to fully convert it into an actual province is currently underway
PPP won the first elections in 2009 while PML-N emerged victorious in the second election, winning 22 seats out of a total of 33. The 2020 polls were originally scheduled to be held in July but had to be postponed due to the COVID-19 pandemic.
Read Also: Gilgit-Baltistan Elections - A brief look back
---
Constituencies:

---
Gilgit Baltistan has a total of 24 constituencies while its assembly has 33 seats. The political candidates will contest for 24 out of 33 seats while the remaining seats are reserved for women (6) and technocrats (3). According to the Election Commission of GB, the total number of registered voters is 745,361, of which 339,992 are women.
Nearly 1,234 polling stations have been set up in 24 constituencies, of which 415 had been declared extremely sensitive. Police, GB Scouts, the Rangers and FC personnel would be deployed to ensure a smooth election process.
GB caretaker Chief Minister Mir Afzal had earlier announced that Pakistan Army's support would not be sought for the upcoming elections.
---
GB elections: Local administration ensures COVID-19 SOPs during polling
---
The local administration has directed to ensure implementation of standard operating procedures (SOPs) to prevent spread of coronavirus outbreak as voting for the general elections in Gilgit-Baltistan is underway today.
The polling staff and voters have been ordered to wear face masks and take other precautionary measures to curb covid-19 epidemic.
The security personnel have also been directed to implement SOPs.
---
PTI govt assures of forming govt in Gilgit-Baltistan
---
Federal Minister for Planning Asad Umar said that Pakistan Tehreek-e-Insaf will form government in Gilgit-Baltistan after today's polls.
Asad Umar, in a tweet, said that after historic federal packages for Karachi and South Balochistan, now work will start on development of Gilgit-Baltistan.
Meanwhile,Special Assistant to Chief Minister Punjab for Information Dr. Firdous Ashiq Awan said that today, new Gilgit-Baltistan will be formed through free and fair elections.
Firdous Ashiq Awan, in a tweet, said that first priority of government in new Gilgit-Baltistan will be to end sense of deprivation, transfer of power to lower levels of government and granting people their rights.
She further said that today's transparent elections will be the start of development and prosperity in Gilgit.
---
PTI govt has to be sent packing: Maryam Nawaz
---
Pakistan Muslim League-Nawaz (PML-N) vice president Maryam Nawaz has said that the government of Pakistan Tehreek-e-Insaf (PTI) has to be sent packing.
In a post on social-networking website Twitter, the PML-N vice president claimed the incumbent government is so much afraid of PML-N that it had arrested leaders in Gilgit-Baltistan before every rally.
The selected prime minister became nervous over the public gatherings of opposition leaders for Gilgit-Baltistan elections, she added.
---
Enthusiasm of GB s people a testament to their commitment to democracy: Bilawal
---
Chairman of Pakistan People's Party (PPP) Bilawal Bhutto Zardari said that enthusiasm of people of Gilgit-Baltistan (GB) during election day is a testament to their commitment to democracy.

Bilawal Bhutto Zardari, in a tweet, lauded people for actively participating in the voting process and while urging the election commission to ensure that every vote is cast and counted, said that the commission must not fail the people.
---
CEC Raja Shehbaz visits control room, inspects arrangements for GB polls
---
Chief Election Commissioner (CEC) Raja Shehbaz Khan has visited central control room established to monitor general elections in Gilgit-Baltistan.
The CEC inspected arrangements at the control room while Gilgit-Baltistan's chief secretary also briefed him on the occasion.
Raja Shehbaz expressed satisfaction over the performance of the local administration in conducting the polls.