Civil service reforms by PTI and concerns of PMS officers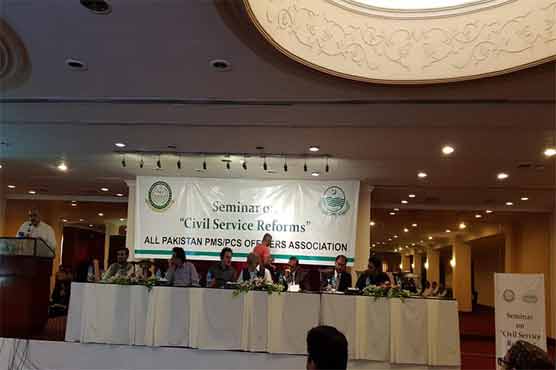 PMS officers expressed concerns and demanded representation in committee formed by PTI.
(Web Desk) – Civil servants play a very vital role in the development of a county; no one can deny this fact. They are machinery which needs to be up-to-date and free from flaws so that state's affairs could run smoothly. Officers from Provincial Management Service (PMS) are vital part of the same machinery. Though their scope is limited as compared to officers from Central Superior Services (CSS) who work directly under federal government, they (PMS officers) are indeed closer to masses, the real essence of bureaucracy.
In an event held in a local hotel in Lahore on September 16, PMS officers from all four provinces demanded genuine and meaningful reforms from the federal government. They wanted inclusion of PMS officers in the committee which has been formed for civil service reforms and is functioning under Dr Ishrat Hussain. Most of the members of the committee are from Pakistan Administrative Service (PAS), erstwhile District Management Group (DMG), an elite and most prestigious cadre of the Civil Service of Pakistan.
ALSO READ: PM approves constitution of task force on civil service reforms
PMS officers required representation in it and proclaimed any reforms without their inclusion would be rejected. President PMS Association of Punjab Shahid Hussain termed the committee "non-representative and biased" as it does not contain any PMS officer.
Rai Manzoor Nasir said CSS officers are only concerned about themselves. They do not care about any other officer. DMG posts are unconstitutional from the very beginning. He went on say we have high hopes of getting justice under new government.
The event was held under the auspicious of PMS Associations which has been active for a common cause, to protect the rights of PMS officers and have federal government realize their problems. Participants from all four provinces sought change and termed it the vital thing desired for decades.
The real change, they said, not the one which former governments commenced but failed to bring out meaning results.
One of the participants said I was awestruck knowing that there was no training program in the service when I was inducted. Promotion structure for PMS officers is also lagging behind the central service. Provincial Minister Mohsin Khan Leghari and MPAs from PTI also took part in the ceremony and pledged to go to any extent to protect the rights of PMS officers; they stated PTI government under Imran Khan leadership is committed to positive change. Representative from KP Fahad Ikram Qazi said we are ready to go to any extent to grab our rights.
The resolution which asked for meaningful reforms in civil service was unanimously passed by All Pakistan PMS Association.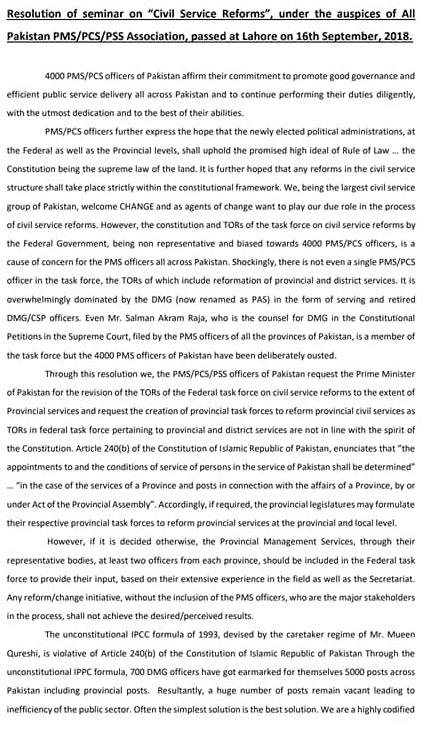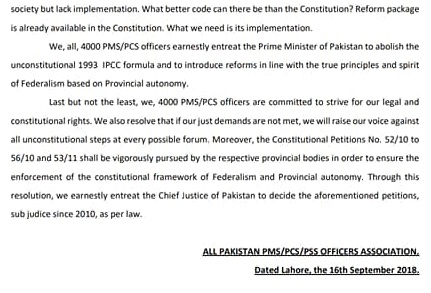 ALSO READ: PM Imran assures to protect civil servants from political pressure
Civil service reforms are need of the hour. Performance evaluation and accountability are keywords yet to be implemented in real sense. Officers who perform well should be considered accordingly. Reforms, in other words change, are vital but they will bear fruits when suggestions from each and every, direct and indirect, stakeholder are taken and incorporated in decision making process.