Last Updated On 28 March,2016 04:44 pm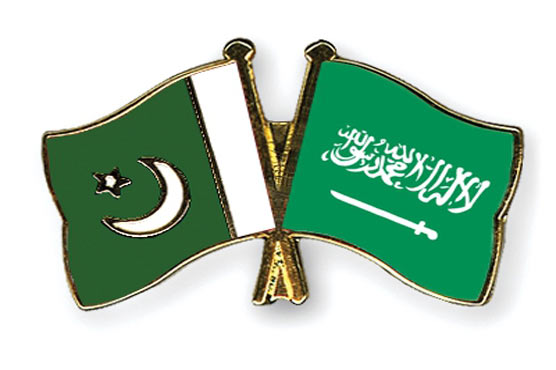 The Alliance will not be against a particular country but to combat terrorism.
Dunya News Report (Madiha Fareed)

On the occasion of joint military exercise of 21 Muslim nations, Kingdom of Saudi Arabia (KSA) has proposed to form a NATO (North Atlantic Treaty Organization)-like military alliance of Islamic countries; the Kingdom seeks Pakistan's cooperation to materialize the plan.

The Alliance will not be against a particular country but to combat terrorism and emerging threats like ISIS, Dunya News reported.

Pakistan has been entrusted to chalk out framework for the proposed military alliance. The kingdom has requested Pakistan to lead the initiative. Pakistan and KSA have agreed to continue consultations on the proposal. This remains uncertain whether the proposed alliance will be a further up-gradation of the already established 34-nation alliance or a different initiative altogether.

The reports also surfaced in Pakistani media that Pakistan's Chief of Army Staff General Raheel Shareef was offered the role of commander-in-chief of 34-nation military alliance, upon his retirement from current post.

Pakistani Prime Minister Nawaz Shareef and Chief of Army Staff (COAS) General Raheel Shareef were in Saudi Arabia for a three day visit to witness the closing session of joint military exercise "North Thunder".

Troops from twenty-one countries, including Pakistan, participated in the exercise, in the northern region of Saudi Arabia. The main goal of the exercise is to improve training in responding to the threat posed by terrorist groups.
Following a diplomatic feud with Iran over the execution of Shiite cleric, Saudi Arabia tried to win Pakistan's support, Saudi Arabia's Foreign Minister Adel Bin Ahmed al Jubeir and Defence Minister Mohamed bin Salman paid back to back visits to Pakistan in an attempt to convince Pakistan to side with the Kingdom against Iran like a number gulf states who cut off diplomatic ties with Iran, however Pakistan refrained from taking sides and resorted to the role of a mediator. Both the Prime Minister and Army Chief visited Saudi Arabia and Iran in order to diffuse the tensions.

Pakistan's enjoys friendly relations with Arab states especially Saudi Arabia. People of Pakistan hold special respect for the kingdom given their religious attachment. Both countries have reiterated over time that threat to one's sovereignty would mean threat to the other'. Pakistan's relations with Saudi Arabia go beyond the strategic partnership. Saudi Arabia is a top destination for unemployed Pakistanis; and Pakistan's southern region has been a favorite of Arab dignitaries for hunting including the forbidden Houbara Bustards.

But the year 2015 saw an unprecedented twist in Pakistan's relations with Saudi Arabia when the former refused to join Saudi military forces against Houthi rebels in Yemen and took a clear stance that it will not deploy its forces outside country's borders except for United Nations Peace Keeping missions. The political analysts around the globe speculated that Pakistan's refusal could cause irreparable damage to Saudi-Pak historic and friendliest relations.

The Government of Pakistan has time and again affirmed that it will always stand shoulder to shoulder with Saudi Arabia against any threat to its territorial integrity and sovereignty, "the attack on Saudi Arabia will be considered an attack on Pakistan", Pakistan has always maintained.

In Dec 2015, Saudi Arabia announced a military allinace of 34 muslim nations including Pakistan. The Islamic Military Alliance was envisioned and put together by Saudi Arabia with the mission to fight terrorism in Iraq, Syria, Libya, Egypt and Afghanistan. The command centre of the 34-nation military bloc will be based in Riyadh. It is important to note that all countries in this alliance are Sunni nations.

The announcement was met with surprise from Pakistan and many other countries. The initial reaction from Pakistani officials confirmed that Pakistan's consent and consultation was not taken into account while forming this coalition. Later, Pakistani government welcomed the initiative and confirmed its participation in the "anti-terror'" alliance. Many viewed it as an attempt to mend the earlier rift caused by Pakistan's snub to fight Saudi's proxy war in Yemen.

Pakistan agreed to share military expertise with the participating nations of the 34-nation alliance but did not commit to sending troops in other countries to fight terrorism.

However now the KSA has demanded Pakistan to play a "principal role" in formation of the NATO-like alliance. It remains uncertain whether the new alliance will be inclusive of Shiite states as well.

Prime Minister met King Salman bin Abdulaziz and appreciated KSA's continued support to Pakistan. He was accompanied by COAS General Raheel Shareef and Special Assistant to Prime Minister on Foreign Affairs Tariq Fatemi.

During the visit, Prime Minister and COAS also went to pay their respect at Roza-e-Rasool and offered prayer in Masjid-e-Nabawi.

Six agreements were signed between KSA and Pakistan for development projects. KSA has agreed to give Pakistan 122 million dollars comprising of non-military aid and soft loans to Pakistan.