'Defiant' Imran announces rally on Sunday amid calls for judicial probe into worker's killing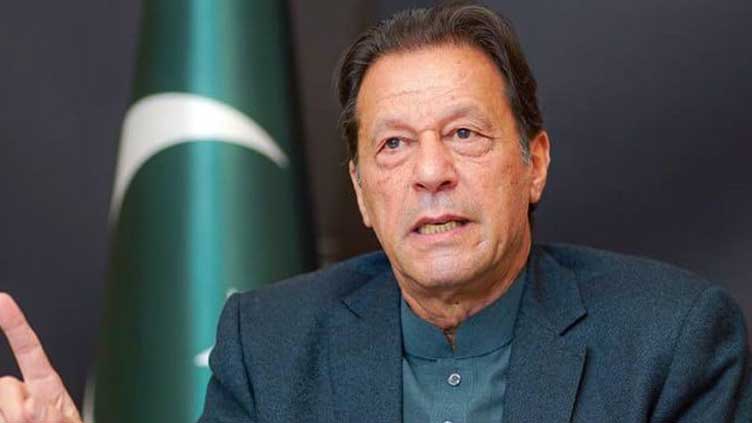 Pakistan
Imran Khan announces rally in Lahore on Sunday
LAHORE (Dunya News) – Pakistan Tehreek-e-Insaf (PTI) chairman and former prime minister Imran Khan on Saturday announced to hold another rally in Lahore on Sunday.
Addressing the workers through video link on Saturday, he said that he will lead the election rally to show them that we are not animals.
Taking a jibe at caretaker Punjab Chief Minister Mohsin Naqvi and IG Punjab over his claims regarding death of Ali Bilal alias Zille Shah, Imran Khan said, "They lied openly before the public" and appealed the Lahore High Court Chief Justice to form a judicial commission for investigation into the matter of Zille Shah's murder.
The former premier also demanded resignation of caretaker Punjab CM, IGP and others, and held them responsible for violence against his party workers on the rally day in Lahore, and for murder of Zille Shah.
"I want to tell Judiciary and Advocates that you are those that can stop Pakistan from becoming a banana republic," he added.
The PTI chairman went on to say that efforts being made to eliminate all the evidence.
Imran Khan went on to say that Minister of Defence Khawaja Asif gave the same statement as Shahbaz Gill but no action was taken against him, adding that he would ask the former SAPM to lodge case against the minister so that he would face the same punishment as he faced.
Mr Khan also alleged that the government was trying to postpone the election by assassinating him.
Watch here
PTI seeks judicial investigation into Ali Bilal's death
On the other hand, Pakistan Tehreek-e-Insaf (PTI) demanded a judicial investigation into the death of PTI worker Ali Bilal also known as Zill-e-Shah.
The party claimed that Mr Bilal had been killed by Punjab police at the PTI's rally in Lahore.
PTI senior vice president Fawad Chaudhry questioned if Mr Bilal had died of an accident, why a case was lodged against him, PTI chief Imran Khan, and other PTI leaders.

He said Punjab interim Chief Minister Mohsin Naqvi had registered a failed attempt to wash off the blood of Mr Bilal in his presser on Saturday. "Saturday's presser proves that Punjab has turned into a breeding ground for false cases", he added. The party would settle the score, he said, as it did in the cases of the attack on Mr Khan, Arshad Sharif's murder, and the torture on PTI leaders Shehbaz Gill and Azam Swati.
Know More: Imran vows to move against Punjab administration over Lahore incident

Taking to Twitter, he wrote, "Zill-e-Shah's murder is being covered up as the murder of Arshad Sharif, and gun attack on Mr Khan were covered up".
— Ch Fawad Hussain (@fawadchaudhry) March 11, 2023
He said the people were aware of the whole story of the imposition of Article 144 in Lahore [while PTI was rallying] adding that the PTI's election rally and peaceful protestors were the targets. "Police's actions grounded the structure of prosecution in the province", he added. It had become increasingly difficult, he said, for the courts to decide whether the accused nominated by the police was guilty or not.
Post-mortem report confirms torture on PTI worker Ali Bilal
Earlier, the post-mortem report of Pakistan Tehreek-e-Insaf (PTI) worker Ali Bilal has confirmed that he died of excessive bleeding after he was subjected to severe torture.
The post-mortem examination, conducted by a three-member forensic team from General Hospital, revealed evidence of assault on his body, with the cause of death determined to be due to torture.
The post-mortem report revealed that 26 different marks of torture were found on the victim's body, including on sensitive parts, while a part of his skull was badly affected.
The post-mortem report also revealed that blood accumulated in Ali Bilal's liver and pancreas also contributed to his death. The victim's blood pressure also fell due to accumulation of blood in the brain, the report said.
Bilal was arrested during a crackdown on PTI workers participating in a public rally led by former premier Imran Khan on March 8. Ali Bilal was present at the rally near Mall Road when police resorted to baton-charge and fired tear gas shells at the party workers.
Several PTI workers including Ali Bilal were arrested for violating the imposition of Section 144.
He was allegedly tortured to death and his body was brought to Services Hospital by two unidentified individuals in a black car, who later fled. Hospital officials confirmed that the victim was assaulted and had already succumbed to his injuries when he was brought to the emergency department.