Case against Imran, other PTI leaders a day after chaos in heart of Lahore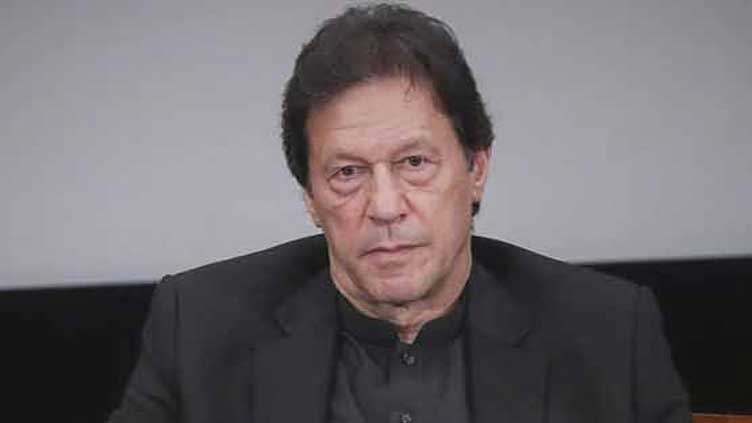 Pakistan
'PTI activists' vandalism injured 13 police personnel and six activists'
LAHORE (Dunya News) – The Punjab police on Thursday registered a case against Pakistan Tehreek-e-Insaf (PTI) chairman Imran Khan and other PTI leaders on the allegation of creating chaos during PTI's protest in Punjab's capital.
A First Information Report (FIR) lodged against Mr Khan stated that up to 400 people including armed men vandalised the venue and threatened the security institutions at the behest of Mr Khan and PTI leaders including Farrukh Habib, Fawad Chaudhry, Hammad Azhar, Mahmoodur Rasheed, Ejaz Chaudhry and others. "Enraged protesters pelted the police personnel with stones," the report added.
The FIR stated that the PTI activists' vandalism left 13 police officials as well as six activists injured. "They were shifted to the Services Hospital where injured Ali Bilal succumbed to his injuries," the report added.
Taking to Twitter, PTI Senior Vice President Fawad Chaudhry wrote, "I have been in Islamabad for the past two days to plead the court for Mr Khan's security, but Punjab police lodged a case against me over vandalism in Lahore. It reflects the credibility of administration that has been imposed in Punjab".
— Ch Fawad Hussain (@fawadchaudhry) March 9, 2023

Earlier, the party had planned to kickstart its election campaign with a rally from Zaman Park to Data Darbar. However, it later put off the campaign until Saturday but dedicated the rally to the judiciary.
Before the start of the rally, the Punjab government imposed Section 144 in Lahore for seven days with immediate effect, banning rallies, processions and gatherings in the provincial capital due to security reasons. Later, the PTI called off its pro-judiciary rally.
Soon after the imposition of Section 144, police started detaining the PTI workers and closed roads leading to Zaman Park to block the rally. Things turned sour when police officials resorted to tear gas shelling, water canons and baton charge to disperse the participants. It left multiple people injured and one dead, and Mr Khan claimed that he had been murdered by the police.
Terming it a black day, the PTI stated, "Another dark chapter of tyranny and repression and the worst fascism has been added in the history of those committing the crime of upholding democracy through law."
— PTI (@PTIofficial) March 8, 2023
A spokesperson for the Punjab government rejected the claims of custodial killing, saying the purported videos were not from Wednesday's incident but the 'Jail Bharo Tehreek' (court arrest movement).
Amnesty International expressed concern over the "blanket ban" on protests in the province's capital. Taking to Twitter, it wrote, "Authorities in Pakistan has placed a blanket ban on protests in Lahore. The authorities have used a draconian colonial-era law to crush dissent hours before several protests".
— Amnesty International (@amnesty) March 8, 2023
Following the incident, The Punjab government formed an inquiry committee to ascertain facts. PTI leader Shibli Faraz claimed that tactics were being used to mount pressure on the former prime minister by lodging 78 cases against him.