Fawad Chaudhry sent to jail on 14-day judicial remand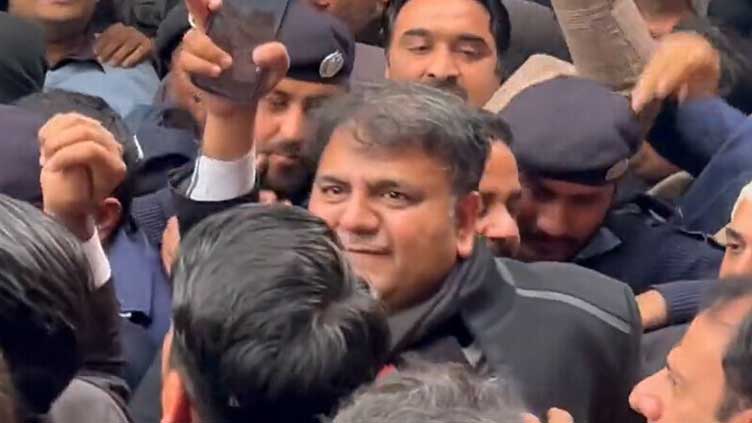 Pakistan
Fawad Chaudhry sent to jail on 14-day judicial remand
ISLAMABAD (Dunya News) – An Islamabad Court on Monday rejected plea seeking extension of physical remand of Pakistan Tehreek-e-Insaf (PTI) leader and former federal minister Fawad Chaudhry and sent him to jail on 14-day judicial remand.
The former federal minister, who was arrested on the charges of incitement against institutions, was produced in a local court in Islamabad after completing his 2-day physical remand.
Read also: Imran pens letter to CJP to protect Fawad s constitutional rights
The former federal minister was taken into custody on January 25 after a first information report (FIR) against him was registered at Islamabad's Kohsar police station on a complaint by the ECP secretary.
Mr Chaudhry's lawyer Babar Awan, Faisal Chaudhry and Hiba Chaudhry were also present on the occasion of appearance besides Khurram Nawaz and Senator Shahzad Wasim.
Read More: Fawad appeals COAS, DG ISI and CJP to take notice of his arrest
Judicial Magistrate Waqas Ahmed Raja took up the case. During the proceedings, the court heard arguments of both the lawyers.
On the occasion, the investigation officer prayed the court for 4-day remand of the former minister. The investigating officer took a stand in the court regarding the fact that during the last two-day physical remand, photogrammetric test was conducted from Lahore, while mobile laptop and other devices were to be recovered from Fawad Chaudhary.
Meanwhile, Awan, while presenting his arguments on Fawad's behalf, said, "The prosecution has made a joke out of Fawad Chaudhry's case. Fawad is still standing by his statement."
Addressing the prosecution, he said, "I don't know who the prosecution wants to please. I don't know which laptop the prosecution wants to obtain." After listening to both sides' arguments, Raja sent Fawad on a judicial remand.