Punjab CM Mohsin Naqvi, IGP clear the air about PTI worker Ali Bilal's death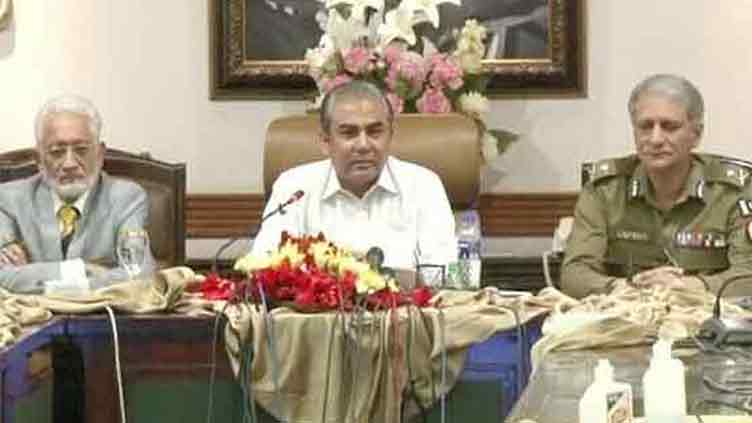 Pakistan
They rejected allegations of custodial torture, saying he died in a road accident
LAHORE (Dunya News) – The Punjab government on Saturday rubbished the claims that Pakistan Tehreek-e-Insaf (PTI) worker Ali Bilal died in custodial torture after he was arrested during clashes between police and workers of the political party in Lahore this past week.
Ali Bilal, affectionately called Zillay Shah, was taken to the Services Hospital in Lahore on Tuesday evening, where he was pronounced dead. PTI Chairman Imran Khan and other party leaders later claimed that he was killed by police.
Read Also: Imran vows to move against Punjab administration over Lahore incident
To address the allegations, caretaker Punjab Chief Minister Mohsin Naqvi, IGP Usman Anwar, Lahore CCPO Bilal Saddique Kamyana and other officials held a joint press conference.
'Not Issued Orders for Torture of PTI Workers'

The Punjab chief minister said he had not issued any order for torture of people. Speaking about the death of the PTI worker, he said Ali Bilal did not die due to torture but he was hit by a vehicle. Saying the death of a human being was not a petty issue, he vowed action against those involved in the incident.
Mr Naqvi said Raja Shakeel had informed Yasmin Rashid that a man was hit by his vehicle. Later, both went to Zaman Park where Ms Rashid asked him there was no need to worry, the chief minister said.
"I have been accused of murder and an application is also being submitted," he lamented, adding that the PTI was misleading people on this matter. "I was first accused of conspiracy and now allegations of murder are being levelled," Mr Naqvi said. "We also have families, kids and relatives," he said, adding it's injustice the way messages were being sent to my relatives.
He said attempts were being made to create unrest in the province ahead of elections scheduled for April 30. He said the PTI could hold its rally on some other day as the Lahore High Court had allowed Aurat March organisers to hold the demonstration.
"You are free to do anything in politics but don't hurl wrong allegations," he said, adding that an offer of Rs10 million was made to Zillay Shah's father for naming the government in the case but he refused to accept it.
IG Punjab's viewpoint
The IGP said the PTI worker died in a road accident after he was hit by a vehicle which is owned by PTI leader Raja Shakeel. "We have found blood stains on the vehicle," he said.
He said police had received an appeal from Ali Bilal's father for investigation into his death. He said stern action would be taken if evidence of police torture was found. He also lashed out at the social media campaign against police officials.
— Dunya News (@DunyaNews) March 10, 2023
The Punjab police chief said the body of Mr Bilal was dropped at the Services Hospital at 6:52 pm, adding that the vehicle was owned by Raja Shakeel and it was recovered from Lahore's Waris Road with the help of CCTV footage.
"We will present all evidence in the case to the father of the deceased PTI worker," he said in the press conference where he also played confessional statements of the persons spotted driving the suspected vehicle. He said all the suspects had been arrested and they would be produced before the court.
PTI Flies Into Rage
Meanwhile, the PTI has reacted strongly to the government's claim that Ali Bilal's death was accidental and it did not happen due to custodial torture.
In a tweet, PTI Chairman Imran Khan said the government officials would have been jailed "not just for lying so blatantly but for insulting the intelligence of our nation".
— Imran Khan (@ImranKhanPTI) March 11, 2023
Former health minister Dr Yasmin Rashid wrote, "You brazen lying lot! As a doctor, I can confirm torture on #AliBilal".
— Dr. Yasmin Rashid (@Dr_YasminRashid) March 11, 2023
— Shireen Mazari (@ShireenMazari1) March 11, 2023