Will counter 'Jail Bharo Tehreek' in a way no one can imagine, vows Sanaullah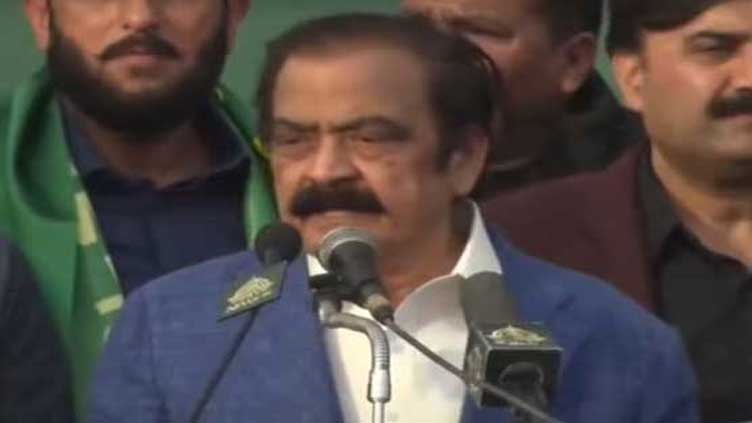 Pakistan
Will not put everyone but PTI's 'anarchist' workers behind bars
RAWALPINDI (Dunya News) – Interior Minister Rana Sanaullah claimed on Sunday the government would counter Pakistan Tehreek-e-Insaf (PTI) chief Imran Khan's "Jail Bharo Tehreek" in a way no one could imagine.
Addressing the Pakistan Muslim League-Nawaz (PML-N) organization convention, he said that on one side Mr Khan had announced the movement while on the other hand, he had called the party's female workers to the roads to defend himself against his [possible] arrest. "You [Mr Khan] start the movement once and see how we respond", he added. The government, he said, would not stuff the jails with people Mr Khan had misguided but it would put the PTI workers behind bars who wanted to spread anarchy in the country.
Read Also: No one will save Imran from arrest if Sanaullah so desires: Maryam Nawaz
He said the Imran group had been trying for the last seven months to push the country to the brink of default adding the PML-N had been trying to steer the country out of crises instead. "The PML-N and Nawaz Sharif pulled the country out of quagmire when needed", he added. Mr Khan, he said, influenced President Dr Arif Alvi to refrain from assenting to the [mini-budget] ordinance so that it might delay the IMF program.
Know More: Imran lauds President Alvi for not approving mini-budget ordinance
Commenting on the general elections in the country, he said that transparent elections could be held only if a single interim government were present in the country. "The constitution binds to hold elections within 90 days after the dissolution of assembly but it binds so under the supervision of caretaker setup to ensure transparency", he added. Elections, he said, would continue for the whole year if they were held separately for the National Assembly and provincial assemblies.
Don't Miss: 'Jail Bharo Tehreek' history in Pakistan
He said it would allow the Imran group to float rigging as he would contend that the PML-N was in power in the federation and its allies were ruling Sindh and Balochistan. "Then he will push the country toward anarchy as he is always ready to do that", he added. Mr Khan employed different tactics, he said, such as long marches, rallies, and protests to fuel instability in the country.