PTI being trolled for going to IMF; reaction of supporters and foes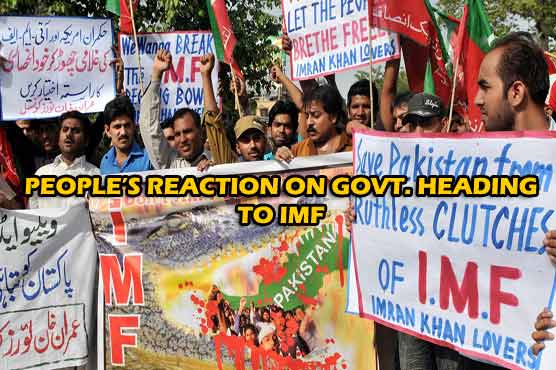 Owing to negligent and reckless policies of previous governments, getting rid of IMF is not possible
(Web Desk) – Since the time the government has given indication to go to International Monetary Bank, people (especially supporters of opposition parties) on social media have started trolling PTI. The government even at this time is not willing to state its fixated position concerning taking assistance from IMF, an institution which dictates how our economy should work.
Some of PTI's supporters seem unable to defend their party's position on this matter and are facing criticism from diverting their much-hyped narrative of not even thinking of going to IMF. Trend #IMFnahiJaonGi remained on the top for some time.
— Hasnain Sonu (@Hasnain56812657) October 8, 2018

— Muhammad Gul Jee (@GulJammas) October 9, 2018

— Pakistan (@BestPolitician) October 8, 2018

— Fatima K (@famadramaa) October 8, 2018

— Farrukh Javed (@FarrukhJAbbasi) October 8, 2018

— Bushra Gohar (@BushraGohar) October 8, 2018

— Pakistan (@BestPolitician) October 8, 2018

— Faisal Ranjha (@ranjha001) October 8, 2018

---
Keeping the promises of the government in mind and rage from supporters and foes now, getting shut of IMF was not plain sailing. Furthermore, successive governments instead of coming out of vicious circle created by IMF entangled Pakistan further into it.
As a matter of fact Asad Umar has been dubious about Pakistan going to IMF. He on various occasion said that no option to rescue Pakistani economy could not be ruled out.
— saad (@canadistani) October 8, 2018
— Afzaal Akram Gujjar (@Afzaalchaudhry) October 9, 2018

— Rana Hira (@Gulgoona1) October 9, 2018

— CAP. SOHAIL (@cap_sohail) October 8, 2018
Considering prevailing economic trends, devaluation of Pakistani rupee and staggering position of stock exchange, IMF option seems inevitable. Furthermore, the government would have to find out new means of generating money. Being out of IMF's clutches will take time and most important of all determination and will of contemporary and upcoming government.