Sidhu praises 'defiant' Imran Khan on arrival in Pakistan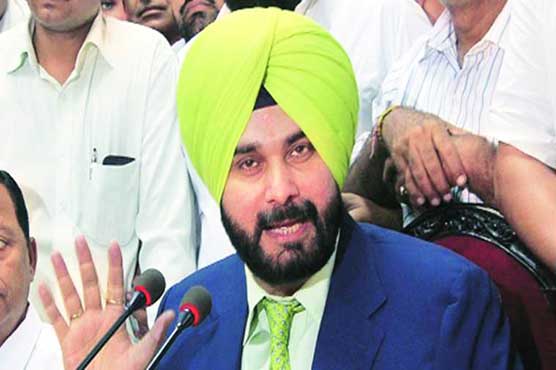 The former Indian cricketer was talking to reporters in Lahore.
LAHORE (Dunya News) – Former Indian cricketer Navjot Singh Sidhu Friday reached Pakistan to attend the oath-taking ceremony of prime minister-in-waiting Imran Khan.
Talking to reporters in Lahore, Sidhu recited several poetic verses in which he wished for better relations between Pakistan and India and praised Imran Khan. "I'm here as a friend and not any political personality. I've come to Pakistan as a messenger of peace and goodwill. May the ties between two countries flourish," he said.
Sidhu, a contemporary of Imran Khan in the '80s, lavished praise on the Pakistan Tehreek-e-Insaf (PTI) chief, saying Imran remained defiant against all odds. "I've seen him change weaknesses intro strengths. He would make a ladder of success out of mountains of difficulties. This is what Pakistan needs today," he added.
Sidhu was granted visa on Monday by the Pakistani High Commission in New Delhi. He confirmed the development during his telephonic conversation with PTI Senator Faisal Javed Khan.
The party last week invited former Indian cricketers to attend prime minister-in-waiting Imran Khan's swearing-in ceremony which is due to be held at the President's Secretariat on August 18.
The invite read: "It is indeed a great pleasure to invite you for the oath-taking ceremony of PTI Chairman Imran Khan as the Prime Minister of Pakistan. The event will be held in Islamabad on August 18. We would want you to grace this historic occasion with your presence."
On July 30, Indian Prime Minister Narendra Modi had congratulated Imran after the PTI emerged as the largest political party in the recently concluded general elections and expressed hope that democracy would take deeper roots in Pakistan.
---
Better relations with India
---
On July 26, in a wide-ranging address to the nation after election, Imran outlined his vision of the foreign policy.
Speaking about Pakista's troubled relations with India, Imran deplored hate campaign of Indian media against him. "If we want to slash poverty in the region, then we [Pakistan and India] must practice healthy trade ties," he said.
"This blame game that whatever goes wrong in Pakistan is because of India and vice versa brings us back to square one.
"If India comes and takes one step towards us, we will take two steps toward them. Right now, it is one sided where India is constantly just blaming us," he added.