India's Modi telephones Imran Khan, felicitates on election victory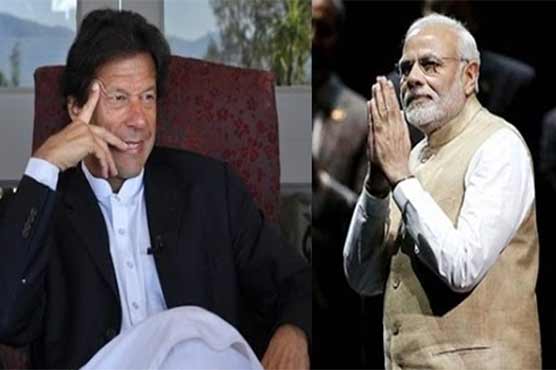 Modi also extended good wishes to Imran Khan.
(Dunya News) – Indian Prime Minister (PM) Narendra Modi on Monday telephoned PM-in-waiting Imran Khan and felicitated latter on landslide victory in General Elections 2018.
Modi also extended extended warm and cordial wishes to Imran Khan.
Both leaders agreed to overcome the past and to lay a new foundation for a prosperous political, social and economic future.
Modi told Khan that India is ready for a new era of ties with Pakistan and called for crafting collective strategy for combating regional challenges. Khan also stressed on resuming talks while adding that issues can't be solved through wars.
Khan stressed on initiating collective efforts for uprooting poverty from the region.
Imran Khan—in his victory speech—has stressed on normal relations between the Himalyan neighbors.
While deploring Indian media's hate campaign, Khan said, "If we want to slash poverty in the region, then we [Pakistan and India] must practice healthy trade ties", stated Khan.
Read also: Imran Khan s victory speech, India and Indian media
"This blame game that whatever goes wrong in Pakistan is because of India and vice versa brings us back to square one", he said.
"If India comes and takes one step towards us, we will take two steps toward them. Right now, it is one sided where India is constantly just blaming us", stated Khan.
However, Khan expressed concerns on grave human rights violations in Indian-held Kashmir.