Last Updated On 11 August,2018 08:57 am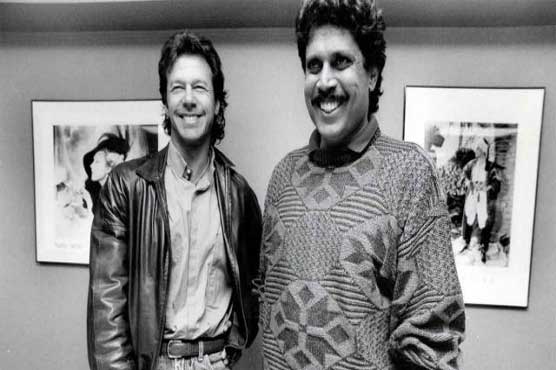 Kapil Dev, Sidhu and Sunil Gavaskar have been invited to attend the swearing-in ceremony on Aug 18.
LAHORE (Dunya News) - The Pakistan Tehreek-e-Insaf (PTI) has invited former Indian cricketers to attend the swearing-in ceremony of prime minister-in-waiting Imran Khan.
Cricket legends from India and Kaptaan s old friends Kapil Dev, Sidhu and Sunil Gavaskar have been invited to attend Oath Taking Ceremony of Pakistan s PM Imran Khan @sherryontopp @therealkapildev @36notout

— Faisal Javed Khan (@FaisalJavedKhan) August 10, 2018
Javed added Imran will take oath as the 21st Prime Minister of Pakistan on August 18.
Imran met Indian High Commissioner to Pakistan Ajay Bisaria who congratulated the PTI chief on his party's thumping victory in July 25 general elections and also conveyed New Delhi s message to the future premier.
On July 30, Indian Prime Minister Narendra Modi had congratulated Imran as his Pakistan Tehreek-e-Insaf (PTI) party emerged as the largest political party in the recently concluded general elections and expressed hope that democracy would take deeper roots in Pakistan.
---
Better relations with India
---
On July 26, in a wide-ranging address to the nation after election, Imran outlined his vision of the foreign policy.
Speaking about Pakista's troubled relations with India, Imran deplored hate campaign of Indian media against him. "If we want to slash poverty in the region, then we [Pakistan and India] must practice healthy trade ties," he said.
"This blame game that whatever goes wrong in Pakistan is because of India and vice versa brings us back to square one.
"If India comes and takes one step towards us, we will take two steps toward them. Right now, it is one sided where India is constantly just blaming us," he added.