Security personnel aiding cross-border smuggling to face court martial: minister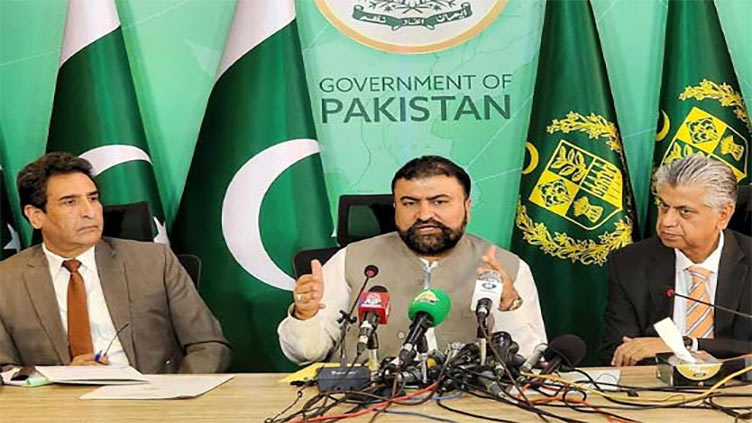 Pakistan
Security personnel aiding cross-border smuggling to face court martial: minister
ISLAMABAD (Dunya News) – Federal Caretaker Interior Minister Sarfraz Bugti announced on Monday that any security personnel found engaged in cross-border smuggling will face court-martial proceedings.
Bugti's statement follows a similar warning issued by Chief of Army Staff (COAS) Gen Asim Munir, emphasising that security officials involved in cross-border smuggling would be subject to court martial.
During a press conference in Islamabad, Bugti acknowledged the involvement of security forces in smuggling activities, stating, "If I say that security forces weren't involved [in smuggling], it won't be right as the smuggled items are transported via trucks, not camels."
Read also: Officials involved in wheat smuggling, says report
Bugti said that Gen Asim Munir had warned military personnel that involvement in illegal cross-border trade would not only result in court martial but also lead to imprisonment. He explained that the army had its accountability mechanism, which, while not publicly known, does exist.

Gains in crackdown on smuggling
Bugti presented a one-month performance review of the Interior Ministry and shared details related to sugar and fertiliser smuggling. He mentioned the establishment of joint checkposts to prevent smuggling and the deployment of joint security force teams at the provincial borders.
Pakistan has intensified its crackdown on smugglers involved in transporting commodities and US dollars to Afghanistan under the guise of trade. This effort has yielded positive results, with reduced speculation and a significant recovery of the Pakistani rupee against the US dollar.
Analysts however remain skeptical about the long-term impact of these administrative measures and fear further currency depreciation.
Bugti expressed the government's determination to combat hawala, hundi, and other illegal activities vigorously, commending law enforcement agencies for their role in cracking down on illicit trade and activities.
According to Bugti, authorities have seized 2,200 metric tonnes of wheat, 8,000 metric tonnes of sugar, and 10,195 liters of petrol. Action was also being taken against filling stations selling sub-standard fuel and gasoline.
Read also: Smuggling of dollar, Iranian oil across western border is crashing Pakistan's economy
The interior minister reported that the government strongly discouraged the use of hawala and hundi, leading to the recovery of Rs658 million and the registration of 168 FIRs against individuals involved in the illegal trade of US dollars.
Efforts were underway to determine the actual value of the dollar, Bugti said, adding that a database to track trucks used in smuggling was also being drawn up.
Bugti emphasised that the value of the dollar had decreased with some effort, preventing further drain of foreign exchange.
The interior minister also highlighted the challenge of narcotics in Pakistan, revealing that 43 metric tonnes of drugs had been seized in an ongoing crackdown on drug trafficking.
External involvement in terror acts
Furthermore, Bugti reiterated allegations of Indian spy agency RAW's involvement in recent terrorist attacks in Balochistan, and added that the government had announced a zero-tolerance approach towards terrorism.
Nawaz Sharif's homecoming
Regarding former Prime Minister Nawaz Sharif's return plans, Bugti expressed support for Sharif's intention to participate in Pakistan's politics, stating, "Regardless of what PML-N leaders said about me, I would still say that Nawaz Sharif is the leader who came back to the country with his daughter, and if he had been afraid of going to jail, he would not have come back."
He emphasised that the government must treat every citizen, including Mian Nawaz Sharif, according to the law.
Bugti-Solangi meeting
For a recent statement, Bugti had faced criticism from top PML-N leaders when he mentioned that authorities might arrest Nawaz Sharif at the airport if he had not been granted bail. He clarified that his statement had been politicised and reiterated that the caretaker government had no political agenda.

Before the presser, Interior Minister Sarfaraz Bugti held a meeting with Federal Caretaker Minister for Information and Broadcasting Murtaza Solangi to discuss the country's law and order situation. They expressed condolences for the lives lost in recent bomb blasts and reaffirmed Pakistan's commitment to eliminating terrorists and their facilitators.
The meeting also addressed the caretaker government's support for the Election Commission of Pakistan (ECP) in conducting the next general elections. Both ministers pledged to provide all necessary assistance to ensure free and fair elections, with Info Minister Murtaza Solangi emphasizing the government's duty to maintain law and order and assist the ECP.