Imran accuses police of 'breaking all laws with impunity'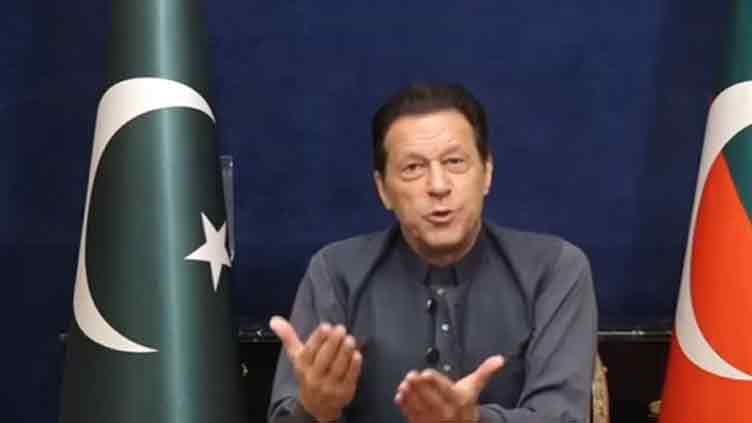 Pakistan
Hassaan Niazi abducted immediately after getting bail, laments Imran Khan
LAHORE (Dunya News) – Pakistan Tehreek-e-Insaf (PTI) Chairman Imran Khan claimed on Thursday the Islamabad and Punjab police were breaking all the laws with impunity.
Taking to Twitter, the deposed premier said, "Today Azhar Mashwani was abducted in the afternoon from Lahore and his whereabouts are unknown."
"On March 18, Senator Shibli Faraz and Omar Sultan were badly beaten by ICT police despite both having permission to be inside the Judicial Complex," he claimed.
Speaking about Hassaan Niazi, Mr Khan said, "Hassaan Niazi was abducted immediately after getting bail and later charged with sham FIRs to keep him locked up".
— Imran Khan (@ImranKhanPTI) March 23, 2023
Talking about approaching the human rights organisations, Mr Khan said, "I am sending pictures of Punjab IG, ICT, and all officers indulging in this criminal behavior to international human rights organisations.
On Wednesday, Mr Khan said the public gathering at Minar-e-Pakistan will be referendum against the violence. Addressing a speech via video link, Mr Khan talked about the upcoming gathering of his party, saying, "The PTI will stage a public gathering on Saturday at Minar-e-Pakistan. The enlightened nation will join the gathering."
Read also: PTI writes to international organizations against human rights violations
"Today I had to face the contempt of court for not managing to appear before the Islamabad High Court (IHC). I would like to urge the Chief Justice to take strict action. None of the country's premiers has witnessed such injustice in the country's history", said Mr Khan. He lamented,
"They attacked Zaman Park as if there resided a terrorist. Our workers are subjected to crackdown. Never witnessed such crackdown, even in the rule of dictatorships". Even, during the regime of former president Pervez Musharraf, the country did not witness a crackdown like this". He claimed the PTI workers were being nabbed in Rawalpindi and Islamabad.
Taking a jibe at the political opponents, Mr Khan claimed, "Nawaz Sharif and Asif Ali Zardari are international criminals".
Read also: Punjab Assembly elections delayed despite SC's ruling, laments Zaidi
He went on to say, "Maybe they would carry operation again today at any time, as they have a plan of carry out the operation in Zaman Park. Plan was made to assassinate me like Murtaza Bhutto. I urge the workers to remain peaceful at any cost".
Expressing his reservations over the "delay in elections", Mr Khan said, "The rulers will try to knock out the PTI from the race of elections as they fear that by holding the elections, politics will come to an end".