PTI to demonstrate for judiciary today, run election campaign on Saturday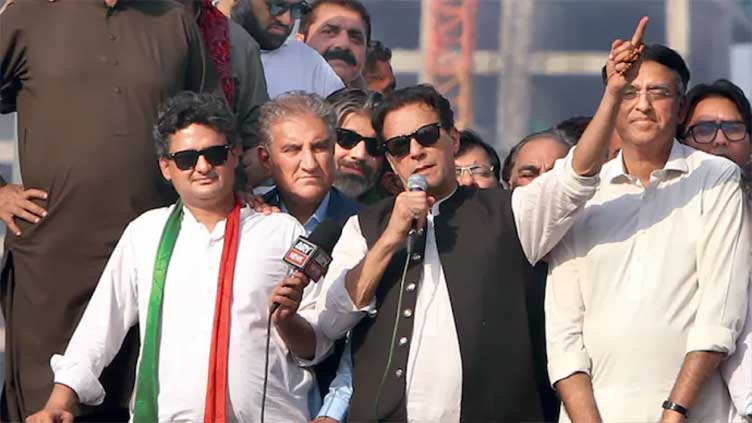 Pakistan
Campaign will start from Sangla Hill instead of Lahore
LAHORE (Web Desk) - Pakistan Tehreek-e-Insaf (PTI) decided to postpone its election campaign that was supposed to take off on Wednesday from PTI chief Imran Khan's residence at Zaman Park to Dara Darbar, and vowed to dedicate today's demonstration to the judiciary.
The campaign has now moved to Sangla Hill, a sleepy town in Punjab.
The party claimed that the judiciary had come under attack after the Supreme Court issued a verdict directing the Election Commission of Pakistan (ECP) to hold elections in Punjab and Khyber Pakhtunkhwa (KP) in line with the Constitution.
Know More: PTI to defend judiciary at any cost: Imran Khan

However, some quarters of the party called it a formal start of the election campaign.
Punjab Home Department in a letter to PTI Central Punjab President Dr Yasmin Rashid vowed to ensure security ahead of the party's demonstration.
It is for the second time in a week that the PTI has called off its election as, earlier, PTI chief Imran Khan had said the election campaign would be started from Saturday (March 4) in which the PTI workers would arrange corner meetings in all districts.
Meanwhile, the PTI chief had skipped the hearing of a sessions court in connection with the Toshakhana case after a sessions court issued arrest warrants against Mr Khan for his persistent absences from appearing for indictment. Mr Khan later approached the Islamabad High Court (IHC) to rescind the warrants which suspended the warrants until March 13 and ordered him to appear before the lower court on the day mentioned.
Earlier, PTI leader Musarrat Jamshed Cheema had said the PTI would incept an election rally under the leadership of PTI chief Imran Khan from his residence at Zaman Park to Data Darbar on Wednesday at 1pm.