Justice first, elections later, Maryam addresses PML-N convention in Sahiwal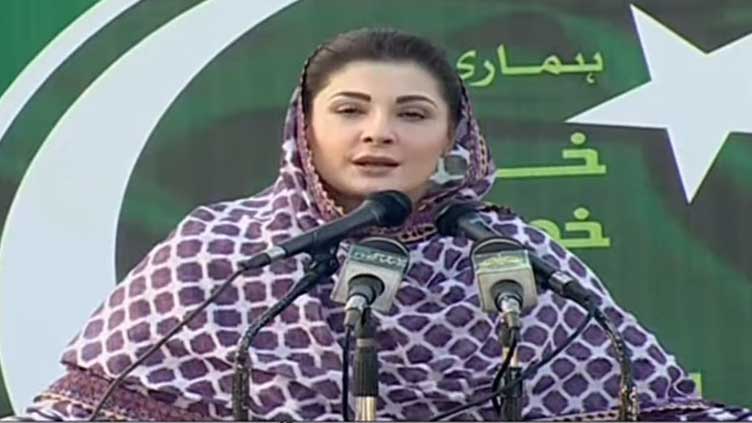 Pakistan
Justice first, elections later, Maryam addresses PML-N convention in Sahiwal
SAHIWAL (Dunya News) – Pakistan Muslim League-Nawaz (PML-N) senior vice president and chief organiser Maryam Nawaz said on Monday elections would be held after former prime minister Nawaz Sharif's sentence is annulled and bringing Pakistan Tehreek-e-Insaf (PTI) chairman Imran Khan to justice.
Addressing an organisational convention in Sahiwal, she linked the conduct of elections with end of Nawaz Sharif's case and said the country's development was stopped when Panama case was used to dethrone Nawaz Sharif.
The PML-N senior vice president said her party saved the country from becoming another Sri Lanka by putting national interests above its politics. She went on to say that the price of roti during Nawaz Sharif's reign was Rs2, while sugar, flour and ghee were sold at Rs50/kg, 35/kg and 140/kg respectively, whereas the power tariff was Rs11 per unit and petrol was sold at Rs65 per litre.
"Nawaz Sharif got the masses rid of over 22-hour long power outages while not burdening the public," PML-N chief organiser said and added the former prime minister built motorways and CPEC in the country.
The scion of the Sharif further added that Pakistan started progress when her the PML-N supremo came to power but when he was dethroned, the country had nosed down. She also claimed that Nawaz Sharif had made an atomic power in the world and provided cheap electricity.
During workers' convention, Maryam responded to rumors of her appointment to high-ranking positions by stating that she has surpassed the desire for any official title since her supporters have already shown her unwavering support and affection.
The PML-N senior vice president went on to emphasize that her people remain her primary source of empowerment, second only to a higher power.
In response to claims of her rise being attributed to her family's political legacy, she firmly asserted that her representation of the people's sentiments and preferences is an expression of democracy, not dynasty politics.
Watch here
On Thursday, while addressing workers' convention in Sargodha, Maryam Nawaz launched a broadside at Pakistan Tehreek-e-Insaf (PTI) chairman said that former prime minister Imran Khan brought the country to the brink of collapse.
Read this: Sanaullah hopeful about forming govt in Punjab
She come down hard on the PTI chairman and said that the group of the former PM is responsible for current economic situation of the country.
Read More: PM Shehbaz expresses reservations over formation of SC's larger bench
She said that the PML-N has jumped in to prepare itself for the elections and also challenged the PTI to win election with the power of masses.
The PML-N senior vice president went on to say that the PTI chairman repeated his mantra that his government was toppled through a conspiracy, but the real conspiracy was hatched against Nawaz Sharif.
Know more: Punjab, KP polls: PBC demands SC to reconstitute bench
Maryam further added that former Punjab chief minister Chaudhry Parvez Elahi's recent audio leak is enough to reveal the facts, adding that the PML-N will win the elections with the support of the people.
The PML-N chief organiser also expressed reservations over some of the judges of the Supreme Court larger bench formed to take up the suo motu notice on delay in Punjab and Khyber Pakhtunkhwa elections, adding that the Pakistan Bar Council (PBC) has also expressed reservations about these judges.
Watch here