KP police's rare act of agitation over Peshawar suicide attack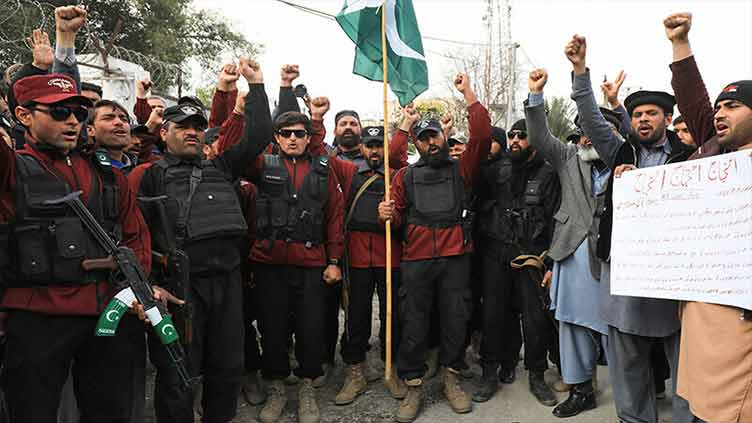 Pakistan
KP police's rare act of agitation over Peshawar suicide attack
PESHAWAR (Web Desk) – Khyber Pakhtunkhwa (KP) police personnel took to streets in uniform in various parts of the province against suicide attack at Peshawar's mosque which left more than 100 dead and several injured.
Stating different factors for anomalous gatherings, scores of on-duty policemen flocked to streets to put forward their demands.
— Wajahat S. Khan (@WajSKhan) February 1, 2023
Policemen in Peshawar, while chanting slogans for peace, gathered outside Peshawar press club to demand independent investigation into the incident. They also said that they wanted to voice their concerns against the injustice being meted out to the KP police. Saying their struggle was against the "system" as deteriorating law and order state in the country moved them into taking to streets, they sought justice for the victims of the terrorist attacks.
Know More: KP IGP vows retribution for each police officer martyred in Peshawar blast
In Mardan, the protesting policemen, while reminding the sacrifices made by the police in war against terrorism, brought explosion in secure and sensitive area to question. They demanded judicial inquiry into the incident and effective measures for protection of law enforcers.
In Swabi, the protestors grouped outside the district headquarters and marched till Karnal Sher Khan chowk to stage protests and stated that they were being killed by unknown people. They also sought independent investigation into the incident.
Read Also: Peshawar blast - scars too deep to heal
In Swat, Charsadda, and Shangla, they remembered the martyred in special prayers for the martyred policemen and victims of terrorism. Malakand Regional Police Officer Sajjad Khan, Swat District Police Officer Shafiullah Khan Gandapur, Additional SP Rahim Hussain Khan, SPs Izhar Shah and Pir Zar Badshah and other officers were present on these occasions.
Civil society members and people from different walks of life also participated in the rallies and raised slogans against the current terrorism incidents in the country.