Peshawar blast - scars too deep to heal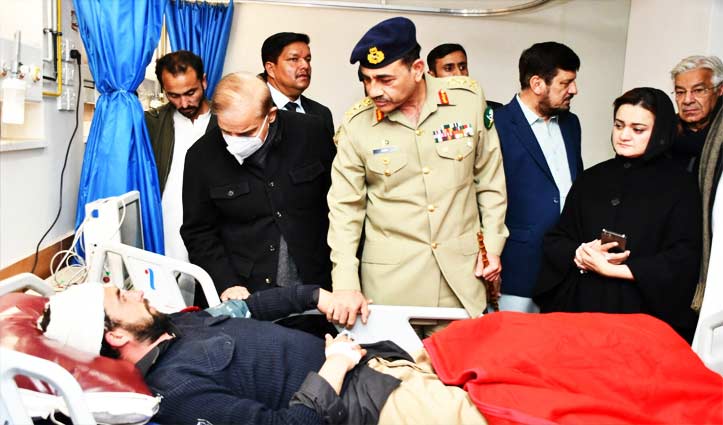 Pakistan
"How can such a ghastly incident take place in a highly fortified zone?"
By Shafaq Iqbal Farooqi
The recent suicide blast in Peshawar's Police Lines mosque has shaken the country. The tragedy left more than 100 people, mostly policemen, dead and many others injured. But the loss is much more than can be expressed in numbers as the incident shattered many a heart and mind. The scars that the dear ones of the departed souls have suffered are too deep to heal.
Some of the injured are having life-threatening wounds and their loved ones clutch at hope and prayers for their recovery. The incident is being described as an epitome of callousness as heart-wrenching stories unfold. Innocent children have lost shelters, mothers have lost their sons and wives have lost their sources of strength – countless homes depict a picture of gloom after having lost the radiance.
UN chief slams deadly terrorist attack in Peshawar

Amid the state of shock, questions abound: how can such a ghastly incident take place in a highly fortified zone, why was the security apparatus unable to detect a threat, what sin the people of Peshawar – once known as the city of flowers – has committed… The relatives of the victims want answers to their concerns as they visit the Lady Reading Hospital and other health facilities to look after them.
Peshawar police spokesman Naveed said there were Reserve Police, CTD and investigation blocks in the Police Lines. The Reserve Police personnel belong to various districts of the province and some of them are among the departed souls.
KP IGP vows retribution for each police officer martyred in Peshawar blast

Children who lost their father
The faces of three young children, residents of Hangu who lost their father in the blast, exuded anguish and pain. "How we will survive and what will happen to us without Baba. Why has Baba left us?
What will happen to my mother?
According to a rescue official, a wounded young man was in "high spirits" as there was an injury on his head and blood was flowing from other parts of his body. He said he was offering prayers in a corner of the mosque and fell down when the explosion took place.
"There is no other grief but I feel for my mother who can't live without me. If something happens to me, I don't know what will happen to my mother and how is she going to endure my death." The last words of the injured man moved those around him as he breathed his last even before he could enter the hospital for any kind of treatment.
PM Shehbaz thanks friendly countries for condolence over Peshawar attack

Excruciating pain
Al-Khidmat Foundation Peshawar official Ziauddin said when he reached the scene, he saw a person stuck under the debris. Perhaps a pillar of the building fell on him and he was in a lot of pain. He could be heard shouting, "cut off my foot but take me out".
Long-standing friends embrace martyrdom
Two police officials, who were martyred in the explosion, had not left each other since their school friendship until the time of their martyrdom. Shaheed Iftikhar and Shaheed Ibne Amin became friends when they were in first grade. After completing his education, Ibne Amin joined the police and Iftikhar landed a job in Wapda, but not being able to bear the separation of his friend, Iftikhar left his job and joined the police and they remained together till last.
Their relatives said both of them were a source of pride for their families and expressed their determination that they would not be intimidated by terrorists in any case. Their children, they said, would follow in the footsteps of the martyrs and protect the country.