PTI set to take issue of tanking economy to people, says Fawad Chaudhry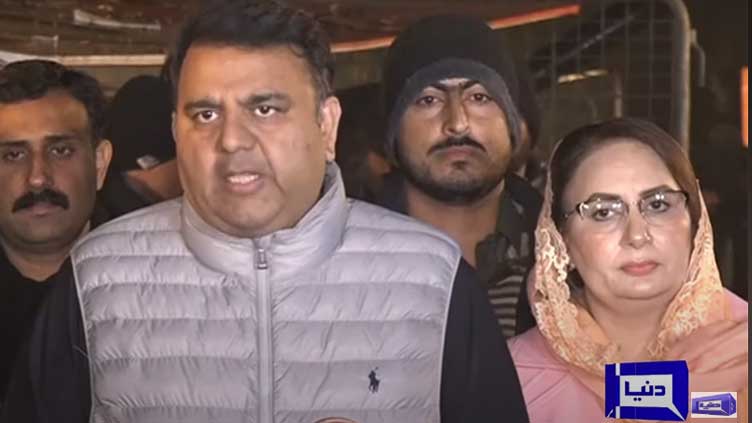 Pakistan
PTI set to take issue of tanking economy to people, says Fawad Chaudhry
LAHORE (Dunya News) – Pakistan Tehreek-e-Insaf (PTI) senior vice president Fawad Chaudhry said on Thursday the party would start a protest movement against the incumbent government for failing to improve economy on Friday.
Speaking to media outside PTI chief Imran Khan's residence at Zaman Park, he claimed that the protest would continue until the current government was sent packing. Imran Khan, he said, would join the movement three weeks later. "PTI MNAs and MPAs will also lead the movement in their constituencies," he added.
He said the countrywide protest would be started against inflation and tanking economy. "A protest will be staged in Islamabad for the release of Azam Swati on Monday," he added. He alleged that the judge who reserved the verdict in Azam Swati's case had been transferred.
Mr Chaudhry questioned whether the Speaker asked to verify the resignations when he accepted the resignations of 11 PTI MNAs. "The PTI will pursue the matter in the Supreme Court as the Speaker is delaying the acceptance of resignations", he added.
Know More: NA speaker, PTI lawmakers stick to their guns on resignation issue

He said a technocratic set-up would not work in the country, adding that the only solution to the country s woes was fresh election.
Earlier, the PTI discussed the possibility of dissolution of Punjab and KP assemblies besides other matters at a session attended by senior party leaders and senators. Besides briefing Imran Khan over the proceedings in the Senate, the session also deliberated on the matters pertaining to the rejection of resignations of the PTI MNAs by National Assembly Speaker Raja Pervaiz Ashraf and the talks of installing a technocratic set-up in the country.
Read Also: Fawad says prolonged caretaker govt will be grave mistake

It merits mention that Fawad Chaudhry warned that imposition and extended tenure of the caretaker government would be a grave mistake.
On Wednesday, Mr Chaudhry had said the powerful quarters should stop experimenting with the country as the nation could not afford the practice anymore. The PTI leader said terrorism cases had shot up by 52 per cent in the past eight months and warned that Pakistan would also face consequences if the situation in the neighboring Afghanistan deteriorated.