Published On 10 July,2021 06:29 pm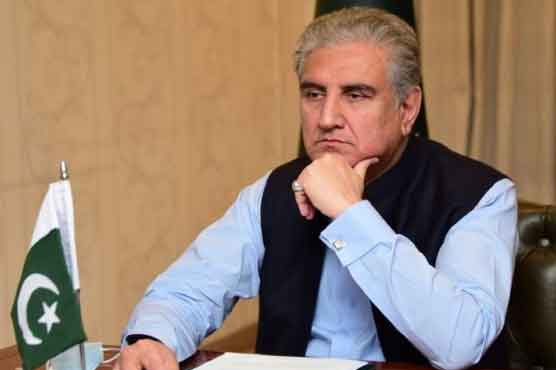 Pakistan trying to unite decision-making forces of Afghanistan
MULTAN (Dunya News) – Foreign Minister Shah Mahmood Qureshi on Saturday said that Pakistan is trying to unite the decision-making forces of Afghanistan.
Talking to media in Multan on Saturday, he said we are in touch with the senior leadership of Taliban and Afghan President Ashraf Ghani and we are trying to unite all the decision making forces. He said, "We do not want Afghanistan to fall prey to civil war."
The foreign minister said that peace and stability in Afghanistan would enable trade to Central Asia, adding that he would visit Tajikistan tomorrow (Sunday). He said Tajikistan also has concerns, if the situation in Afghanistan deteriorates, Tajikistan will also be affected.
Qureshi said durable peace in Afghanistan can only be achieved through negotiations among all the stakeholders. He said Pakistan does not want to see civil strife and instability in Afghanistan after the withdrawal of US forces.
"Peace in Afghanistan will help Pakistan to economically integrate with Central Asian Countries," he said.
Shah Mahmood Qureshi said he will visit Uzbekistan and Tajikistan to discuss the Afghan issue with his counterparts of respective countries.
About Kashmir, the FM said Prime Minister Imran Khan has been effectively raising voice for resolution of the issue at International fora.
To a question about influx of refugees in case of breaking out of civil war in Afghanistan, the Foreign Minister stated that Pakistan was already hosting three million refugees despite limited resources. Pakistan had also shared its concerns to UN agency for refugees, he also said.
He, however, added that Pakistan would formulate its strategy in case of arrival of refugees as it (Pakistan) had learned many things from past experience. Similarly, Pakistan would also review Iran's model to handle the refugees situation. Insurgents could be in the guise of refugees so Pakistan would formulate policy as per situation, he stated adding that Pakistan had already paid price by rendering huge sacrifices against the menace of terrorism.
About China's role in Afghanistan, Foreign Minister Makhdoom Shah Mahmood Qureshi stated that China also shared its border with Afghanistan. China can also play important role in the reconstruction of Afghanistan as it has resources and modern technology, he said. Qureshi stated, Gwadar was emerging and similarly, Afghanistan would have role for promotion of trade activities in the region.
About elections in Azad Kashmir, Qureshi observed that PTI would be popular party in Azad Kashmir. Prime Minister Imran Khan will address three public meetings in Azad Kashmir and will present his point of view in-depth before the people. Qureshi stated that Bilawal Bhutto Zardari and Maryum Nawaz should not harm national interests. Opposition should criticize the government's policies instead of issuing baseless statements about Kashmir, he remarked.
To a query about rigging, Qureshi stated that Elections in Azad Kashmir would be held under PML-N government and how was it possible for PTI to rig elections. The Opposition leaders should demonstrate political maturity, said Qureshi.
The Opposition should criticize government but at the same time it should have courage to accept criticism also, said Qureshi. He said, PPP leadership always talked about the sanctity of parliamentary norms, but PPP itself was violating those norms in Sindh Assembly.
Qureshi also hinted that a political worker from minority underwent torture by police in Tharparkar in line with political victimization.
Bilawal Bhutto Zardari, who is also the Chairman of the National Assembly Committee on Human Rights, should hold the police officer accountable for torturing political worker Ray Bakhat Bhail, otherwise Bilawal should resign from the Chairmanship of the Rights body, he said and added that the torture on a political worker from minority was politically motivated.