Last Updated On 22 July,2019 11:55 pm
The talks will mark an effort by the two leaders to reset ties between the two countries.
WASHINGTON (Dunya News/ AFP) – President Donald Trump on Monday offered to mediate the decades-long Kashmir dispute between India and Pakistan, a move that would signal a shift in long-standing US policy that the issue must be solved bilaterally.
"If I can help, I would love to be a mediator," Trump said at the White House, where he was hosting Pakistan s Prime Minister Imran Khan. "If I can do anything to help, let me know," Trump said.
President Donald Trump said that Pakistan was helping the US advance the Afghanistan peace process, as he hosted Prime Minister Imran Khan at the White House.
"I don t think Pakistan respected the United States" in the past, Trump said, but "they are helping us a lot now."
Earlier, Prime Minister Imran Khan arrived at the White House to hold talks with U.S. President Donald Trump. The US President warmly welcomed Pakistani premier on his arrival at the White House. PM Imran Khan was given a guard of honour while a large number of Pakistani-Americans also welcomed him outside the White House.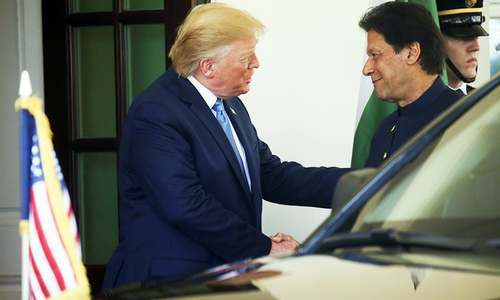 Foreign Minister Shah Mehmood Qureshi and COAS Qamar Javed Bajwa are accompanying Prime Minister Imran Khan.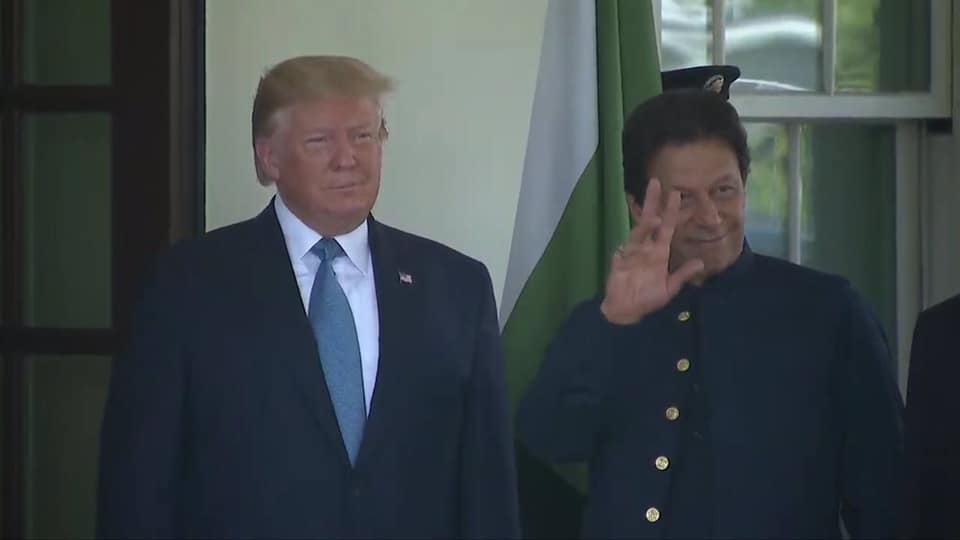 President Donald Trump, speaking at a White House meeting with visiting Pakistani Prime Minister Imran Khan, said on Monday the United States is working with Islamabad to find a way out of the war in Afghanistan.
Trump held out the possibility of restoring U.S. aid to Pakistan, depending upon what is worked out, and offered assistance to Islamabad in trying to ease strained ties with India.
Khan told Trump there was only one solution for Afghanistan and that a peace deal with the Taliban was closer than it had ever been. He said he hoped in the coming days to be able to urge the Taliban to continue the talks.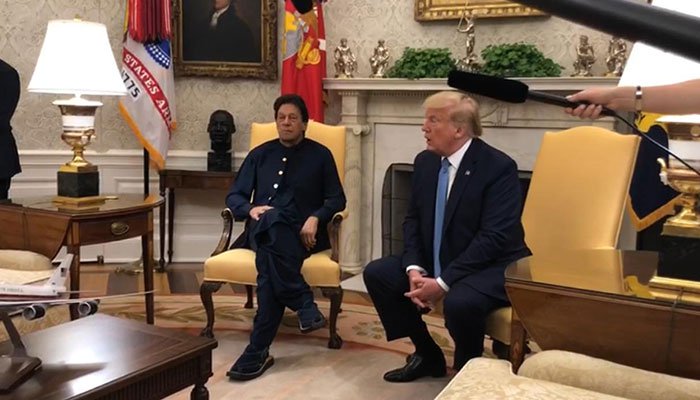 President Trump said he looked forward to a pleasant meeting with Prime Minister Imran Khan who is a very popular leader of Pakistan. He said Pakistan is a great country that helped the US to a great extent in moving forward the peace process in Afghanistan and we are working with Islamabad actively. He said we are continuing to bring down the number of troops in Afghanistan.
Replying to a question, he said the US has already withdrawn certain number of troops from Afghanistan. He, however, said he will not take any step in removal of troops hastily.
He said we will discuss military, trade and host of other issues during the meeting. President Trump hailed PM Imran and Pakistani people as a great nation, adding that he would surely visit Pakistan if invited. He said "I believe that we will in a very short period of time start having serious trade with Pakistan."
Speaking on the occasion, Prime Minister Imran Khan said he really looked forward to the meeting with the US President. He said the US is vital for Pakistan and we have relations spanning over many decades since independence of our country. Imran Khan said Pakistan fought as a frontline state both during Soviet invasion of Afghanistan and also in war in terror. He said there is no military solution to the Afghan conflict.
The Prime Minister said Pakistan has a very important role as it shares some 1500 miles long border with Afghanistan. He said we want better understanding between Pakistan and the US on the issue of Afghanistan. He said there should be no question on Pakistan s sincerity in resolving this conflict.
He said Pakistan needs economic stability as we have been fighting the war against terror for the last fifteen years during which we suffered casualties of seventy thousand people and loss of 150 billion dollars in damaged infrastructure.
He said peace and stability in Afghanistan is in best interest of Pakistan. He said only talks can resolve the decades-long conflict. Imran Khan said our role is to bring Taliban to the negotiating table with the Afghan government. He said we are closer to a peace deal in Afghanistan.
The Prime Minister hoped that the US can play its role in bringing India and Pakistan together.
US first lady Melania Trump in atweet said it is great to have Prime Minister Imran Khan at White House.
Great to have Prime Minister @ImranKhanPTI of Pakistan at the @WhiteHouse today! pic.twitter.com/W4ChxxfwQp

— Melania Trump (@FLOTUS) July 22, 2019
Earlier, White House in a statement said, President Donald J. Trump is working to strengthen cooperation with Pakistan on issues that are vital to the peace, stability, and prosperity of the South Asia region.
President Trump and Prime Minister Khan will discuss a range of issues, including counterterrorism, defense, energy, and trade. The United States is committed to creating the conditions necessary for a peaceful South Asia. President Trump wants to build stronger economic and trade ties with Pakistan, which would benefit both of our countries, as we make progress on core United States security concerns.
The President acknowledges the initial steps Pakistan has taken to improve regional security and counter terrorism. Pakistan has made efforts to facilitate the Afghanistan peace talks, and we are going to ask them to do more.
The path to a strong and enduring partnership between Pakistan and the United States lies in working together to find a peaceful resolution of the conflict in Afghanistan. Pakistan has taken some steps against terrorist groups operating within Pakistan. It is vital that Pakistan take action to shut down all groups once and for all, the satement concluded.
Chief of Army Staff (COAS) General Qamar Javed Bajwa, Foreign Minister Shah Mehmood Qureshi, Advisor to Prime Minister on Commerce Abdul Razzaq Dawood and Special Assistant on Overseas Zulfikar Bukhari are accompanying the Prime Minister during US visit.
Foreign Minister Shah Mehmood Qureshi told media that Pakistani delegation has come with a message of peace and prosperity in the region. He said Prime Minister Imran Khan has come to America with a vision of Naya Pakistan . He said meeting between the two leaders is being held in a very cordial environment. Shah Mehmood Qureshi said Pakistan wants to start a new era of bilateral relations between Pakistan and the US.
Earlier today, US investors delegation led by effective member of Democratic Party and famed trader Javed Anwar met PM Imran Khan in Washington DC.
During the meeting, the premier invited US businessmen and investors to benefit from the economic and business opportunities afforded by Pakistan's strategic location.
The US businessmen appreciated improved security environment in Pakistan and identified areas of interest with regard to investment in key sectors including energy and tourism.
Meanwhile, Texas based leading Pakistani businessman and high ranking influential member of the Democratic Party Tahir Javed also called on Prime Minister Imran at Embassy of Pakistan in Washington.
The PM is also scheduled to meet International Monetary Fund (IMF) delegation and president of World Bank today.
Previously, Prime Minister Imran Khan had arrived in Washington to hold talks with President Donald Trump on cementing Pakistan-U.S. relations in a range of areas.
PM was received by Senior Officials of US State Department, Foreign Minister Shah Mahmood Qureshi and Ambassador of Pakistan to US Dr. Asad M. Khan while enthusiastic Pakistani-American community members were also gathered on the occasion.
Meeting between the PM and US President Donald Trump will be held at White House on July 22.
Advisor to Prime Minister on Commerce Abdul Razzaq Dawood, Special Assistant on Overseas Zulfi Bukhari and Army Chief General Qamar Javed Bajwa were accompanying the Prime Minister while Foreign Minister Shah Mehmood Qureshi was already in Washington as part of the entourage.