Last Updated On 20 December,2018 08:24 pm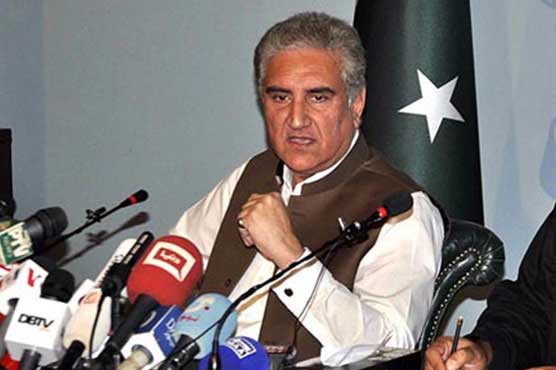 We need peace on our eastern and western fronts if we want to take the nation out of poverty
ISLAMABAD (Dunya News) – Foreign Minister Shah Mahmood Qureshi on Thursday said that the United States and Taliban held dialogues due to the efforts of Pakistan and the credit of this goes to the incumbent government.
Speaking on the floor of Upper House of the Parliament, he said that those who were pointing fingers at Pakistan several months ago, were now appreciating Islamabad's role.
"First the US was not ready to recognize Taliban but holding dialogues with the Taliban after 17 years of bloody war in Afghanistan is a bigger achievement," he added.
The minister said that the region needs peace and stability, adding that peace is also needed for economic development.
"We would need peace on our eastern and western borders if we want to take the nation out of poverty," he said and added Pakistan has never refused to hold dialogues.
The minister said that dialogue is the only option to resolve all outstanding issues between India and Pakistan, adding that Prime Minister Imran Khan immediately after assuming power offered India to come to dialogue table in order to remove illiteracy and poverty from the region.
He said that our response was very measured and mature in which we said Pakistan is willing to engage when they are ready as engagement is the only solution to our bilateral outstanding issues.
Qureshi further said: "Two neighbors, that are also nuclear powers, have been acknowledging of their bilateral issues since the last many decades. Dialogues were also held in the past and these were stalled due to various reasons."
Regarding the opening of Kartarpur Corridor, the foreign minister said that the gesture by Pakistan was made for peace and completing the long-standing demand of Sikh community to visit one their holiest places.
"A stable and peaceful neighborhood is our requirement in order to improve our socio-economic conditions," Qureshi said and added India must realize the high price Pakistan has paid in fighting the war against terror.
He said no other nation has sacrificed 75,000 people in this war, besides suffering losses of billions of rupees. He said all credit goes to people and armed forces of Pakistan who have exhibited their resilience.