Suspects accused of attacking Azam Swati's house granted bail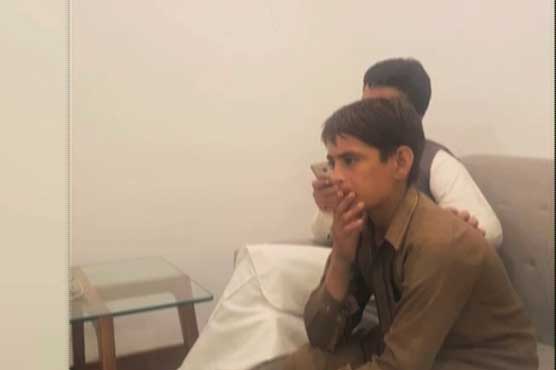 Accused were granted bail on surety bonds worth 10,000 rupees by the judicial magistrate.
ISLAMABAD (Dunya News) – The suspects who ended up in jail following an alleged scuffle with the son of a federal minister were released on bail Tuesday.
Police had arrested a few people after Azam Swati's son lodged a complaint in Chak Shehzad police station against five individuals, including two women, regarding an alleged row at his farmhouse.
Judicial Magistrate Salman Badar heard the bail petition. The federal minister's son Usman Swati and the family of the suspects appeared in the court where they presented a truce agreement following which the magistrate ordered their release.
The suspects - Ehsanullah, Zia-ud-Din, Salah-ud-Din, and two unidentified women – were granted bail on surety bonds worth 10,000 rupees by the judicial magistrate.
---
'Swati should resign'
---
The family during a press conference had called on Prime Minister Imran Khan to suspend Swati's membership, warning of protest outside the residence of the federal minister.
"We are giving three days for Swati's resignation," Abdullah, brother of one of the persons said. He added that Azam Swati wanted to confiscate their property.
"The federal minister's son Usman Swati said we dare not mess with him. My brother's family is being threatened," he said.
Abdullah alleged that several men also attacked his brother's house and humiliated their women. "Whatever my brother did was to protect his honour. In my area, men fight but never hit women. It has long been the tradition," he said.
---
Minister claims innocence
---
The federal minister had earlier said his house was attacked and employees were injured by members of the family. The issue reportedly led to the transfer of Islamabad Police Inspector General.
"I approached Islamabad IG as a common citizen but he did not pick my call for 22 hours," he said. "Upon incessant failure, I approached Prime Minister Imran Khan and secretary interior and explained issue to them."
---
'No political meddling'
---
The Supreme Court later suspended the notification of transfer of Islamabad Inspector General of Police (IG) Jan Mohammad.
A three-member bench headed by Chief Justice of Pakistan (CJP) Justice Saqib Nisar heard the suo motu case and directed the federal government to submit detailed reply in this regard till October 31.
As the hearing went underway, Attorney General (AG) told the apex court tha Jan Mohammad was transferred on Prime Minister Imran Khan's verbal orders. To this, CJP wondered that AG had transferred a high-ranked police official merely on verbal orders of the prime minister.
The interior and establishment secretaries also presented summary regarding politically-motivated transfer. It read that Islamabad IG had been transferred on verbal orders of the prime minister.
Expressing exasperation on the matter, the top judge made it overtly clear that political meddling in the matters of police would not be tolerated.
"IG Police serves under interior minister. It has also came to light that matter of phone call is linked to son of a minister. We will not allow anyone to weaken state-institutions. Writ of law would be established at all cost," he said.
The interior ministry on Tuesday issued a notification to formally reinstate Jan Mohammad after Supreme Court's (SC) verdict on the suo motu notice. Jan Mohammad - who is in Malaysia - will return on November 2 and resume his duties.