Hard work pays off: Son of chai wala grabs third position in Faisalabad board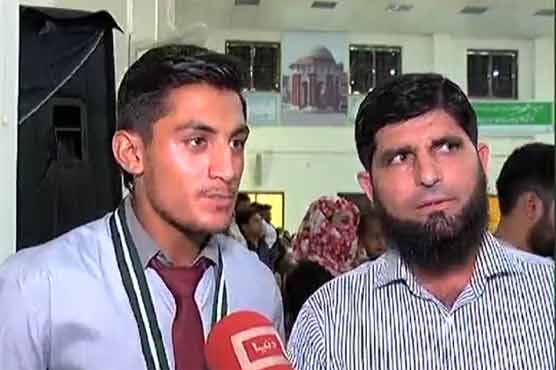 Youth is an asset which should be utilized to make nation rising to every occasions.
(Web Desk) – It is commitment that defines the success of a person. One can achieve objectives if one is committed and determined. The report of Naeem Qaiser from Faislabad explores one such young man. In the recently announced result of Intermediate, the son of tea-seller bagged the third position. For the teachers and the parents, it was quite a proud moment and this news really made their day.
ALSO READ: Five years in power, three federal ministers, not even a single university
The student namely Talha belongs to Commerce group. In a splendid ceremony held by in Faisalabad board in honor of the position-holder, the seller said my parents have spent everything on me and I dedicate my success to them. Talha holds the dream of becoming Chartered Accountant (CA) in future.
Father of the position holder expressed his emotions with a blushing face. He said I am so proud of my son today. I am sure one day my son will be chartered accountant.
---
Pakistan is quite a fertile land when it comes to talent; the only thing which is required is the appreciation. The government should take this matter seriously. The youth consists of 70 per cent of the entire population. Instead of making them asset, the negligence of the subsequent governments has made them unemployed and futile part of the society. The instance of Talha is in front of everyone who despite being poor made his name.
ALSO READ: Talented, vibrant youth is Pakistan s real defense: COAS
Lack of education produces inept youth which instead of being productive part of the society becomes indulged in nefarious activities including thefts and extremism. Education is among the first and foremost rights enshrined in the constitution of Pakistan. Saving youth from getting indulged into futile activities, it is vital educate them and provide them employment opportunities.