Pak Army donates over Rs1bn to dam fund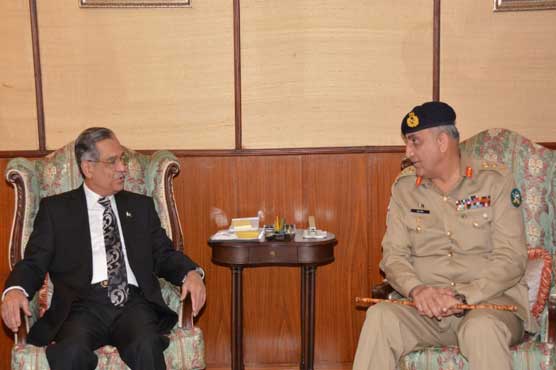 General Bajwa handed over the cheque to Chief Justice Saqib Nisar.
ISLAMABAD (Dunya News) – The military on Monday donated more than a billion rupees to the Diamer Bhasha and Mohmend dams fund set up by the Supreme Court to facilitate the construction of dams.
Chief of Army Staff General Qamar Javed Bajwa met Chief Justice of Pakistan Justice Saqib Nisar and handed over the cheque, Inter-Services Public Relations (ISPR) Director General Maj-Gen Asif Ghafoor said in a tweet.
"Pak Army shall continue to contribute towards nation building as a national institution," said General Bajwa.
Read: Inevitable Diamir Bhasha Dam - Requirements, Reservations and Challenges

In pursuance of Justice Saqib Nisar's order, the Finance Division had opened an account under title "Diamer Bhasha and Mohmand Dam Fund-2018" for raising funds for the construction of these dams in the country.
Prime Minister Imran Khan in his latest statement urged overseas Pakistanis to donate generously for construction of dams in Pakistan to avert the looming water crisis.
He was of the view that delaying such projects increases the cost so his government wants to build water reservoirs on time. Imran also announced the merger of CJP and PM's dam fund. He also asked overseas Pakistanis, especially those living in European countries and the United States to contribute at least one thousand dollars in the fund.
According to an initial estimation proposed by Wapda officials, the initial proposed financial cost for Diamer Bhasha would be $12 bilion.
Atleast $5 billion is the minimum requirement to initiate the construction of the dam whereas another $7 to $10 billion are required for the power generation.
Wapda says that the proposed project upon availability of the minimum required funds can be initiated in a year and is expected to be completed in nine years or so.