Last Updated On 27 August,2018 02:38 pm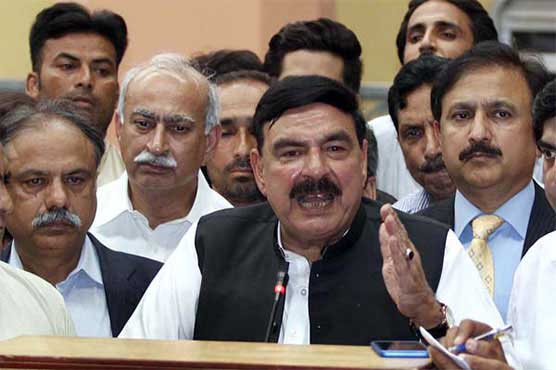 Minister railways drew media attention with back to back controversies in a week.
(webDesk) - Federal Minister Railways Sheikh Rasheed has long been known as an interesting politician who on the floor of current affairs show is considered a TRP guarantee. He has a thrilling history of passing blunt remarks, levelling allegation, stirring prophecies and displaying commendable publicity stunts. He is outspoken, he is courageous and he is now part of PTI led government ally.
Since the chief of the Awami Muslim League party, Sheikh Rasheed Ahmed parted his ways from PMLN and Sharif Brothers, he has become ostensibly bitter and haughtily critical towards them, over-all party leadership and their performance. The rhetoric of Awami Muslim League chief fired up more after joining hands with PMLN's arch rival and another stern knocker and then opponent PTI.
PTI's triumph in Pakistan General Elections 2018 paved the way of government offices for many old political monks that were remained out of the game for almost a decade. This includes prominent political heavyweights like Chaudhary Brothers, Chaudhary Ghulam Sarwar and Sheikh Rasheed Ahmed among others.
Sheikh Rasheed has been given the portfolio of Railways. The 67-year-old minister assumed the office on August 20, 2018 for the second time. Rasheed held the same portfolio during the reign of former president General (r) Pervez Musharraf. Here is a candid look at the week of the newly appointed Minister of Railway Sheikh Rasheed Ahmed:
First Presser of Railway Minister and headlines were about Interior Ministry
After being given the portfolio for Pakistan railways, AML chief initially seemed on fire. Within two days of taking oath, he has done his first presser after the first official meeting with the officials of Railways in fact had put forth quite an ambitious plan to reform the railways department with some robust steps for the betterment of railways such as upgrading 32 railways stations, building 5,000 quarters for employees, generating 20,000 jobs, improving railways hospitals and doubling the railway tracks but irony, his another statement has grabbed the attention of media rather his determination to bring vigorous difference in the present situation of Pakistan Railways.
He in his media talk said he wanted to eliminate crime; instead, he was appointed the railways minister. He expressed his serious discontentment over not assigning him the office of interior ministry.
Also Read: Sheikh Rasheed angry with Imran Khan over interior ministry
Railway Minister manhandled an elderly women and damaged the camera filmed the incident
Another controversy erupted on the eve ahead of Eid-ul-Azha when allegedly an elderly women was mishandled by the minister of Railways who attempted to meet him to seek some financial help but was stopped by the security guards. Sheikh Rasheed when stepped out of his residence, he reportedly misbehaved which was then and there got filmed by a private TV cameraman happened to be there for shooting an Eid show with Sheikh Rasheed, the media reports.
The security personnel of AML chief damaged the camera. However, the news after heavily being escalated on TV screens and social media ended with no complaint filed against the minister by the woman, even the cameraman later step backed of his claim.
The Rawalpindi and Islamabad Union of Journalists had even issued a condemnation note.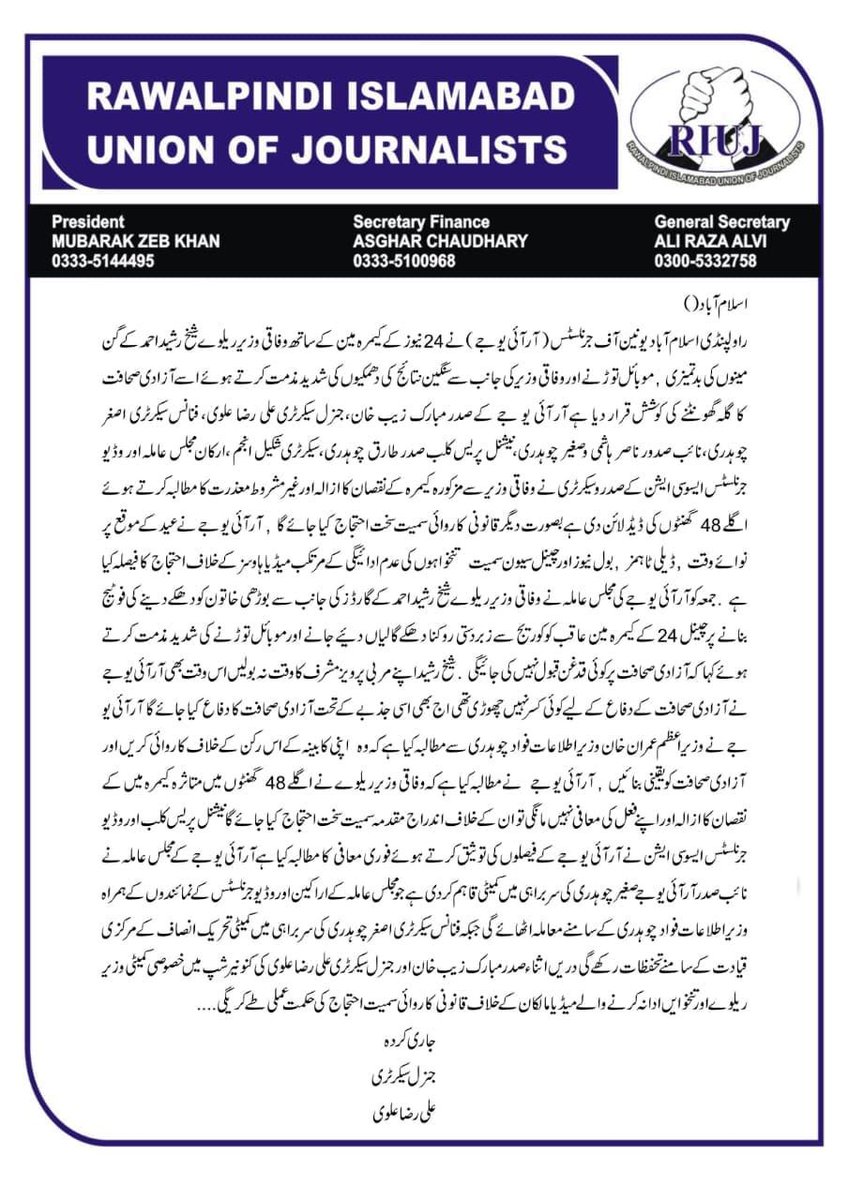 ---
Publicity stunt boomerangs the commendation ovation for former minister of railways
Sheikh Rasheed on third day of Eid, posted a video on social media while he was travelling from Rawalpindi to Lahore on a train. He probably was meant to show his devotion to the recently announced austerity drive by Prime minister Imran Khan which in no time spun into a praise promotion for the former Minister of Railways and PMLN stalwart Khawaja Saad Rafique.
— Sheikh Rashid Ahmad (@ShkhRasheed) August 24, 2018

— Khawaja Saad Rafique (@KhSaad_Rafique) August 24, 2018
Seeing the amazing interior of the railway cabin and the facilities available in the parlour car run between Lahore and Islamabad, Social media ablaze with the complimentary messages for the praise worthy work former railway minister Khwaja Saad Rafique had done in past five years in strengthening Pakistan Railways.
— Raza Haroon (@mrazaharoon) August 24, 2018

— Azhar Javaid (@azharjavaiduk) August 24, 2018

— Nausheen Yusuf (@nausheenyusuf) August 24, 2018
Earlier, former interim Minister for Railways Roshan Khursheed Bharucha said the income and passengers of Pakistan Railways have increased considerably during last five years.
— Khawaja Saad Rafique (@KhSaad_Rafique) August 24, 2018
In January 2013, the National Assembly was informed that the debt of Pakistan Railways had surged to Rs58.6 billion. At that time, Haji Ghulam Ahmad Bilour of the Awami National Party was the railway minister. Next minister Khawaja Saad Rafique of the Pakistan Muslim League-Nawaz (PML-N) took charge in mid-2013 and brought improvement in the railway department with some innovation and renovation.
On the other hand, the former railway minister took to the social media site and advised upholding the "pride of the nation and the one that the latter had expressed while commuting via train. Sharing a video making rounds over the internet, in which Sheikh Rasheed can be seen sitting in a rather good-looking passenger car of Pakistan Railways, the PML-N leader said that railways had been earning some Rs18 billion; however, after he took the reins, the figure augmented to Rs30 billion. "An approximate increase of Rs6 billion per annum is a proof of the hard work and commitment with which the affairs of railways were dealt," Saad said in a twitter thread
— Khawaja Saad Rafique (@KhSaad_Rafique) August 25, 2018
He said that earlier the staffers suffered without salaries, but owing to the reforms carried out in his tenure, more than 75,000 employees had been given their salaries for the month of August in advance so they could celebrate Eid like others across the country. "No fear of privatisation is haunting these employees either. You too, keep them safe and far from any such fears," Saad stated.
Continuing to name the reforms carried out in his stint, the former minister said that punctuality of trains lied somewhere around 45 per cent in 2013, whereas it had crossed 77 per cent now. "Racks in Karachi Cantt, Okara, Raiwind, Sahiwal, SIbbi, Harnai and Narowal, to name a few, have been upgraded as well. Donations were sought from passengers to get fuel tanks of the trains filled prior to our tenure. We, now, have left enough fuel for you to keep those engines running for another 20 days," he said, adding, "We want railways to prosper, and that is how you would prosper too, Sheikh Sahab."
— Khawaja Saad Rafique (@KhSaad_Rafique) August 25, 2018
According to media reports and Pakistan Railways officials, E-ticketing, including a mobile app and reservation through the railway's website, was one of the steps he took for boosting the organisation's performance.
E-ticketing now comprises 18% of total ticket bookings of 11.5 million, which means almost every fifth passenger is using the online platform. Of the total e-ticketing, 46% was the share of mobile app named Pakistan Railways Official which had over 100,000 downloads on the Google app store. The app recorded phenomenal growth in its early years.
In fiscal year 2016-17, 24,089 tickets were booked through the app. The number increased 51 times in the next fiscal year to 1.2 million bookings. Pakistan Railways' website also recorded an increase of 3.3 times in bookings, from 250,047 tickets in fiscal year 2016-17 to 846,412 tickets next year.
— Hasan Raza (@HasanRazaLhr) August 26, 2018
Minister Railways irks Railway Walas
Despite claims of No 'Victimization', a senior Railways official Hanif Gul on Sunday after having a brawl with the newly appointed Railways Minister Sheikh Rasheed Ahmed, has reportedly sought a two-year leave while refusing to work under the new "nonprofessional and ill-mannered" minister.
Mohammad Hanif Gul, a Grade-20 officer, in his application letter said that it would be difficult for him to work with newly appointed Minister Railways, who is a coalition partner of PTI government. "With due respect it is submitted that the attitude of the new Minister is extremely nonprofessional and ill-mannered. As an Honorable member of the Civil Services of Pakistan, it is not possible for me to work under him," read the letter being circulated on social media.
It is, therefore, submitted that 730 days leave may kindly be allowed to the undersigned," it added. In his letter, he said that Rasheed is "extremely non-professional and ill-mannered". "The minister is fully entitled to work with a team that shares his vision," he further wrote, asking to be granted leave.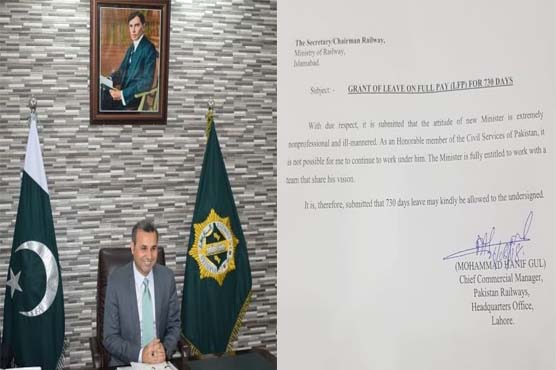 ---
After the official leave letter is rounded on social media took to the twitter to express their displeasure over the Minister s misbehaviour.
— Haroon ur Rasheed (@haroon_natamam) August 26, 2018

— Shama Junejo (@ShamaJunejo) August 26, 2018

— Atif Tauqeer (@atifthepoet) August 26, 2018
On the other hand, a mix reation has been seen over the weired demand of he railway official of two years paid leave over the scuffle with a minister.
— Soraya Aziz (@SorayaAziz) August 26, 2018

— WSK (@WajSKhan) August 26, 2018

— Abdul Majeed Khan Marwat (@koolkopper) August 26, 2018
According to the civil service rules, an official in certain conditions can take leave up to five years.
Hanig Gul,Hubert Humphrey fellow, MIT Alumni and a Chevening schola, is known in Pakistan Railways as an upright officer. He is a quite supporter of Prime Minister vision of Naya Pakistan.
Reportedly Minister railways Sheikh Rasheed restricted Railways Ministry officials not to praise Khawaja Saad Rafique for the good work he has done in five years & not talk to media, warns ministry officials that they will lose jobs if they are found to be speaking to media.
Newly appointed minister plans robust measures to vanish deficit from Railways
Since the day Sheikh Rasheed Ahmed resumed the charge, he can be seen taking vigorous measures to take Railways to new heights. Here are the pledges new minister Railways made to end deficit of Railways:
- To end railway deficit by the end of the year

- Have planned to curtail the ministry s expenses by 15%

- Will be auctioning off trains and wagons that have been standing stationery for the last 60 years

- Two new trains between Rawalpindi-Mianwali and Rawalpindi-Lahore junctions will operate from September 15

- Opening up the entire railways for advertising which includes its stations, trains and 14,000 bridges

- Will ask the federal government to pay the pensions of railways workers as the corporation is not in a position to pay billions of rupees annually

- To establish the commercial plazas on the railways land to enhance the income of the department
Also Read: No increase in rail fares: Sheikh Rasheed
- The officials would no longer get expensive cars and protocol employees involved in corruption will be handed over to National Accountability Bureau - to increase the freight by 20% - to upgrade 32 railways stations across the country.

- Building 5,000 quarters for department employees,

- Generating 20,000 jobs

- Upgrading railways hospitals

- Doubling the track with investment from China-Pakistan Economic Corridor

- Planting trees on both sides of the railway track.

- Elevators will be installed at major stations to facilitate the elderly citizens

- Officers of Pakistan Railways will work one hour more than normal closing time, however, lower staff will observe the normal closing time.
Also Read: Sheikh Rasheed vows to upgrade 32 railway stations
---