Last Updated On 18 June,2018 06:51 pm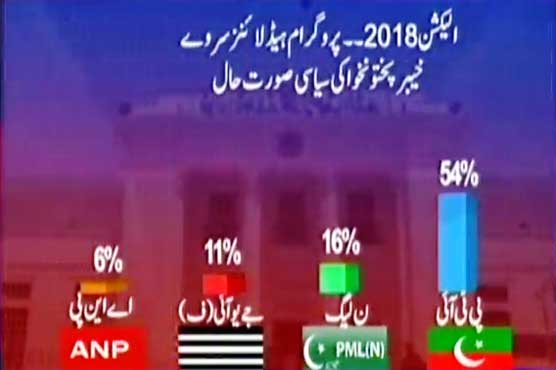 PTI is running to rule in KP again but who else is in the potential to win the race?
(Dunya News) KP has an extraordinary history of not giving another opportunity of rule to their former ruling governments. Pakistan Tehreek-e-Insaf claims to again form their government in 2018 in Khyber PakhtunKha. Before plunging into any calculations and probabilities, it is pertinent to keenly observe the other factors like current situation of other major political parties such as Awami National Party and Mutahida Majlis e Amal and the new status of former FATA/PATA.
FATA merger would now play an important role in terms of the formation of next government in Khyber pakhtun Kha.
Khyber PakhtunKha and the Seats
National Assembly has 39 general seats from Khyber PakhtunKha in total. 04 seats are added after the latest delimitation being done after the Census 2017. Formerly, KP had 35 seats in National Assembly.
KP's first constituency started from Chital and ended at Dera Ismail Khan.
PTI bagged the maximum seats in general elections 2013 and form the provincial government in KP with 63 seats.
Fata Merger, the gain in seats and the benefit to KP
With the merger of Fata, KP provincial assembly seats increase to 147 from 126. The general seats of the provincial assembly also increase from 99 to 117. The seats for women have been increased from 22 to 26, while for religious minorities from three to four. FATA has been granted 18 general seats, four seats for women and one for religious minorities. Moreover, FATA's 12 seats in National Assembly will be merged in KP Assembly's and the provincial seats will increase from 48 to 60 in the Lower House of parliament.
Also Read: Elections 2018: Punjab to rule Pakistan, who to rule Punjab?
Dunya News Program Headlines Survey
Let's have a glimpse over the surveys being done to testify the proclamations and assertions made by the Pakistan Tehreek-e-Insaf ahead of General election 2007 with respect to the other political parties trying their harder to challenge the position of the incumbent ruling party.
Dunya News program Headlines, in its series of surveys being done in major constituencies of KP to forecast the likelihood of the political party most promising in forming the next government in Khyber PakhtunKha.
Khyber PakhtunKha in general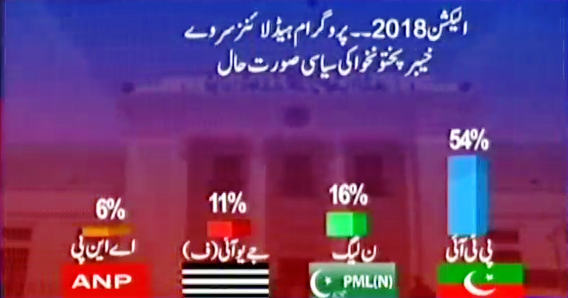 PTI shows decisive lead with 54 percent voter s support. Photo: Dunya Survey
---
The surveys are endorsing the claims of Pakistan Tehreek-e-Insaf as the political party has the decisive gain over the other political parties. Pakistan Tehreek-e-Insaf is leading the voter's confidence with fifty four percent. The next political party is PMLN with 16 percent support only which is far behind the support, PTI bagged, followed by JUI(F) with 11 percent and ANP with only 6 percent voters' confidence.
---
Hazara Division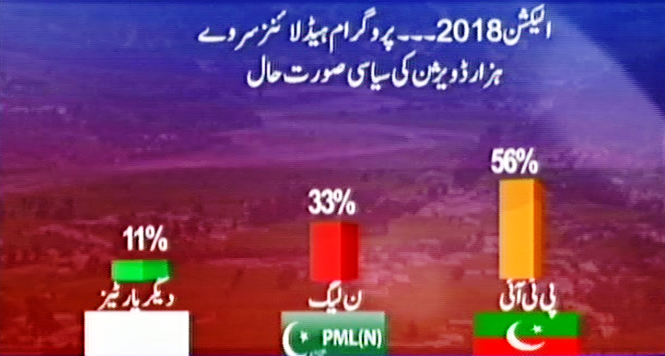 PTI has a lead with 56 percent voter s inclination. Photo: Dunya Survey
---
According to the surveys, PTI is also leading in Hazara with 56 percent followed by PMLN is relatively in a better position with 33 percent and all other political parties with 11 percent only.
---
Also Watch: Dunya News Program, Headlines
For Dunya News Web Mehreen Fatima