Last Updated On 29 March,2018 01:06 pm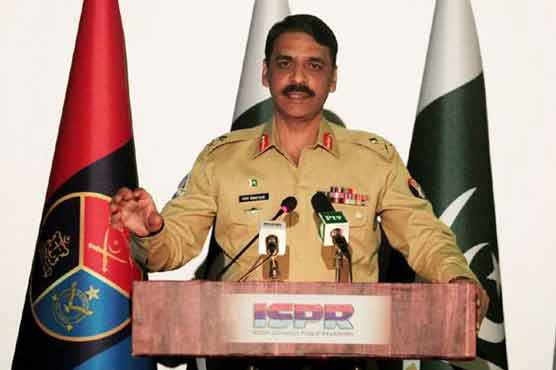 DG ISPR said that the efforts of army officers have defeated the menace of terrorism.
ISLAMABAD (Dunya News) - Director General (DG) Inter-Services Public Relations (ISPR) Major General Asif Ghafoor on Wednesday has clarified that Pakistan Army has nothing to do with any National Reconciliation Ordinance (NRO).

During a press conference, DG ISPR said Chief of Army Staff (COAS) General Qamar Javed Bajwa recently had a routine telephonic conversation with Pakistan Muslim League-Nawaz's (PML-N) newly-elected president Shehbaz Sharif.

He said some reports had claimed that Shahbaz Sharif had met with COAS twice in 72 hours and that there was going to be an NRO. Pakistan Army has no link with any NRO as that it is political parties that make consultations with one another, he said.
---
Bajwa Doctrine
---
Commenting on much hyped Bajwa Doctrine, the DG ISPR made it clear that it should be viewed under security lens as Army Chief wants Pakistan a peaceful and stable country as every Pakistan does.
Referring to meetings and visits of Army Chief General Qamar Javed Bajwa, he said bilateral and security relations have been strengthening with Army Chief s visits to Sri Lanka, Kabul, Munich, Malaysia and other countries.
---
Internal security issue
---
DG ISPR said that the last week was very important for the country due to Pakistan Super League (PSL) final in Karachi and military parade on Pakistan Day in Islamabad. Both events were held in a well-organized way, he added.

He said that Karachi is returning towards normalcy as today there are no shutter-down strikes in the metropolis.

Shedding light on the outcomes of anti-terrorism operations, he said, "Twenty six major operations, 23,318 IBOs, 7,738 checkposts and over 23,000 weapons were recovered as part of Raddul Fasaad."

Appreciating the role of intelligence agencies in foiling the designs of enemies, he said the security agencies played a lead role in war on terror and busted seven big networks of terrorists besides arresting 16 would be suicide bombers. Besides, eleven cases were solved and 572 terrorist incidents were averted while 946 threat warnings were issued.

"We are successful today due to struggles of intelligence agencies like ISI, Military Intelligence and Intelligence Bureau among others. We should be proud of them," he added.
---
Stability in Balochistan
---
General Asif Ghafoor said that after smooth operation in FATA, now Pakistan army has shifted its focus towards stability in Balochistan.
Highlighting the problems of electricity, water and communication infrastructure in Balochistan, he said efforts are being to provide these facilities to the people. Major General Asif Ghafoor said Pakistan Armed forces are fully cognizant of the challenges faced by the country and are ready to play their role in resolving these.
---
Pak-US relations
---
DG ISPR has said that United States of America (USA) is superpower only because Pakistan played a positive role in the world. He said that USA president Donald Trump's tweet "no more aid to Pakistan" has badly affected the mutual ties between both countries, however, there is no deadlock in talks, he assured.
He also urged to take Pakistan's role in South Asia positively as it has rendered sacrifices for peace. He continued that the efforts of army officers have defeated the menace of terrorism.
---
Response to India
---
In a statement regarding Line of Control (LoC) ceasefire, he said that the situation in 2018 is better than 2017 in which Indian Army violated the agreement for many times and martyred several innocent citizens. He further warned India of befitting response if it would launch any campaign to destabilize Pakistan.

India has to understand that its violation along LoC is creating chaos across the world, he said.

He said India should also be thankful to Pakistan that it acted as a buffer state between unstable Afghanistan and India, otherwise India would also have been affected by the scourge of terrorism.

Regarding China-Pakistan Economic Corridor (CPEC), DG ISPR said, "If India takes the project as a threat, it will negatively affect the region."
---
Sending troops to Saudi Arabia
---
On the decision of sending troops to Saudi Arabia, DG ISPR said these troops will be sent as part of bilateral agreement between Pakistan and Saudi Arabia signed in 1982. He said the role of troops will be limited to training and advisory purpose.

He made it clear that Pakistani troops will have nothing to do with Islamic Military Counter Terrorism Coalition. He said Pakistan is also providing training facilities to Iran and a group of Iranian pilots is undergoing training in our military academies.
---
Watch Video Below