Last Updated On 20 May,2017 01:01 pm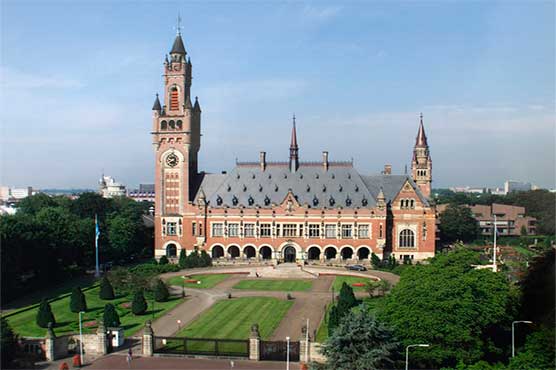 This will be the third issue between the two arch-rivals that ICJ would be hearing in case Pak pleas
ISLAMABAD (Dunya News) – Pakistan is to drag India to International Court of Justice (ICJ) over Kashmir dispute, sources reported on Friday.
Top authorities in the government are mulling to move to the United Nations (UN) court over the dispute with India for decades over Occupied Kashmir that would entail water tensions among other differences.
Reportedly, Pakistan is to dispatch an ad-hoc judge to the international court while a legal team would also be formed to assist counsel in the ICJ for Pakistan, Khawar Qureshi.
Sources privy to the government have reported that the Ministry of Foreign Affairs has sought recommendations of institutions concerned in this regard.
The development has come in a day after the UN court ruled over Indian plea granting injunction order in death row inmate Kulbhushan Jadhav's case. It was reported today that Pakistan has filed a plea in ICJ to have Jadhav's case reheard within six weeks.
If Pakistan moves to ICJ over Kashmir dispute, it would be the third case in the arch-rivals' history that ICJ was approached in regards with. Earlier in 1999, Pakistan claimed USD60 million in compensation after a Pakistan Navy aircraft, flying well inside Pakistani territory, was downed by India.
ICJ had then ruled in its verdict that it did not have jurisdiction to hear the case. This year, India filed a petition in the international court to seek provisional stay of Jadhav's execution who was convicted of espionage by an impartial military court.
It should be mentioned here that Pakistan has observed multiple times on several international platforms that the world community should held implement resolutions of the United Nations in the held-valley.
India and Pakistan have gone to war at least thrice over the dispute in the past.