Last Updated On 20 May,2017 10:22 am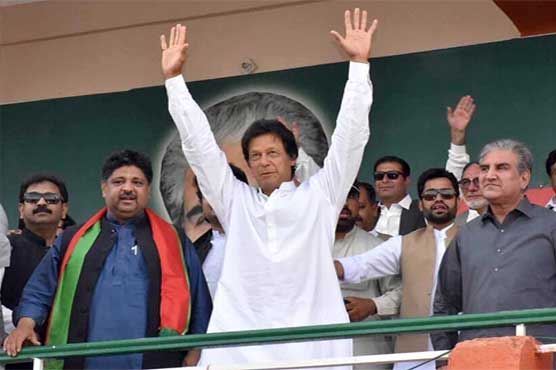 Imran Khan addressed the gathering in Quetta's Ayub Stadium
QUETTA (Dunya News) – Pakistan Tehreek-e-Insaf held a power show in the capital city of Balochistan after five years. Imran Khan addressed the gathering and lambasted the ruling government of Pakistan Muslim League-Nawaz (PML-N) along with other political opponents.
PTI Chairman Imran Khan highlighted the restrictions faced by PTI workers and activists on social media and warned to hold sit-ins in case of social media ban in Pakistan. He criticised the federal government for not giving Balochistan its due share and claimed that certain politicians of the province were "looting" the people.
The rally was hosted by Quetta s Ayub Stadium and it was after five years that PTI held a rally in the city.
---
East India Company V/S existing political elite
---
The Opposition lawmaker asked why there is unemployment in the country despite availability of resources, adding that the British colonial powers looted Indian subcontinent in the same way as done by Pakistan s current ruling elite including Prime Minister Nawaz Sharif. He accused the PML-N government of corruption, money laundering and opening offshore companies through looted resources.
Imran Khan compared East India Company with Sharif family in Punjab, Zardari-led PPP in Sindh, Maulana Fazlur Rehman and Mahmood Khan Achakzai in Balochisan, and Asfandyar Wali Khan-led ANP in KP. He opined that these 'companies' were functioning to become rich and the people were becoming poorer and poorer with the passage of time.
---
Changing Balochistan
---
He raised the slogan of 'changing' Balochistan by improving the systems of police and local body. While addressing the rally participants, Imran Khan said, "People of Balochistan are facing the most injustice."
He said the federal government didn't give due share to Balochistan, adding that PTI would replicate Khyber Pakhtunkhwa's local body and police reforms in Balochistan.
Imran Khan criticised the Youth Loan Scheme while claiming that 75 percent of the loans were allotted in Punjab which is a proof of injustice with other provinces. "We will enforce a system of justice and equality upon coming to power," he added.
---
PM s vested interests in India
---
While giving party stance on Kulbhushan Jadhav case in International Court of Justice (ICJ), PTI Chief bashed ruling PML-N government while saying that people didn t trust Nawaz Sharif anymore. He challenged PM Nawaz to reveal his vested interests in India and other businesses globally. He also asked the Panama case JIT to investigate PM's offshore companies.