Last Updated On 19 May,2017 10:19 pm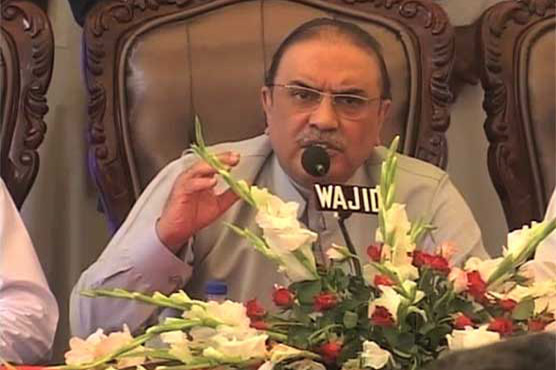 Zardari said that PPP does not acknowledge any 'governor or permit rule'
ISLAMABAD (Dunya News) – Former president Asif Ali Zardari has vowed on Friday to participate in every movement that demands rights for the people of Federally Administered Tribal Areas (FATA).
Members of the parliament hailing from FATA including Haji Gul Afridi and Sajid Toori among others called on Co-chairman of Pakistan People's Party (PPP) in the federal capital.
The meeting deliberated over matter pertaining to postponement of the amendment that calls to merge FATA in Khyber Pakhtunkhwa (KP). Zardari assured the visiting representatives of FATA that PPP would stand by them for their rights.
During the meeting, Zardari said that PPP does not acknowledge any 'governor or permit rule'.
He announced to be part of a sit-in in Islamabad if the people of FATA decide to stage one for their rights. He further vowed to provide 'Aftaar' to the protesting people of FATA in case a demonstration is put up in the month of Ramadan.
Earlier this week, Zardari participated in Grand FATA Jirga held in Peshawar and admitted to his mistakes and injustice done to the tribal areas during past government of PPP that completed its tenure in 2008.
He asserted that the party would stand shoulder to shoulder with the people of FATA for their rights and not bow down at any cost.
Earlier in March, the former president had said that FATA reforms and giving rights to the tribal people were former prime minister Benazir Bhutto s dreams.