Last Updated On 17 May,2017 07:19 pm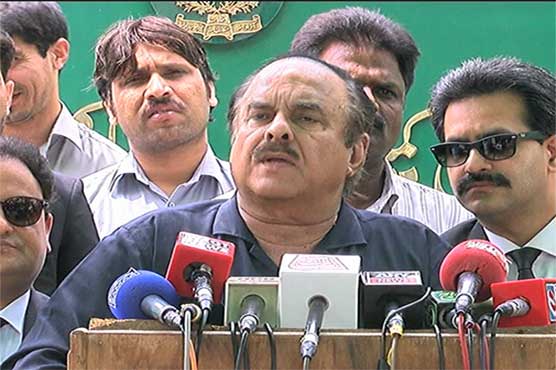 PTI leader Shireen Mazari also took to Twitter to comment over the issue
ISLAMABAD (Dunya News) - Pakistan Tehreek-e-Insaf (PTI) leader Naeemul Haq has on Wednesday apologised for his tweet in which he claimed that Tariq Fatemi had accompanied the government delegation on China visit.
In his tweet, PTI leader Naeemul Haque claimed that Fatemi was accompanying Prime Minister Nawaz Sharif to China in spite of the fact that he was dismissed from his duties over the Dawn Leaks issue.
"Nawaz continues to deceive the nation. Tariq Fatemi accompanies him in China. So his being relieved of his duties was a lie. What a farce," Naeemul Haque tweeted.
Moreover, the photo that was embedded in Naeemul Haq's tweet was from the MoU signing ceremony being held in December 2016, in Beijing.
The PTI leader revealed that he was mistaken on the issue and that the confusion arose because of the old picture.
PTI leader Shireen Mazari also took to Twitter over the issue to make things even more worse.
"Govt lied again. Fatemi present in China on signing of MoUs! Part of official entourage. Shameful duplicity on Dawn Leaks," she tweeted.
In response, the information minister Marriyum Aurangzeb termed the statements from PTI leaders as highly irresponsible.
"PTI s reporting on Tariq Fatemi at worst seditious and diabolic or at best ignorant and incompetent," Marriyum tweeted.
The federal minister for information expressed that PTI should refrain from making statements that are based on misinformation.
PTI s reporting on Tariq Fatemi at worst seditious and diabolic or at best ignorant and incompetent pic.twitter.com/04P1KdVmi0

— Marriyum Aurangzeb (@Marriyum_A) May 16, 2017