Last Updated On 17 May,2017 08:53 pm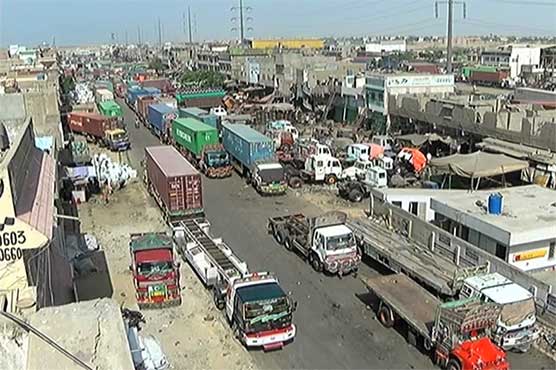 Goods Transporters' Alliance spokesman warned about re-organising protest if demands not fulfilled
KARACHI (Dunya News) – Goods transporters' strike has finally been called off following the successful negotiations between goods transporters and government.
A spokesperson of the Goods Transporters' Alliance told that they had faced immense loss due to the injustice. He warned about re-organising the strike if certain demands are not fulfilled.
Sindh Transport Minister Nasir Hussain Shah as well as Speaker Sindh Assembly Agha Siraj Durrani announced the recent development in a press conference.
Sindh government reached negotiations with heavy vehicle transporters on the ninth consecutive day of protest. Goods transporters were assured that their demands would be fulfilled.
Sindh Transport Minister had to make various promises to irked protesters in order to establish a compromise.
Earlier, it was reported that Sindh Governor Mohammad Zubair claimed to meet an agreement with Pakistan Goods Transporters' Alliance to call off the strike whereas the association denied it.
Goods transporters' strike lasted for nine days as thousands of containers had clogged terminals in Karachi. Export and import trade activities remained suspended and loss worth billions of rupees was suffered by investors, importers, suppliers, exporters, traders and the economy.
Both Karachi International Container Terminal and Pakistan International Container Terminal had halted their operations owing to lack of space. The authorities at the Karachi sea ports had started to deny dock and permit unloading of goods from foreign exporters.