Last Updated On 17 May,2017 07:00 pm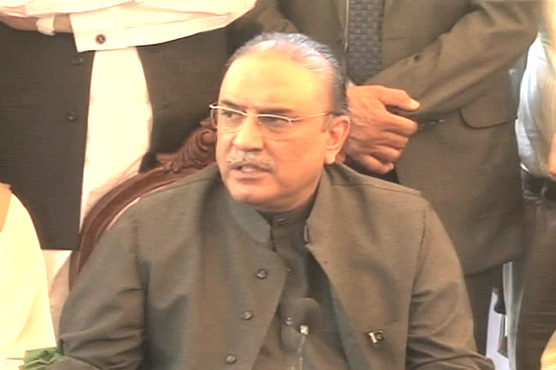 The former president alleged the premier of making hollow promises to the people of tribal areas
PESHAWAR (Dunya News) – Co-chairman of Pakistan People's Party (PPP), Asif Ali Zardari has asserted on Wednesday to carry out electioneering alongside Chairman of PPP, Bilawal Bhutto Zardari in Khyber Pakhtunkhwa (KP), Balochistan and Punjab while his daughters Asifa Bhutto and Bakhtawar Bhutto would campaign in Sindh for General Elections 2018.
He addressed a press conference in Peshawar and said that Prime Minister (PM) Nawaz Sharif presented a 'lollipop' over Federally Administered Tribal Areas (FATA) bill in the parliament and that 'governor rule' does not account for democracy.
He said that the PPP leadership waved Pakistani flag in Swat as per promise made by former PM, late Benazir Bhutto. He criticised Government of Pakistan Tehreek-e-Insaf (PTI) in Khyber Pakhtunkhwa (KP) by saying that he did not see a 'new Pakistan' in the province.
The locals, he claimed were urging PPP to 'save' them off PTI's government. Zardari said that the locals are condemning privatization of hospitals in the province.
While talking about FATA, the former president alleged the premier of making hollow promises to the people of tribal areas.
Zardari maintained that PPP could not campaign in the last elections and that the polls turned out to be 'RO elections'. The government of PPP increased salaries by 150 percent during its tenure, he asserted.
He censured Pakistan Muslim League-Nawaz (PML-N) and PTI by saying that lion eventually is a beast who feeds on the weak and tsunami causes damages like it did in KP. Zardari further claimed that federal ministers of PML-N do not have good terms with one another.
In the past four days in Peshawar, Zardari addressed Grand FATA Jirga, visited MNA Ghulam Ahmed Bilour and convened meeting with parents of martyrs of APS attack.