Last Updated On 14 May,2017 11:41 pm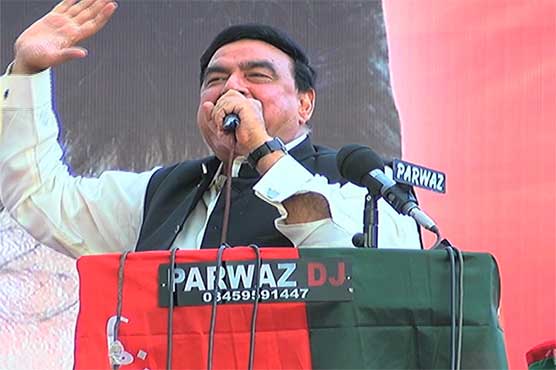 Coming elections will be the political funeral of PML-N, claims Sheikh Rasheed in a fiery speech
ABBOTABAD: (Dunya News) – Awami Muslim League (AML) chief Sheikh Rasheed has on Sunday advised Prime Minister (PM) Nawaz Sharif to get ready for the jail as he was gearing up for a fight with the 'traitors' of the nation, reported Dunya News.
Addressing Pakistan Tehreek-e-Insaf's (PTI) public meeting in Abbotabad, Sheikh Rasheed said that he was extremely happy coming to Abbotabad as he had spent one year in Haripur jail as a child prisoner. He said that the national institutions were being maligned according to a plan.
Addressing his political opponents, the AML chief said that 60 Pakistanis were in Indian jails without any proofs but Kulbhushan Jadav had openly admitted to involvement in sabotaging Gwadar project and being a RAW agent.
"The particular conditions of the country do not allow Nawaz Sharif and Pakistan to go along. Our national security demands that the government is removed", he said.
Sheikh Rasheed said that 2017 was going to be a historic year as Nawaz Sharif will be going out and Imran Khan will be coming in. He vowed to stand shoulder-to-shoulder with PTI chief Imran Khan.