Last Updated On 18 February,2017 10:23 pm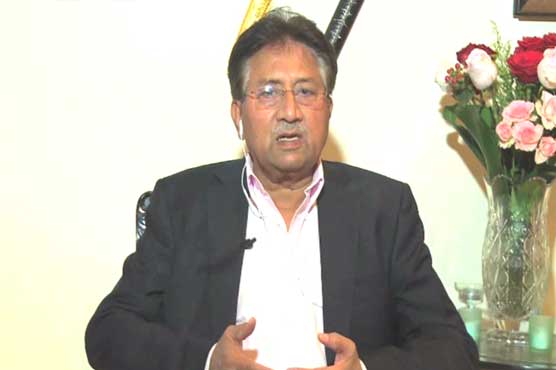 Former President claimed that Afghanistan, India are trying to destabilize Pakistan
LAHORE (Dunya News) – While exclusive interview on programme 'Tonight With Moeen Pirzada', former President Pervez Musharraf claimed that intelligence and government of Afghanistan along with India are directly indulged in terrorist activities from the neighboring country.
"Pakistan has to counter terrorism by using its armed forces", the retired general said. He revealed that blacklisted terror groups Tehreek-e-Taliban Pakistan and Lashkar-e-Jhangvi have made an alliance.
The former President asked, "Why any action has not been taken against Lashkar-e-Jhangvi in Punjab?"
Pervez Musharraf claimed that the government is under Indian pressure which is why it is declaring pro-Kashmir people as terrorists. He said that India appears at a dominant position due to weak government in Pakistan.
Moreover, he blamed India for sponsoring the Lahore blast which according to him was carried out to halt Pakistan Super League (PSL) final within Pakistan. "Nationwide operation is the need of hour to eradicate terrorism", he suggested.
Meanwhile, Chaudhry Nisar also said that Afghan refugees are used as facilitators in terror suicide attacks in Pakistan. The Pak-Afghan border has remained closed for three days and Pakistan Army is striking terror camps inside Afghanistan.