Last Updated On 23 January,2016 03:57 pm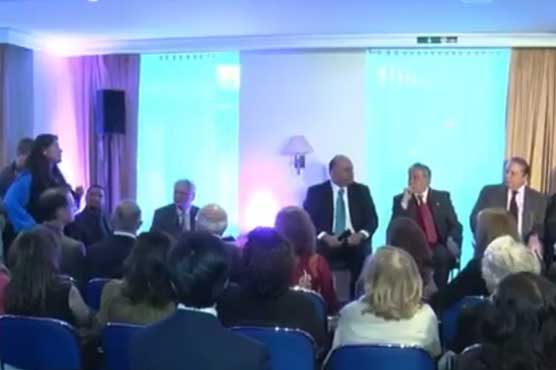 The Oscar-winner filmmaker has launched a petition to eliminate honour killings in Pakistan.
DAVOS (Web Desk / AFP) - Famous Academy Award winning filmmaker Sharmeen Obaid Chinoy on Saturday thanked Prime Minister Nawaz Sharif on his statements against honour killings in Pakistan.
"I just want to thank you for your recent statement saying that you are going to work against honour killings in Pakistan and as a Pakistani women I am honoured to have a Prime Minister who is working on the issue", said Sharmeen Obaid Chinoy during the breakfast meeting of the Prime Minister with the participants of World Economic Forum (WEF) Annual Meeting 2016, at Davos, Switzerland today.
---
WATCH VIDEO BELOW:
Famous filmmaker Sharmeen Obaid chinoy thanking PM Nawaz Sharif on his statements against honour killing in Pakistan pic.twitter.com/uNkLh1twRf

— PML(N) [Official] (@pmln_org) January 23, 2016
---
Earlier on Friday, the Oscar-winner Pakistani filmmaker launched a petition to eliminate honour killings in Pakistan.
"This petition will be sent to Prime Minister Nawaz Sharif who has pledged to eradicate honour killing in Pakistan," Sharmeen wrote in the petition on change.org.
She has urged everyone to "please sign this petition so we may send it forward and push for tighter legislation on honuor killings in Pakistan."
---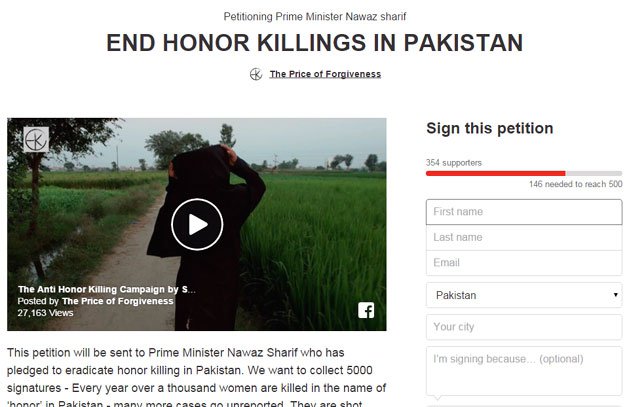 ---
In February 2012, Sharmeen Obaid-Chinoy won the prize for the documentary "Saving Face," which chronicles a London-based plastic surgeon who travels to Pakistan to treat women who have had acid thrown on them. The attacks are often carried out by angry husbands or spurned lovers.
---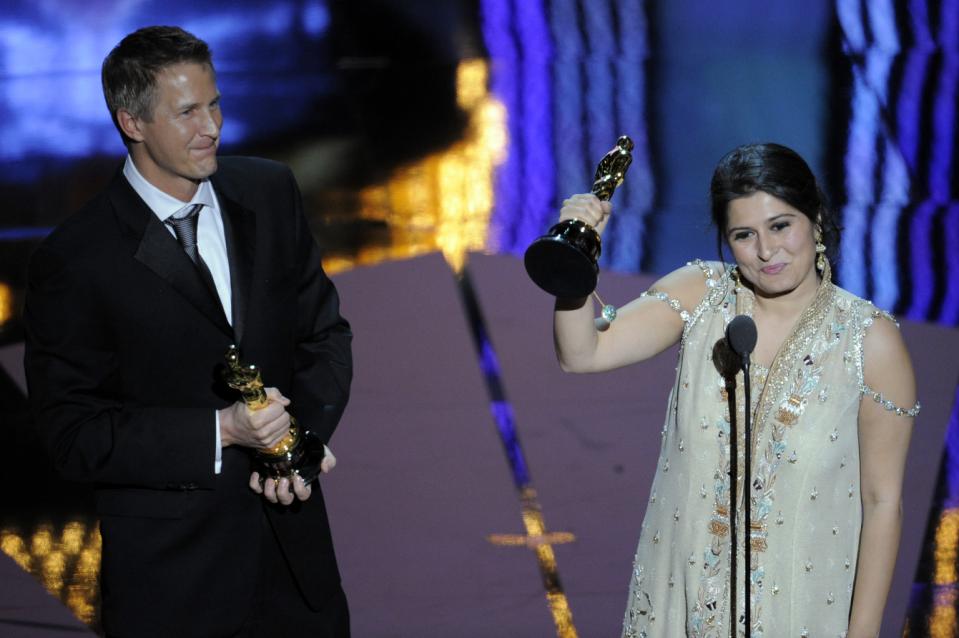 ---
This time her documentary, "A Girl in the River: The Price of Forgiveness", which follows the story of a rare survivor, was nominated in the documentary short category of the Academy Awards on January 14.
The next day, Prime Minister Nawaz Sharif vowed Pakistan would eradicate "evil" honour killings as he congratulated director Sharmeen Obaid-Chinoy on her Oscar nomination for a harrowing documentary on the practice.
Hundreds of women are murdered by their relatives in Pakistan each year on the grounds of defending family "honour".
Chinoy was feted across Pakistan in 2012 when she won the country's first Oscar for "Saving Face", a 40-minute documentary that exposed the horrors endured by women who survive devastating acid attacks.
It focuses on two women, Zakia and Rukhsana, as they fight to rebuild their lives after being attacked by their husbands, and British Pakistani plastic surgeon Mohammad Jawad who tries to help repair their shattered faces.
Acid attacks, which disfigure and often blind their overwhelmingly female victims, have long been used to settle personal or family scores in Pakistan, with hundreds of cases reported each year.
The attacks along with honour killings fit a wider pattern of eroding women's rights in the conservative Muslim nation, where women are frequently treated as second-class citizens and there is no law against domestic violence.