Shah Rukh Khan, Katrina, Vicky reviews Rani's Mrs Chatterjee vs Norway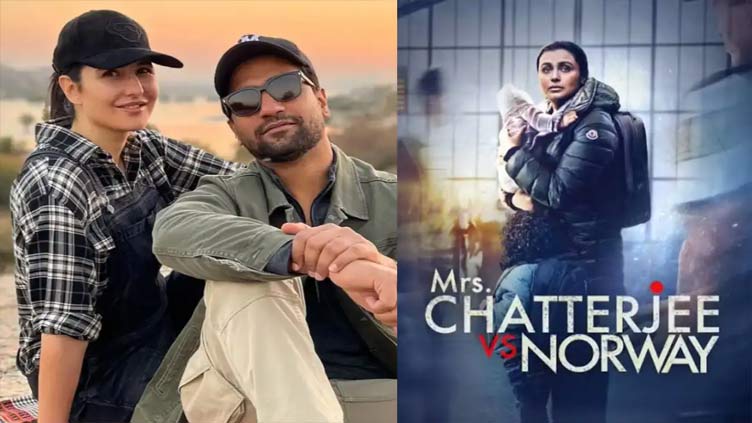 Entertainment
Katrina mentioned that it is a must watch film.
MUMBAI (Web Desk) - Bollywood king Shah Rukh Khan penned an appreciation note recently after watching Rani Mukerji's ambitious film Mrs. Chatterjee Vs Norway.
Taking to Twitter, Khan wrote "What a tremendous effort by the whole team of Mrs Chatterjee vs Norway. My Rani shines in the central role as only a Queen can. Director Ashima shows a human struggle with such sensitivity. Jim, @AnirbanSpeaketh, #Namit, #SaumyaMukherjee, #BalajiGauri all shine. A must watch."
— Shah Rukh Khan (@iamsrk) March 16, 2023
Earlier, Bollywood couple Katrina Kaif and Vicky Kaushal also attended the screening of Rani Mukeji's much-anticipated film Mrs. Chatterjee Vs Norway along with other Bollywood celebrities on Wednesday night at Yash Raj Studios.
After watching the Mukerji's ambitious film, the duo penned down their honest reviews on their Instagram handles praising Mukerji's phenomenal performance.
Katrina mentioned that it is a must watch film. She further wrote: "What an incredible, gripping story, just captivates you, a rollercoaster of emotions -. Rani Mukerji no words to describe your brilliance. Spellbound. Huge congratulations to the entire team @ashimachibber @nikkhiladvani @zeestudiosofficial @emmayentertainment."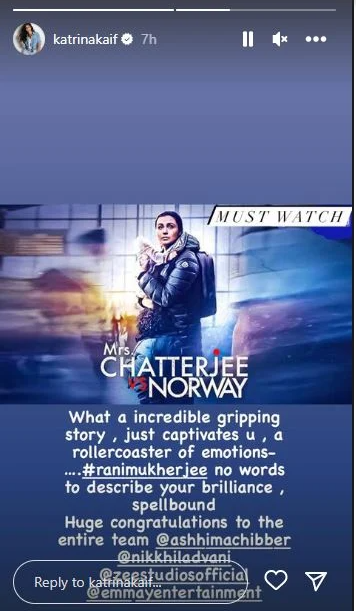 Following wife's note Vicky wrote "Makes your heart go out to families which have gone through the ordeal for real! Brilliantly told and performed. Hats off to Rani Mukerji for bearing her soul out... Also @jimsarbhforreal @anirbanbhattacharyaofficial and the entire ensemble cast for their nuanced performances. @ashimachibber you are going to make people cry and love you for it. Congrats @nikkhiladvani @zeestudiosofficial @emmayentertainment."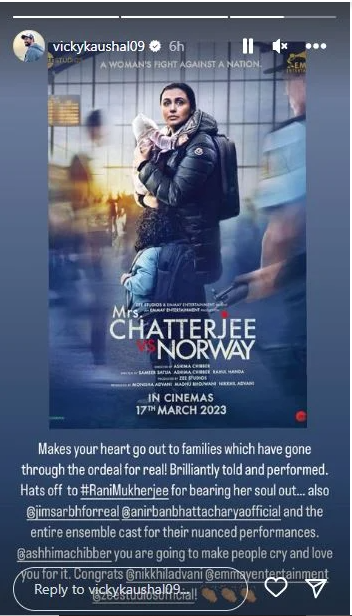 The plot of the film revolves around a Bengali woman, who moves to Norway with her husband and two children. Rani Mukerji is seen in an extremely strong role as she fights to get back her children which have been taken away by the authorities in Norway claiming that she is unfit as a mother. The authorities feel that her parenting method is harmful for the kids as she purely raises them in Indian parenting style. In the film, the 44-years old actress will prove the Norwegian government that her ways of parenting are not harmful they just not match the Norwegian culture.
Mrs. Chatterjee Vs Norway is directed by Ashima Chibber. The movie also features Neena Gupta, Anirban Bhattacharya and Jim Sarbh.