Last Updated On 08 July,2017 07:17 pm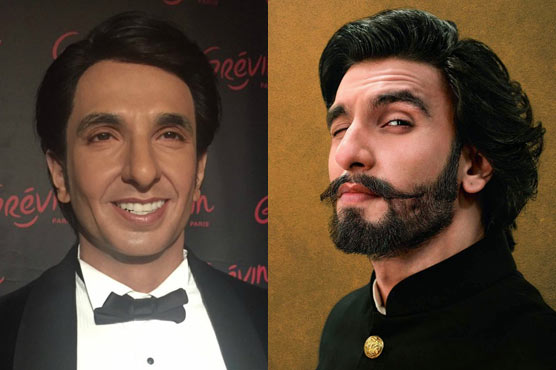 Ranveer Singh was gifted the wax statue on his birthday by a Paris museum
(Web Desk) – As soon as Musée Grévin, a wax museum in Paris, gifted Ranveer Kapoor his wax statue, Twitterati were quick to point out that the face resembles less with him.
Welcome @RanveerOfficial #GrevinParis ! #HappyBirthdayRanveerSingh https://t.co/kNkgK2azLs

— (@GrevinParis) July 6, 2017
Although it was a prestigious moment for the acclaimed actor to be in the hall of fame of the museum with the likes of Shah Rukh Khan, Celine Dion, Leonardo Di Caprio, Angelina Jolie and others, people kept guessing other celebrities who could claim the statue to be theirs.
The Bajirao Mastani actor turned 32-year-old on July 6. Musee Grevin posted a video of Ranveer's statue with caption #HappyBirthdayRanveerSingh. People on Twitter came up with the funniest tweets about the statue. They said it resembled more with Kay Kay Menon, Sonu Sood, Ray Romano and Shiamak Davar.
What have they done to his face?! He looks like a hybrid between Sriram Nene and Ray Romano! pic.twitter.com/snkVwAJ1RJ

— Shreemi Verma (@shreemiverma) July 7, 2017
Akshay Kumar s wax statue has come out really well pic.twitter.com/75b8K030gj

— Anurag Verma (@kitAnurag) July 7, 2017
that looks like Kay Kay Menon and Ranveer Singh had a love child

— Suprateek Chatterjee (@SupraMario) July 7, 2017
Is it #RanveerSingh or Shiamak Davar? Messed it up! he is hot but screwed up his statue! Blow ur birthday candle on this @RanveerOfficial pic.twitter.com/jjMLwhuUfq

— Chaitrali Gawade (@ChaitraliGawade) July 7, 2017
One even called it a hybrid of Sriram Nene and Ray Romano. "Love child of Kay Kay Menon and Ranveer Singh," was one of the nastier comments. People recalled how the wax statue of footballer Ronaldo turned out to be.
So nice of them to honor @Shiamakofficial with a wax statue. Much awaited! pic.twitter.com/Pvl7ZK2XTH

— Neil (@dollykadulha) July 6, 2017