Last Updated On 09 July,2017 04:31 pm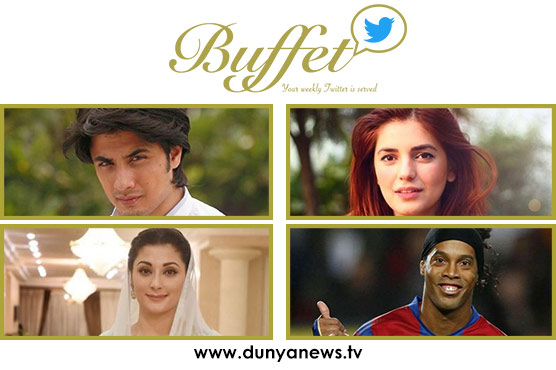 Your buffet will be served every Saturday having all the Twitter chirps of the entire week
(By Abdullah Ejaz) – Buffoons!
Like we promised, we have brought to you our vlogs with this episode of Twitter Buffet. However, before we go there, here are some interesting happenings from this week.
We hope you do not scroll right down to the vlog and skip the story.
---
Cyril asks Maryam to be easy on the drama
Maryam Nawaz's Joint Investigation Team (JIT) appearance this week was talked about a lot on various platforms.
Cyril Almeida of Dawn Leaks fame also had his two cents on the events related to her appearance. Night before she was to appear, daughter of the premier tweeted about how she saw concern in her father's eyes for her and how she told him she would not budge and stand tall for the family does not bear any guilt.
However, it was too much of a drama for Almeida as he wrote: "Easy on the drama, it s just a JIT..."
Easy on the drama, it s just a JIT... https://t.co/0mq46nismv

— cyril almeida (@cyalm) July 4, 2017
---
Momina Mustehsan and Salman Ahmed have something cooking for fans
Salman Ahmed, who more than being a musician, is sometimes mistaken for a cyber ninja was seen talking about music for a change and not politics. He announced 'a project with Mustehsan in the pipeline' (we assume) in a tweet that goes like this:
Super Girl @MominaMustehsan & I have a huge surprise coming up. pic.twitter.com/tUBtYdze5T

— salman ahmad (@sufisal) July 4, 2017
Whatever it must be, we are excited because for better or worse, collaborations are exciting!
---
Donald Trump beats CNN
United States (US) front man ruffled some more feathers with "fake news" CNN as a video was uploaded on Twitter in which he is seen boxing his hatred away with a man sporting a 'CNN face'. Have a look and judge the man all you want. You are not the only one.
#FraudNewsCNN #FNN pic.twitter.com/WYUnHjjUjg

— Donald J. Trump (@realDonaldTrump) July 2, 2017
---
Some Shama Junejo 'questions face of a PIA stewardess'
An alleged political scientist, PhD candidate and columnist with Huffpost questioned modest looks of a stewardess who has spent a career with PIA and is still in service. She took a notice of the 'frown' she had maintained whilst welcoming people aboard.
According to her, she did not mean any offence and only objected to her 'welcome face'.
World s most senior air hostess welcomes the passengers onboard with this face.@Official_PIA Exclusive https://t.co/CHnMTKWYlP

— Shama Junejo (@ShamaJunejo) July 2, 2017
However, PIA takes pride in its employees.
Spreading smiles in the skies with this face. Proudly serving PIA with professionalism and fearless commitment. #PIACabinCrew #PIASmiles pic.twitter.com/jZwzlfAcBT

— PIA (@Official_PIA) July 6, 2017
---
Venus Williams sued after man dies in car crash
Yes. Sad indeed. A car crash claimed a man's life with Venus Williams behind the wheel.
She was driving her Toyota Sequoia in Florida when she met an accident that claimed a senior citizen's life.
Latest reports suggest that police have found a fresh surveillance footage that shows Williams legally entering the intersection at which the collision took place. In other words, if the footage is considered the verdict in the issue, it was not her fault.
However, a life's lost is a life's lost…
---
Another from the 'house of Panamagate': Maryam and SP salute
Premier's daughter was paid a salute by a woman Superintendent of Police from special branch upon her arrival at the Federal Judicial Academy which was not taken well by the social media however, her salute in return, before she left for the PM House following the hearing, silenced many.
When law go down! Arrival of first daughter, lady officer salutes and then went down to pick paper dropped by MN pic.twitter.com/TFP9ieAj6T

— Kamran Shahid (@FrontlineKamran) July 5, 2017
We salute the daughters, not the ranks! If they respect you, respect them back ! All salutes are not protocol. Respect comes from the heart. pic.twitter.com/EkMcpfYRY2

— Maryam Nawaz Sharif (@MaryamNSharif) July 6, 2017
---
Ronaldinho comes to Pak!
THE LEGEND IS HERE.
The man himself graced Pakistan to appear in the Leisure Leagues. He arrived today in Islamabad.
Eight international footballers including Ronaldinho reach Islamabad #RonaldinhoAndFriends
Read More: https://t.co/PLfnjoAWwl pic.twitter.com/GFXVexszjV

— Dunya News (@DunyaNews) July 8, 2017
Here is Terry's apology though.
#Terry apologizes for not being able to make it for the #RonaldinhoAndFriends event. However, he hopes and looks forward to visiting soon. pic.twitter.com/5yKCG4XKKL

— Leisure Leagues PK (@leisureleaguepk) July 5, 2017
---
Dane Van Neikerk
Dan Van Neikerk is the first ever bowler, female or male, to take four wickets without conceding a single run.
#DaneVanNiekerk

3.2 overs
4 wickets
3 maidens
0 runs

That is not a typo!
@danevn81#SAvWI #WWC17 pic.twitter.com/xrqNoCSJ9o

— Cricket World Cup (@cricketworldcup) July 2, 2017
South Africa s @danevn81 set a world record yesterday - the most wickets taken without conceding a run in international cricket! #WWC17 pic.twitter.com/aExBjlc0X3

— ICC (@ICC) July 3, 2017

---
Ivanka's neighbour enjoys protest outside her DC residence
A selfie outside Ivanka s DC house amidst a protest is THE sight for eyes
Hundreds of protesters descend on Ivanka s $5 million DC home (well, she is part of the administration) while neighbor watches in delight. pic.twitter.com/mrOUuRMCqj

— Mike Sington (@MikeSington) April 2, 2017
---
Ali Zafar criticises media
Naz Gul Baloch won an international Karate championship this week and we did not hear anything about it on our mainstream channels.
Ali Zafar complained about the silence over Pakistani woman's victory.
Baloch girl Naz Gul Baloch wins international karate and there s no media coverage ? pic.twitter.com/kASWLITRQu

— Ali Zafar (@AliZafarsays) July 5, 2017
---
Here, coupling some Instagram with our Twitter Buffet
---
We have for you this week, Urwa Hocane s Mauritius tour, Zoya Akhtar s #LipstickUnderMyBurqaSelfie, A lit Trump House on the occasion of July 4th, a chic Karishma Kapoor in London and Ed Sheeran and Lady Gaga s selfie.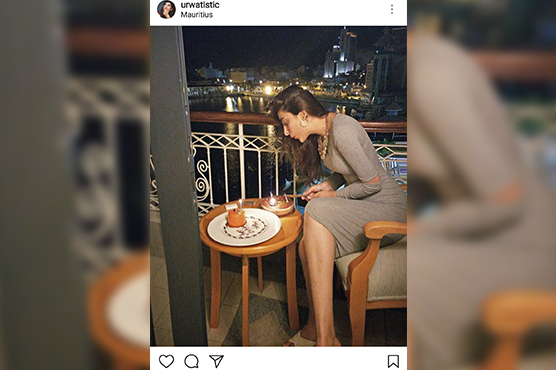 ---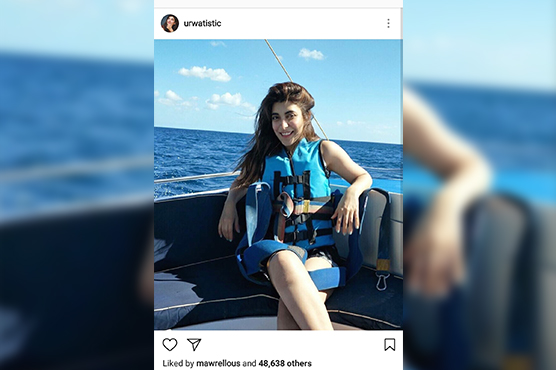 ---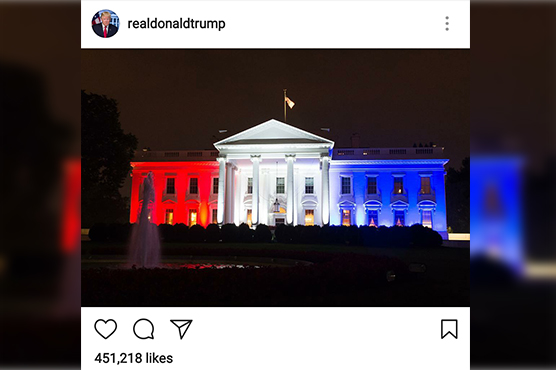 ---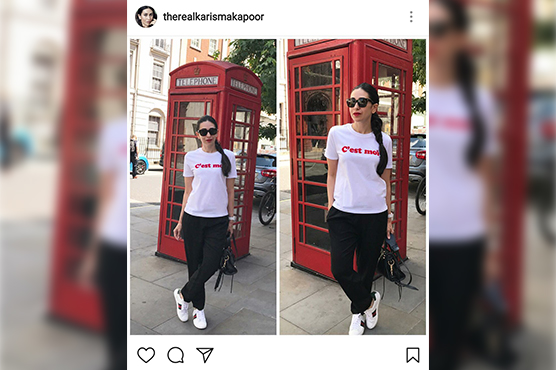 ---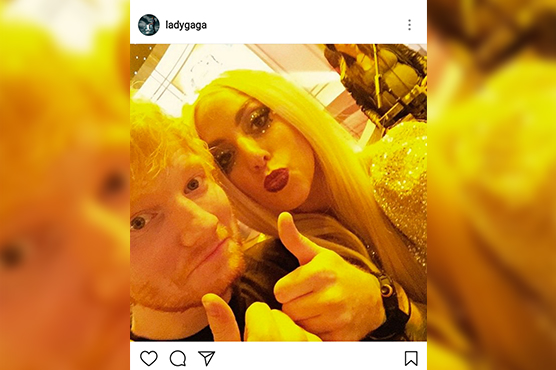 ---
Without further ado, dig right in to the first Twitter Buffet vlog: